Labelled one of "the best beach clubs in the world for summer 2023" by no less than Condé Nast Traveller, one might expect a lot from Atzaró Beach on Ibiza's Cala Nova. Thankfully, a lot is exactly what one will find. Set in prime position overlooking the crystal clear waters of this scenic cove on the island's southeastern coast, this Atzaró Group favourite is the sort of idyllic Ibizan beach club that restaurateurs the world over try to imitate; a hearty slice of authentic Balearic beauty that keeps discerning bon vivants coming back for more.
A one-of-a-kind bohemian hideaway, Atzaró Beach offers luxury, fine food and drinks, day beds and premium service, but with absolutely zero of the pretentiousness that certain beach clubs have made La Isla Blanca infamous for in recent times. No wild minimum spends, no VIP sections, no champagne sparklers, just laidback style, old island spirit and mouthwatering cuisine rich in seafood and vegetable options; the latter freshly harvested from the three-hectare Atzaró Vegetable Garden.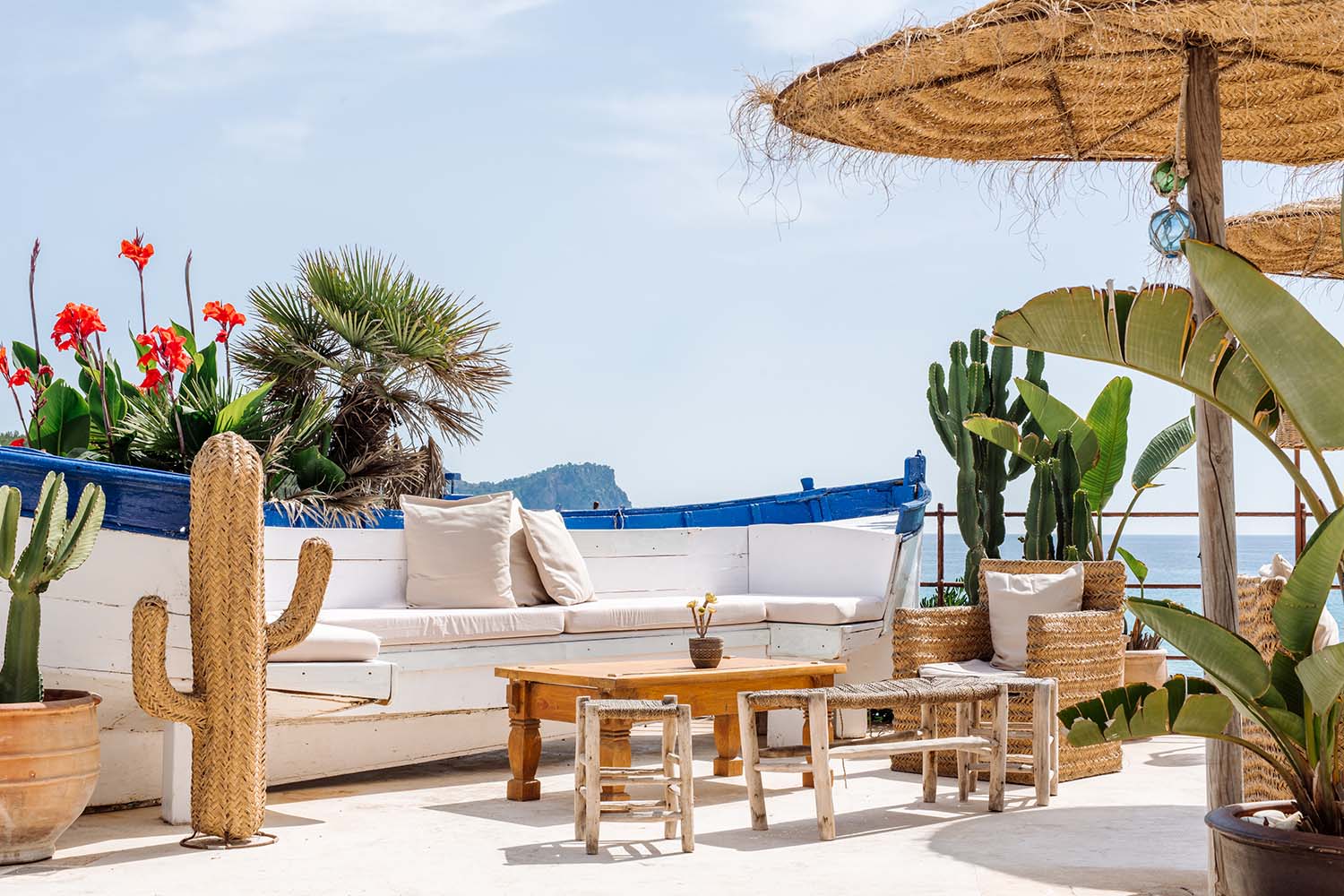 With similar dining options to the equally authentic Aubergine by Atzaró farm-to-table restaurant, we tuck into an exquisitely designed dish of labneh with feta cheese, semi-dried tomato, sautéed cherries with sunflower seeds, seeds and mint with citrus fruit butter and naan bread; fresh tuna ceviche with avocado, mango, cucumber, pomegranate, coriander, red onion, chilli pepper and citrus juice; scallops with mango and citrus fruit emulsion; and a huge fillet of fresh fish of the day accompanied by artichokes and cherry tomatoes. Under the rustic wood pergola with rattan lampshades swaying in the summer breeze, it's the perfect hearty but healthy lunch for a hot August afternoon.
With a concept rooted in rediscovering the essence of 1970s Ibizan lifestyle, the space has been beautifully put together with natural woods and terracotta pots; local flora and swinging bamboo seats; armchairs and sofas, and an old fishing boat turned lounger that harks back to the simpler times of this rugged part of the island's dramatic coastline. Monday 'Boho Nights' with dinner, music, crystals, fashion and tarot, as well as a pretty boutique stocked with one-off designs from local artisans both feed into the old time atmosphere that Atzaró Group are trying (and succeeding) to conjure.
A discerning spot to spend a lazy day overlooking one of Ibiza's most beautiful beaches, Atzaró Beach straddles the line between luxury and authenticity, and delivers both in abundance. With views over aquamarine waters backdropped by dramatic cliffs plunging into the Mediterranean, huge day beds to stretch out on, a delicious natural and sustainable menu, Balearic sounds and boho style … this is the sort of beach club dreams are made of, and it's no wonder why those in the know are flocking back time and time again.