Morag Myerscough completes her most personal project to date, transforming a once disused space at Sheffield Children's Hospital, into a vibrant oasis entitled Joy Garden. The colourful courtyard is a place of hope and happiness sure to benefit patients, families and staff when they need it the most.
The vibrant oasis follows Myerscough's first project at Sheffield Children's Hospital, which saw the artist create four designs across 46 en-suite bedrooms, and completes a journey through the building; from an alluring entrance up to the spirited bedrooms, and now an important outdoor space that brings everyone together.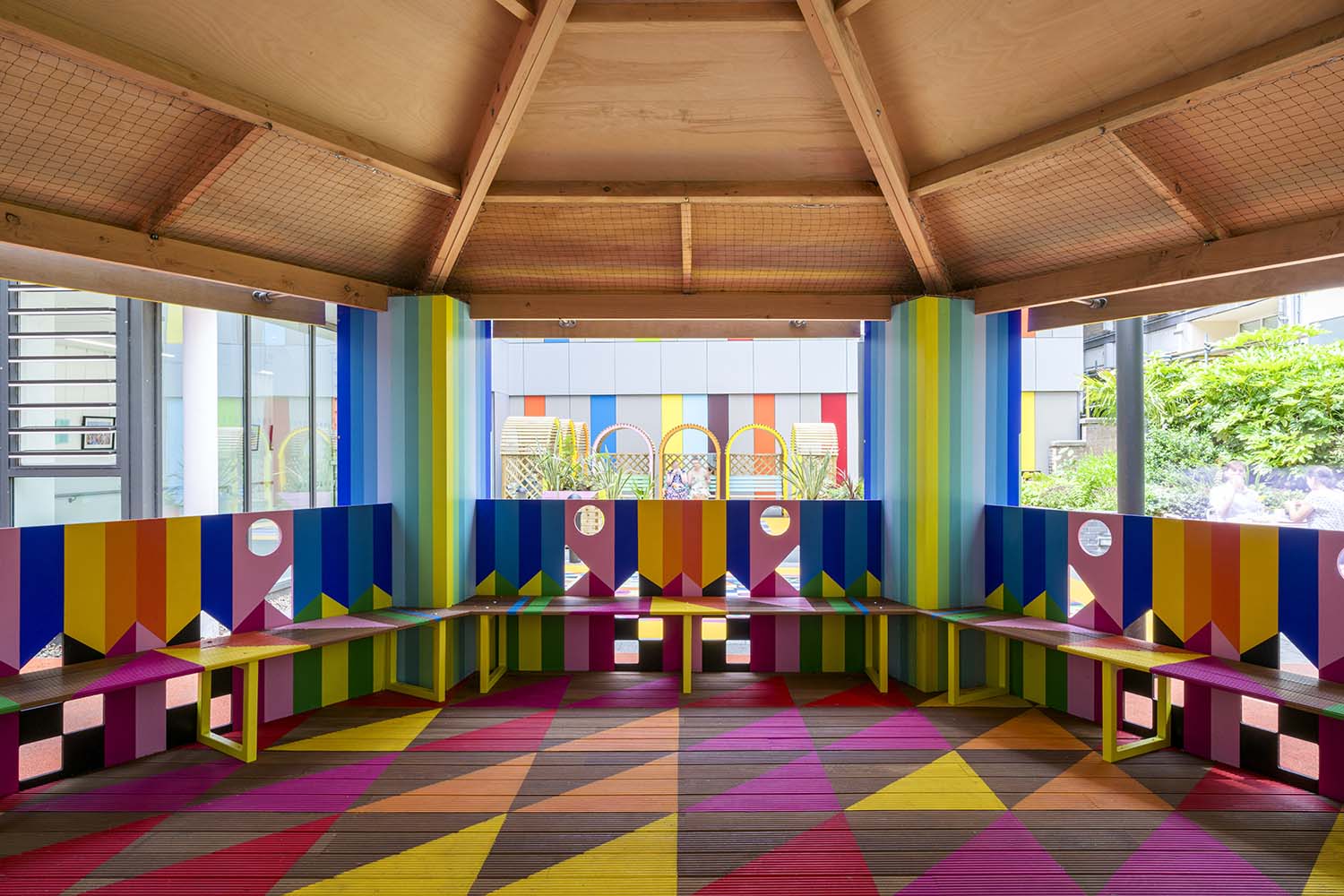 Discovering the underused courtyard in 2017 during a site-visit with Cat Powell, former head of the hospital charity's arts programme, Artfelt, Morag was convinced it could be revamped into a colourful, functional garden and took no fee for her design. More so, she personally instilled the help of future-friendly product designers, method, as well as local craftspeople who helped finalise the build; including Sheffield fabricator Design Workshop Ltd. and YesColours, who gifted the paint to the project. 
Transforming the courtyard with no upfront cost to the hospital means that patients, families and staff can benefit from outdoor space and fresh air, something critically important to their wellbeing and mental health. As put perfectly by the artist herself: "I know how much outside space makes a difference to mood when you are confined to one space. Some of the children and families stay in the hospital for extended periods of time and need to get outside and feel the sun on their faces. We've all realised the value of outside spaces and interacting with each other over the last couple of years. And although aesthetics are secondary to treatment in hospital, it's obvious that they bring much needed value and support to the human experience. Hopefully this garden will bring some joy when patients, families and staff need it most."
A collaboration for positive action, Joy Garden proves how artists and brands can work together to make positive change through art and design in the public domain.