A family-run, Czech brewery invites lovers (and the curious) of good beer to explore their new visitor centre, providing a welcoming environment for relaxation, and a place to sit and enjoy a tipple with friends.
Designed by architecture and design studio, B² Architecture, the Bernard Visitor Centre located in Humpolec, Czech Republic, is home to an exhibition space, shop and beer-house, with interiors inspired by the industrial character of the brewery. Interior walls made of beer bottles in metal frames set the tone, whilst another bottle wall bears the brewery's logo at the entrance of the newly built reception extension.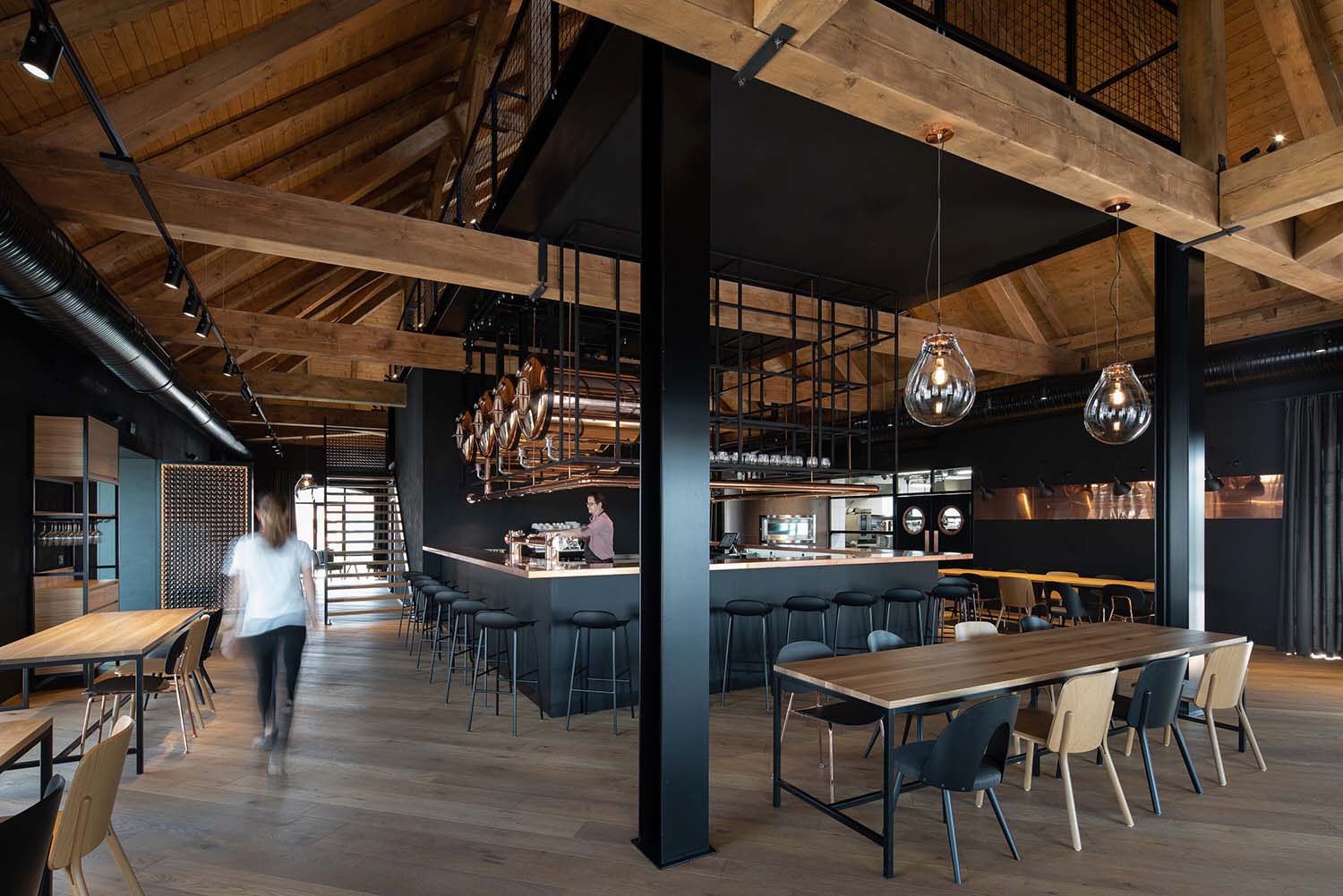 Guests gather in the reception to start the tour, learning about the history and brewing processes of Bernard beer, before advancing to the multifunctional brewer's hall on the next floor. Dominated by a square bar, the space can be divided into separate zones using mobile wooden partitions, and used for various functions. Through the bar one can peer into a refrigerated warehouse with copper tanks filled with Bernard beer. A warm beige screed is applied to the walls. The shape of the ceiling refers to the history of the building, the wooden arches copy the vaults from the second floor, thus continuing the character of the old coolships.
The beer-house occupies the whole fourth floor and features a bar set into a built-in mezzanine. Here, black cement screed and dark curtains are used on the walls, whilst illumination is primarily provided by a system of dimmable led spotlights and is complemented by the distinctive yet simple design lights with copper details. Refurbished furniture nods to the 'Old meets New' concept while at the same time adding a touch of warmth to another wise stark space. This encourages socialisation and conviviality, enabling visitors to settle in and enjoy the variety of beers on offer.
A spot to indulge in a fresh beer in design-led surroundings, the town of Humpolec is culturally richer thanks to the new B² Architecture-designed Bernard Visitor Centre.