The unused house of a Roman Catholic rectory has been chosen as a fitting location for a local library and community centre, IGI library home to a multifunctional hall, kindergarten, and many, many books. Atelier atakarchitekti have revamped the space, a former orphanage and school in Vratislavice nad Nisou, a district of the Czech city of Liberec; creating a place where residents can come together to enjoy culture and education.
As the former rectory was too small to house all of its intended functions, an extension was built resulting in a dark monolith that complements the original structure and château garden that surrounds it. A new piazzetta, inspired by the rhythm of small squares in the vicinity of the public buildings, was added at the entrance, creating further space for community relaxation and interaction.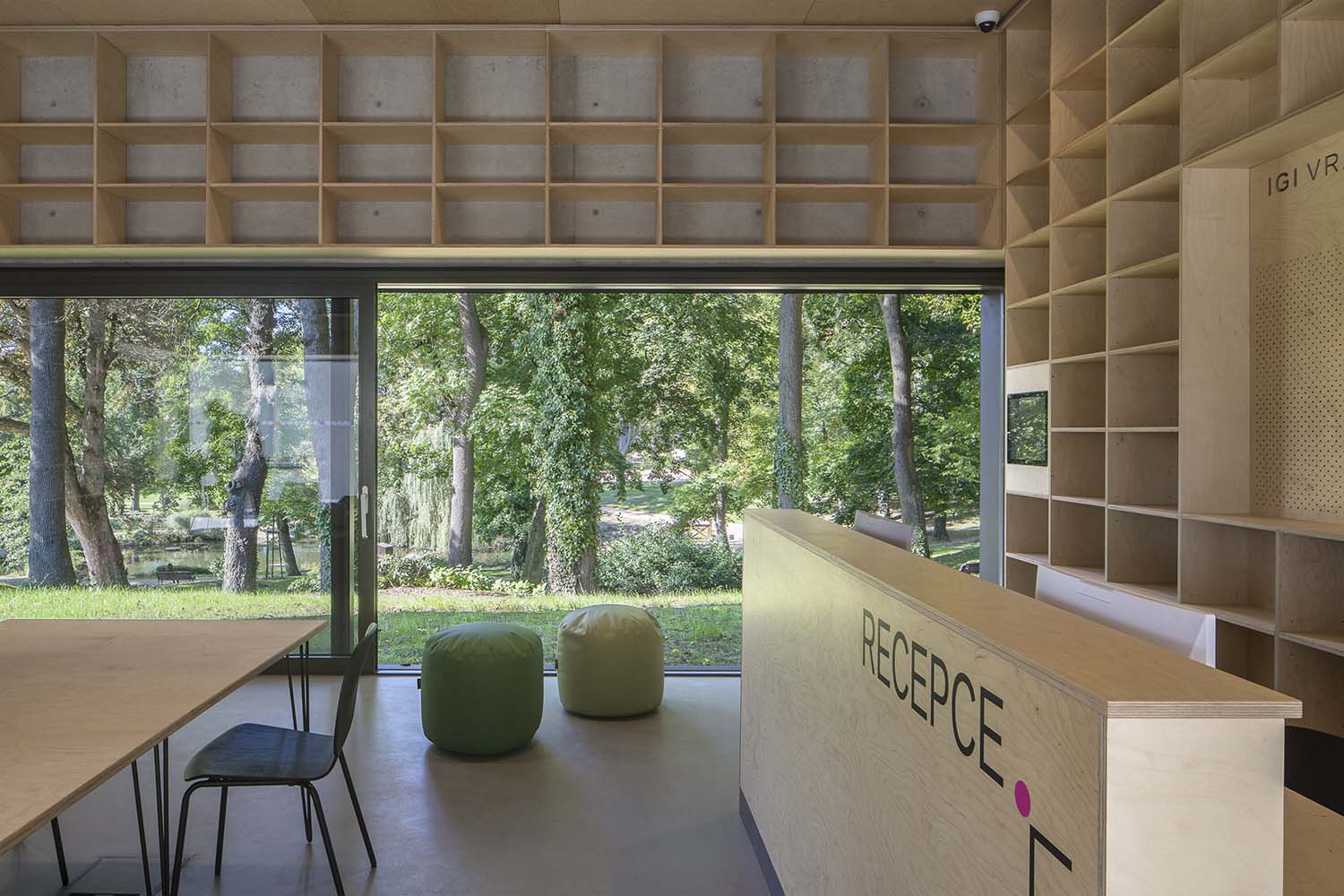 atakarchitekti retained the original character of the heritage building, its deep foundations allowing for a semi-recessed floor to be created by weighing off the ground, which in turn allowed daylight to pour in through generous portals while the excavated pit formed the base of the new plaza. The ground floor is home to clubs, whilst the upper floor houses the children's library.
On the west side, the old rectory is juxtaposed by the contemporary-styled library structure, the two buildings connected in the basement and also by a bridge on the first floor. Its size, shape and location are based on the context of the château garden and the rectory, as well as the tree protection zones and infrastructure network lines. The result is a building with a narrow, compact three-story upper part and a two-story basement.

The library is integrated into the above-ground floors of the extension, an open space with a reception area and terrace on the ground floor; a first-floor gallery and a reading room under an arched roof; and underground floors where visitor will find a multifunctional hall with a small lobby and cloakroom in a vestibule linking the two buildings, creating a common entrance area.

Designed with public interest in mind, IGI Library by atelier atakarchitekti is a well considered local project where design and detail combine with community use in mind.