Sid Lee Architecture reveal the interior design of Toronto's new W Hotel, the 254-room property on Bloor Street East inspired by the city's heritage, diversity, culture and style.
Located and designed for the voguish Yorkville neighbourhood, the hotel is "connected to the community," Sid Lee Architecture creating a seamless flow between the interior and the exterior to make the hotel a hub of connectivity. The ground floor façade opens onto the street giving direct access to PUBLIC SCHOOL, the hotel's café by day/cocktail bar by night, and is also home to a series of colourful art interventions inspired by Toronto's own street art culture; a nod to the city's Graffiti Alley, a street art circuit spanning several blocks of the Fashion District.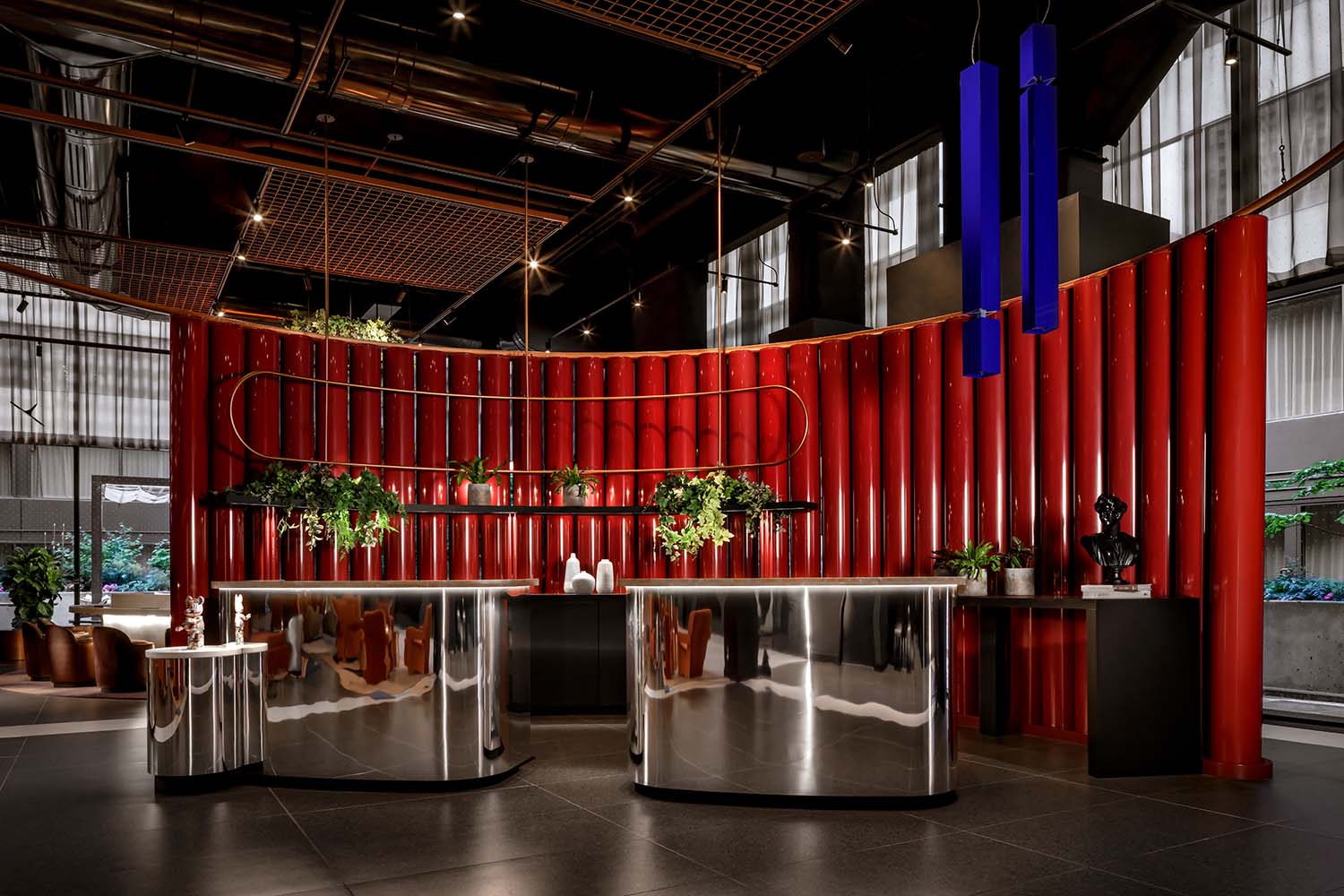 Up on the second floor, The Living Room is housed in a a glass cube, an urban oasis that allows you to feel detached from the rest of the city while being surrounded by local references. Here, you'll find a colour palette reminiscent of a theatre, paired with prop like furniture and art pieces, a tribute to Toronto's thriving theatre and film scene.
Guest rooms surround glass cube and consist of two distinct areas: one private and the other rather social. In a departure from the usual hotel room configuration, the bed is placed in front of the window and adorned with warm drapery, pendant lighting, and a deep blue frame that extends across the floor and walls. These elements stand like a movie set at the back of the room, but the perspective completely changes as you shift your gaze towards the door and glance over elements that usually belong behind the scenes, like a dressing room style vanity mirror and a clothing rack. The result is an inviting and friendly area that is conducive to warm gatherings that punctuate outings in the city.
Take the elevator to the SKYLIGHT Rooftop Bar and Restaurant, a relaxed space inspired by the hippie culture specific to the Yorkville neighbourhood. Here, Mashrabiya type perforated screens, hanging plants, colourful ceramics, and warm tones create a decor worthy of the tales in The Arabian Nights, whilst the convivial vibe invites you to linger a little longer.
For those looking for something extra special, the Extreme WOW suites would be a great option to bed down for the night after a few hours on the rooftop bar, continuing the party in the room's hot tub and spacious living area designed with entertaining in mind.
A typically outlandish affair for this most famous of decadent design hotel brands, W Hotel Toronto is a bold and brilliant addition to the city's hospitality scene.
@whotels
@wtoronto
@sidlee_architecture