The sign on the sidewalk at 15 West 8th Street, Vancouver, pretty much nails it. "33 Acres Brewing Co. Beer, coffee and snacks", and that's the kind of promise that can waylay even the most purposeful pedestrian.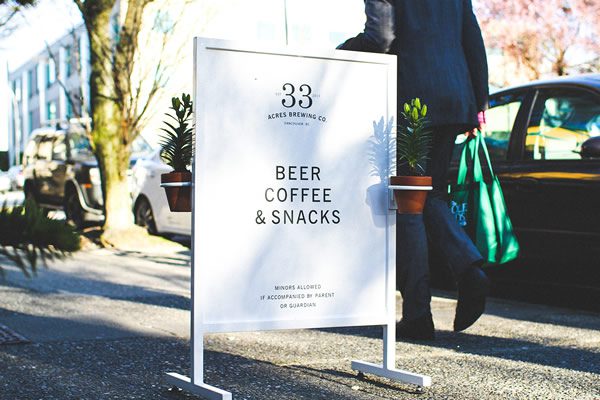 True to their word, that's exactly what 33 Acres' place is all about, and this being a brewery, beer is rightly at the top of the bill. This venue is not quite a bar though, it's a tasting room.
Due to licensing restrictions, 33 Acres are allowed to sell 24oz of beer at a time — that's a flight of four of those dinky little 6oz glasses, or larger vessels that come in 10.5oz, 12oz and 24oz variants. You can also buy a handsome 64oz growler to fill up and take away, or bring your own as long as they're clean. In addition to their growlers, 33 Acres also sell a range of other branded goods including clothes and accessories.
Clean and simple seems to be the overriding design principle at 33 Acres, utilising blankets of white with subtle accents from wood, stone, and natural fibres with a dash of verdant vibrancy from the venue's plant life. The starring role, of course, is played by the gleaming polished steel of the brewing vats.