With 123 guest rooms, food and beverage offerings from chef-partner, Patrick Kriss, and a rooftop bar and lounge slated to open later this year, Ace Hotel Toronto marks the design hotel brand's first foray into Canada; the "ground-up project" having been designed by esteemed local firm Shim-Sutcliffe Architects for likeminded souls who make the creative wheels of cities like this turn.
Located in the historic Garment District, an industrial neighbourhood ignited by innovation, Ace Hotel Toronto may be housed in a new building but imbues a Canadian spirit and feeling, Shim-Sutcliffe Architects having conveyed timelessness, modesty, and honesty throughout. The hotel's red brick facade recalls the important role bricks pressed from Don Valley clay played in forming the city's visual identity, Ace doing in Toronto what they do so very well elsewhere: to "genuinely embrace local culture in the areas we inhabit".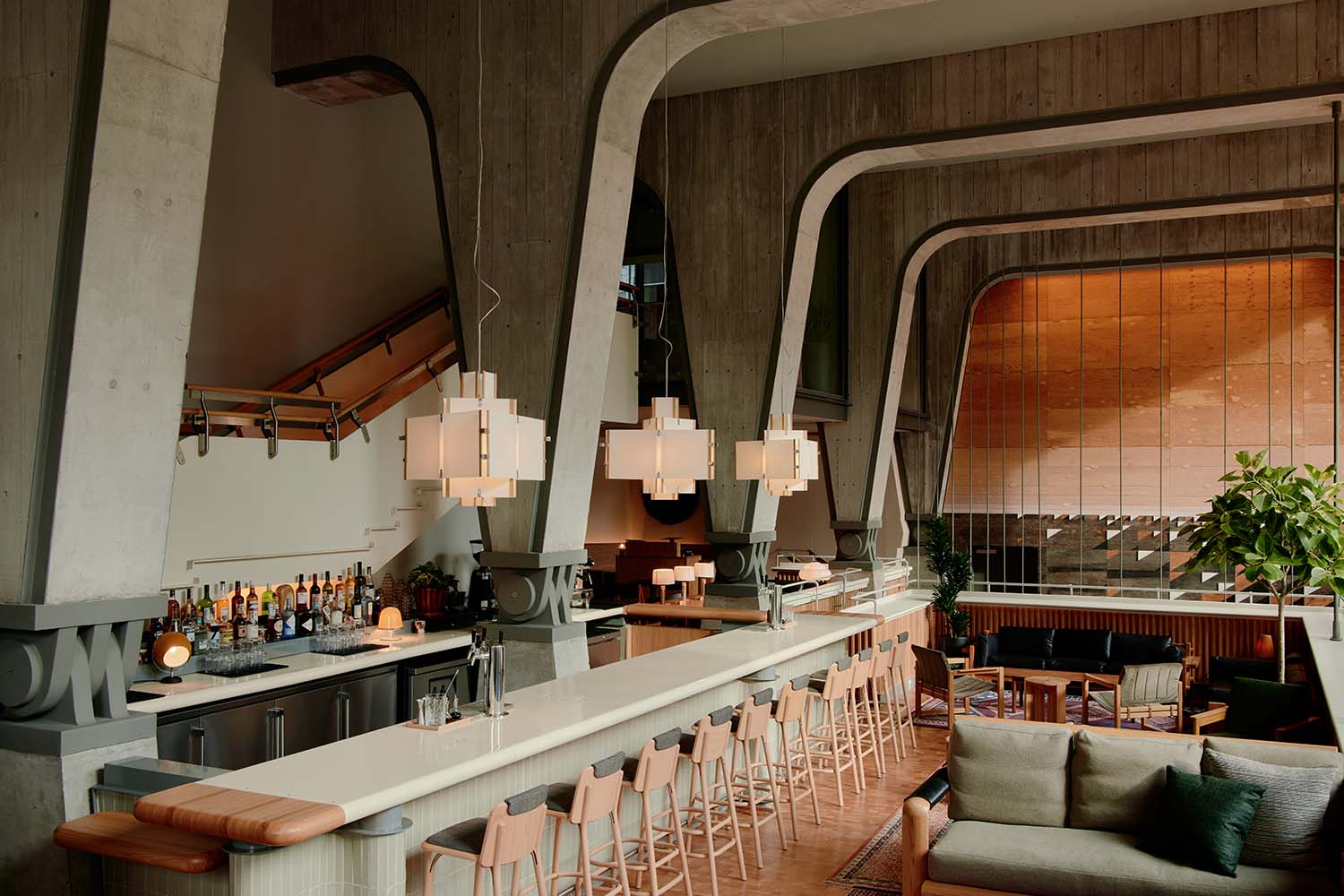 Guest rooms are typical of the brand and see their design evolution continue apace. Expect touches such as custom Tivoli sound systems, guitars, window benches, a curated mini-bar and dreamy beds. It's in the public areas, though, where the heart and soul of Ace Hotels can be found. Upon entering the lobby visitors can catch a glimpse of Horizon Line, a three-story site-specific art installation abstractly representing Lake Ontario's glittering waters. Designed by A. Howard Sutcliffe and clad in red oak lining inspired in form by a wooden tray, said lobby is suspended by slender steel rods from massive supports, offering guests a variety of viewpoints and scales within the impressive space.
The hotel's interiors are designed by Atelier Ace and also take cues from the city's legacy of manufacturing and textiles, as well as Ontario's landscape of dense forests and rivers. An art programme features pieces by nearly 40 artists, the majority of whom share ties to the city; a nod to Toronto's creativity and spirit for innovation.
Chef-partner Patrick Kriss oversees all dining menus at Ace Hotel Toronto and, alongside The Lobby——the 'suspended' spot that offers craft cocktails, wines and beers——Alder is a relaxed all-day hangout featuring ingredients selected at their flavourful peak and delicately enhanced with smoke, flames and a deft touch. Evangeline will complete the f&b offerings, the rooftop bar and lounge perched 14 stories high, a place for good fun and great views. Serving finger foods and small plates, Evangeline will officially open later this year and will be open late night year-round.
With the inimitable Ace attitude and peerless aesthetics, the brand's latest is yet another inspired offering.
@acehoteltoronto
@williamjesslaird