The Carpenter Hotel Austin is the latest offering from hospitality group The Mighty Union. Housed in a concrete and terracotta block building a mere five minutes walk from Zilker Park, home to Barton Springs Pool, the hotel features 93 guest rooms each with private terrace, minimalist yet contemporary design, with plenty of exposed concrete and industrial edge.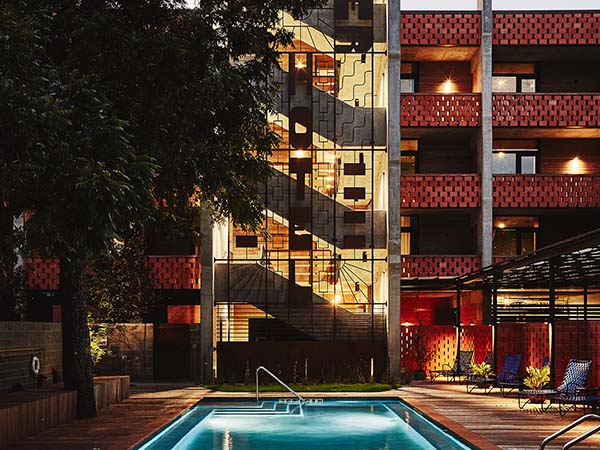 With a team of Donald Kenney, Jen Turner, and Jack Barron (of Ace Hotel) heading up The Mighty Union—alongside food and beverage gurus Andrew and Christina Knowlton—Austin's The Carpenter Hotel was always going to be one of those places to see and be seen; public spaces like their outdoor pool, courtyard and Quonset hut pavilion, and Carpenters Hall restaurant a place for guests and locals alike to mingle in photogenic surrounds.
Located in the main hall of the old union building, Carpenters Hall is a true neighbourhood spot, somewhere where hotel guests will actually want to eat alongside Austinites in the know. Chef Grae Nonas has put together a menu based around a "new eyes on old Texas" ethos, allowing him the freedom to rustle up authentic Texan goodness with a contemporary flair that diners will be vying to get their chops around.
HOT L COFFEE is open daily until 5pm and serves Merit coffee, fresh juices, salads, sandwiches, and baked goods—whilst a shop of curated curiosities is set to open soon alongside a programme of cultural 'happenings'. Another stellar addition to a city overflowing with culture-forward, design-conscious hospitality projects, Austin's embarrassment of riches continues with the brilliant Carpenter Hotel.