London-based practice, A-nrd studio, have created an informal beach-inspired interior for the Soho outpost of Milk Beach, a new sister restaurant to Milk Beach Queens Park. Situated within the Central London development Ilona Rose House, Milk Beach Soho is an all-day Australian restaurant cum night-time hotspot with oodles of Oceana style.
Paying special attention to Milk Beach in Sydney, as well as other beach cafés in the Aussie city, A-nrd studio have incorporated Art Deco influences and an eclectic mix of materials into Milk Beach Soho, the 150-seat indoor-outdoor all-day restaurant and cocktail bar from restauranteur Elliot Milne evoking thoughts of long hot summer days; its bright and airy, coastal yet sophisticated, interior a feast for the eyes and senses.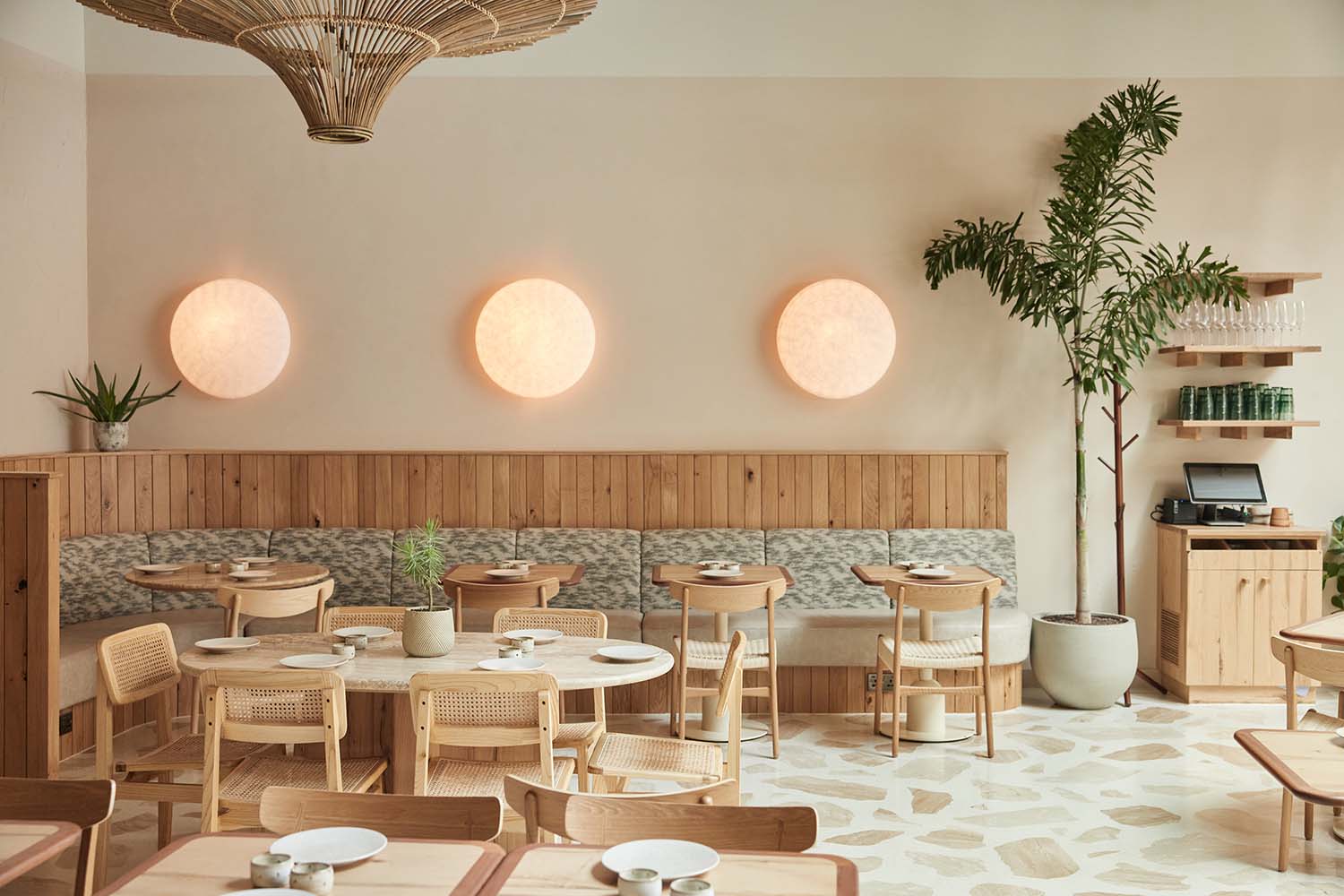 A nine metre long central and curvaceous cocktail bar is a focal point, along with the open kitchen which also adds a theatrical touch to the otherwise relaxed space. Islands of comfortable but stylish bespoke sofa seating feature chunky oak bases and textured geometric fabrics, which echo the overarching beach aesthetic. A sweeping banquette crafted from slatted oak and upholstered with cream leather and textured cotton fabrics, meanwhile, softens the rear corner of the restaurant and visually divide a large expansive wall.
Japanese paper wall lights provide soft illumination, native Australian plants add a smattering of greenery and complement vibrant artworks by Australian artist Janey Forbes, as well as UK-based artists Frankie Throp and Ceicilia Reeve.
Whilst the inside is charming, an extensive courtyard is hard to come by in Soho, and provides seating for 65 diners with a mix of wooden bistro tables and chairs punctuated with a gentle palette of colourful and soft geometric cushions and throws. For the wetter London days, and there are many, parasols and heating allow guests to enjoy the space, come what may, making this a destination to come and linger over good food and cocktails in good company.
An Aussie oasis in the heart of London serving seasonal dishes inspired by the cultures that make up modern Australian cuisine, combined with influences from South East Asia, Milk Beach Soho is a fine addition to the Milk Beach world, and offers a new proposition for this changing part of town.