Having undergone extensive renovations, Museum Arnhem reopened its doors to the public in May 2022, with new public spaces including the general entrance, café, ground floor shop and first floor events space all freshly designed by Amsterdam-based creative studio, Studio Modijefsky.
Boasting views over the Rhine, the wonderfully situated museum for modern, contemporary, and applied art and design (with a focus on female artists) houses one of the most important cultural collections in The Netherlands alongside a special collection of jewellery. The new spaces, which revolve around the building's iconic dome, were inspired by these collections as well as its former life as a gentleman's club. Although seemingly worlds apart, both have escapism at their heart, from the men who used to evade everyday life to the artists creating fantastical takes on reality.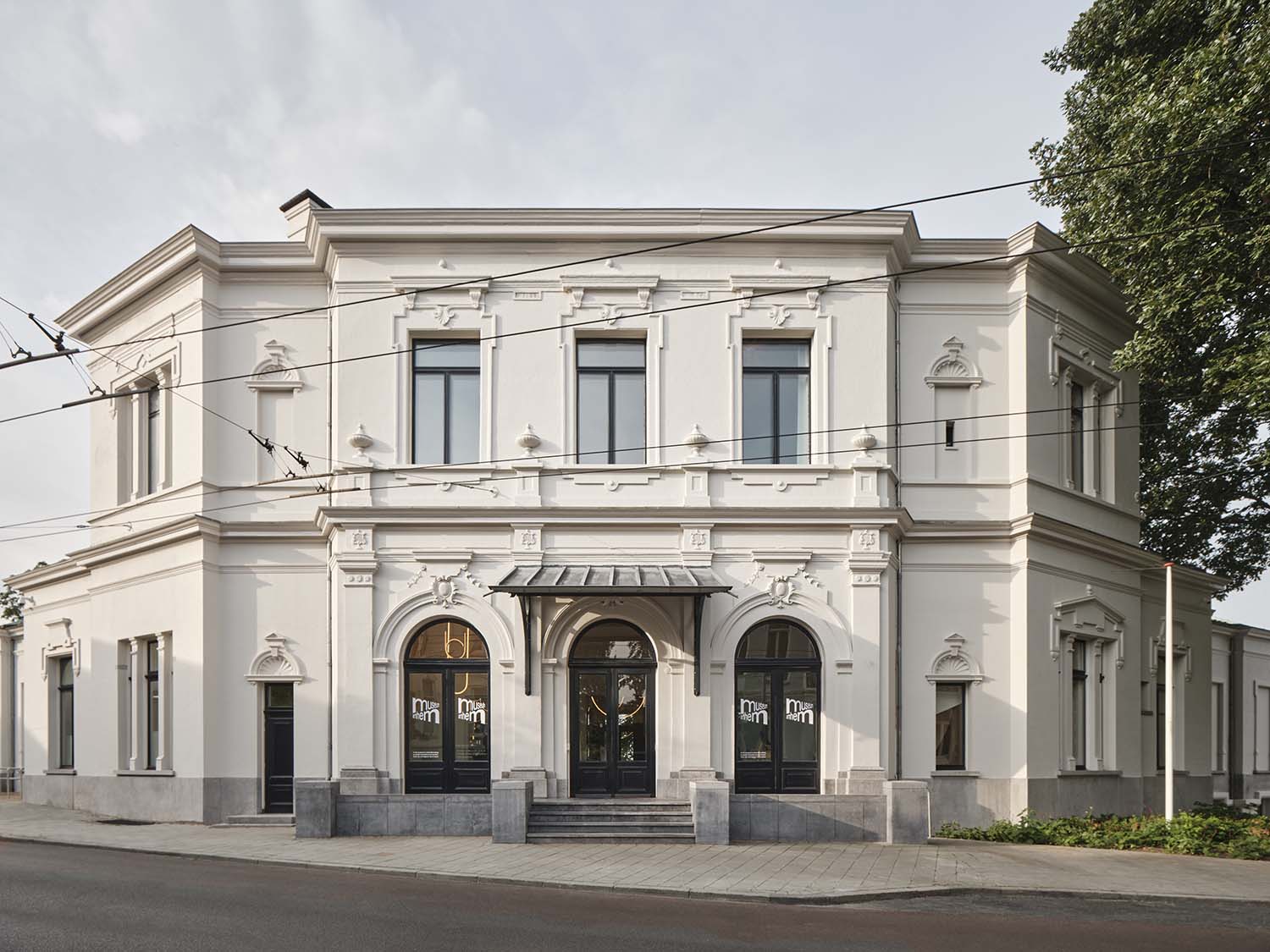 An essence of magic realism can be felt immediately upon stepping through the entrance, a lightbox hangs above the desk, mirroring the desk's shape, while floating bewitchingly above it. The sizeable café and museum shop can be found on the ground floor and embracing its size, Studio Modijefsky created 'zones' enabling visitors to eat, drink, browse, view, and hang out. A custom-made chandelier makes full use of the dome's magnificent height, hanging from the top of the dome to the ground floor, and uniting the entire space.
Café Pierre can be reached either via the entrance or returning from the exhibition wing and, in typical Modijefsky style, features a mix of different materials and sculptural elements: a marble block that faces the entrance; two towers of aged brass and bronze that stand as beacons calling visitors to quench their thirst or sate their hunger; a marble ornament on the right side of the bar top that adds a playful touch.
Spatial elements relate to the space's monumental columns in the space. These were the only part of the existing structure that had to be retained and therefore all the benches, shop displays and bar are positioned around them, and given the height of the dome, were designed to be dark and 'heavy'.
Studio Modijefsky's work continues in the shop and event space, the designers opting for a more refined touch in the former, and creating an events environment where visitors can let their creativity run wild; with everything designed to inspire guests to grab a marker, paintbrush or pen and start drawing.
With a collection broadly composed and known as the most important collection of magical and neo-realists in the Netherlands, and such an enviable position, Museum Arnhem's updated public spaces are just another reason for travellers to make a special trip to this often overlooked Dutch city.
@museum.arnhem
@studiomodijefsky