Beer and pincho bar, La Cervecería, brings a touch of the Mediterranean to Amsterdam, its kitchen—run by a Catalan chef—delighting diners with traditional tapas, charcuterie and paella; the small dishes designed for sharing and washed down with a cold caña, Spanish wine, cava, or glass of sangría.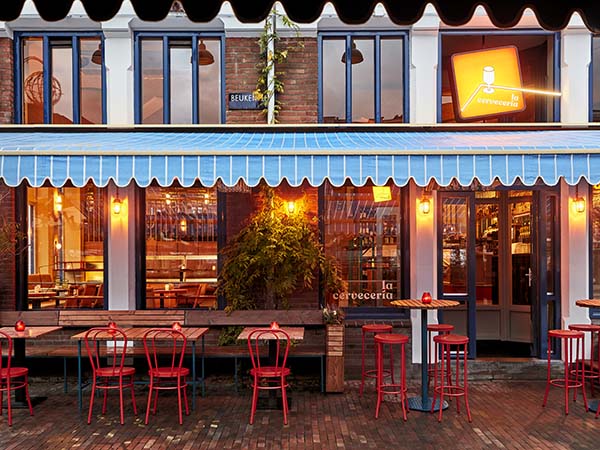 Located in the hip district of Amsterdam East, the Spanish-inspired bar was designed by Studio Modijefsky, and features a bright colour palette with a juxtaposition of modern patterns; the interiors referencing the typical 'cervecerías' of Spain where colleagues, friends and family meet in the evening to enjoy each others company, a few small beers and small plates to pick at.
Divided into three main areas, enter La Cervecería and you immediately face the dining area with a mix of low and high seating with round and square tables placed on a graphic tiled floor. Here a collision of leather and textiles are complemented by vintage light fixtures and yellow-shaded wood. Over to the right and the bar—literally stood on a pedestal—is the star of the show, exhibiting the beer taps and bottles. Made up of aged brass, softly-toned yellow tiles and Carrara marble, wooden base and freshened up by a red powder coated steel plate, the bar recalls elegant bar counters of old southern cafés. and is a great spot to perch upon a stool and watch the hustle and bustle within the venue.
Overlooking the ground floor and the kitchen, the mezzanine features booth-like seating, the space is filled with mirrors, red leather seating and yellow-blue textile; all reached by climbing a short but stunning wooden staircase. Fresh, hip and detailed in a way one familiar with Studio Modijefsky will instantly recognise, La Cervecería is another fine addition to the hip quarter of Amsterdam East.
@lacerveceria.ams
@studiomodijefsky