Located near to Spitalfields Market and comprising a bakery, where Julien Valmier musters up some legit sweet treats; a 70 sq m yoga room kitted out with Philip Hue bulbs that allow their user to set their own mood; and workspace complete with hot-desking and break-out areas, Benk + Bo is a project brought on by the love of hosting and community shared by friends Antony Burger and Mariell Lind Hansen.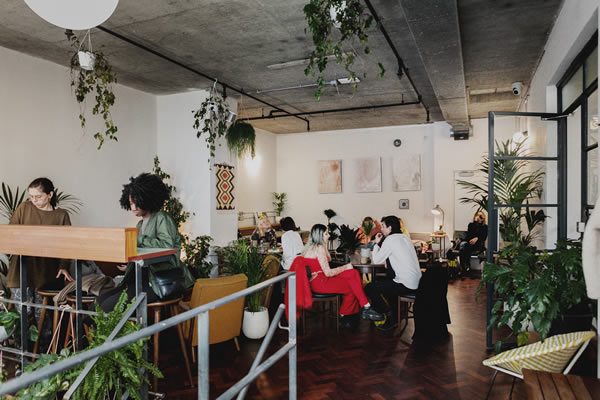 Meaning 'bench' and 'live' in Norwegian, a nod to Mariell's native country, Benk + Bo is housed in a beautiful mid-century building with aesthetics that lean very much to Scandinavian design. Burger a former ASOS fashion producer, and Lind Hansen an architecture and interiors photographer, the duo know a thing or two about style, and have exerted that on their handsome creative space.
Taking a hands-on approach with the design, and overseeing the daily running of the project, the duo foster a deep community spirit; one inspired by the back-to-basics DIY essence of the rural Norwegian island of Mariell's formative years. Taking into mind the evolving notion of work, many creatives taking on multiple or fluid careers, occasional residencies will be offered, collaborative efforts encouraged and the Benk + Bo project evolving organically. Select artists will be invited to exhibit throughout the year.
Alongside Valmier—ex-head baker at The Savoy Hotel; former pastry teacher at Le Cordon Bleu—is Rosi Vasileva, former pastry chef from the Shangri-La Hotel, and Benk + Bo sees the duo baking classic patisserie (think pain au chocolat, eclairs, Danish pastries, and tarts) and bread (from which toasties will also be made each lunchtime) daily; local collaborations are to be expected, following on from a recent coming together with 26 Grains.
Membership with access to all facilities, including a café discount, is priced at £190 per month; with part time packages and individual room hire available for significantly less. Forged on the bare essence of collaborative community, Antony Burger and Mariell Lind Hansen's holistic creative project is mindful addition to London's flourishing cowork landscape.