A labour of love bringing mental health issues, specifically grief and loss to the public consciousness in a colourful and creative way, Fandangoe SKIP is a public art installation by London-based print artist Fandangoe Kid in collaboration with SKIP Gallery, The Loss Project and Caukin Studio. Situated in front of Greenwich Peninsula's NOW Gallery until 14 July before moving on to Canary Wharf 21 July, where it'll remain until 6 August.
A candy-coloured ice-cream-kiosk-in-a-skip, the collaboration extends beyond public art, the Fandangoe SKIP coming hand-in-hand with a fully integrated arts and mental health programme, including free mental health workshops alongside a welcoming scoop of Fandangoe flavoured ice cream made by A Portuguese Love Affair.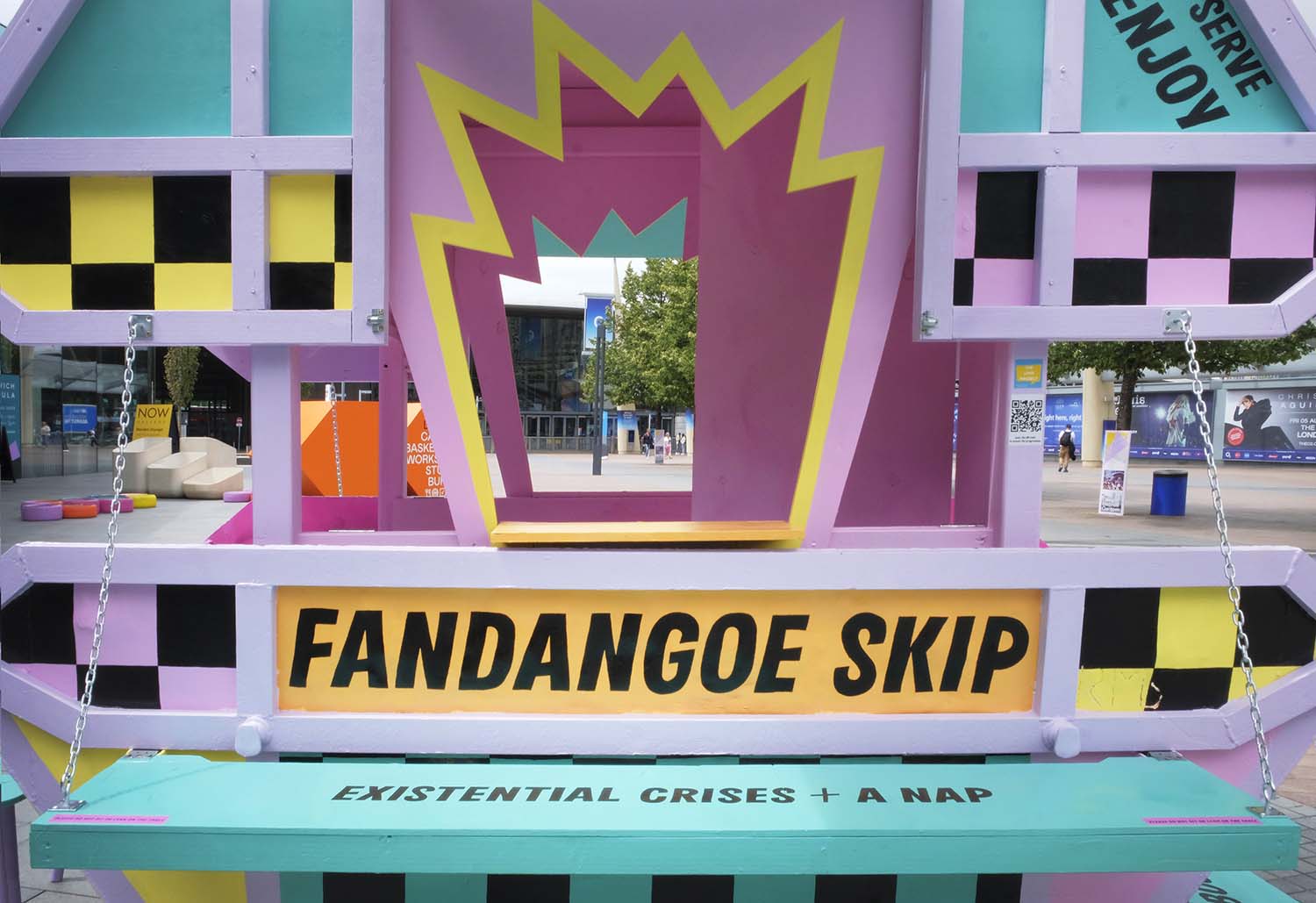 Driven by her own story following the loss of family members in 2011, The Fandangoe Kid tells us: "The Fandangoe SKIP seeks to connect with audiences on many levels, offering ice cream as an ageless and classless platform for immediate engagement in a non-pressurised environment. This installation means a great deal to me, it's something I have been working towards for most of my practice, knowing first-hand how important it is to have responsible outlets to nurture and maintain our individual and collective mental health."
The kiosk has been made of sustainable materials in collaboration with CAUKIN Studio, a social enterprise that creates impact through architecture. Alongside Fandangoe's renowned style of graphic text and pattern-work executed in bold and pastel shades, it will feature cones, bubble gum pinks, and important messages such as 'Grief Wallops!' in a mood-lifting pastel colour palette.
"As well as being big admirers of Annie's expansive and colourful approach to often challenging subjects, our latest venture, Fandango SKIP, which explores grief through the medium of ice cream is very close to our hearts," explains Lee Baker of SKIP Gallery, who are seeking collaborators from public spaces, galleries or universities in New York and California to help develop a mental health programme to reach audiences across the States. "Catherine and I have both experienced the loss of our parents in recent years, and when Annie approached us with the idea, we were a big fat multicoloured YES."
A fun project bringing true warmth to a difficult subject matter, Fandangoe SKIP continues the fine collaborative work of SKIP Gallery, CAUKIN Studio and The Loss Project, and is a ray of multicoloured light set to inspire many between now and 6 August.
@fandangoekid
@skipgallery
@caukinstudio
@thelossproject1