Aureli Mora and Omar Ornaque of architecture practice AMOO have transformed an old bar in Barcelona's slow-paced Gràcia, transforming an elongated tube-shaped space—typical of buildings in neighbourhood—into a bright and contemporary locale with an architectural edge.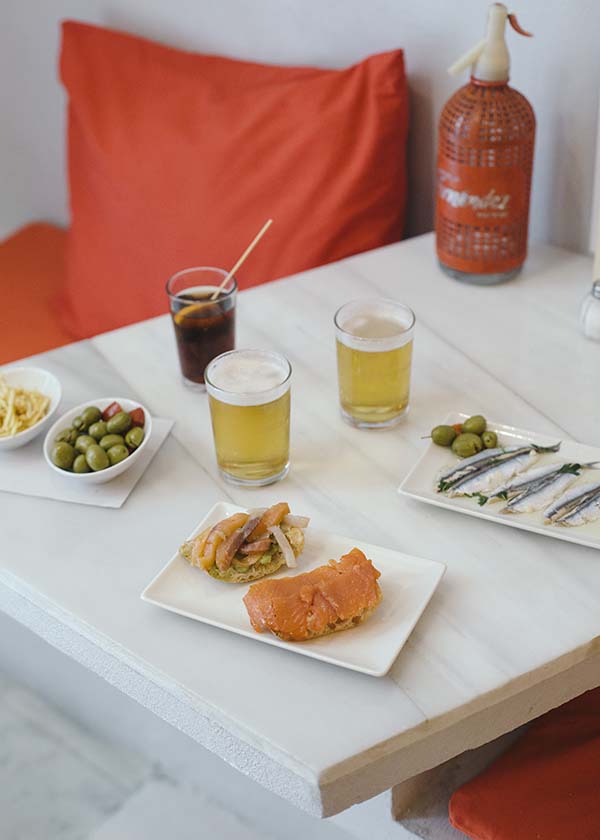 From the fisherman's coat and wellington boots hanging at the front door to the chiller stocked with high-quality preserved seafood, stepping into El Villa evokes the taste and essence of Andalucía; the vermuteria paying homage to the sailors who set sail from the port of Almería to source the Mediterranean's very best catch through a selection of salazones (salted fish); conservas (cockles, clams and mussels preserved in cans); tostas (slices of toasted bread with smoked salmon, anchovies, tomato and guacamole); alongside a smaller selection of charcuterie products, cheeses, and desserts.
The space having been used as a bar since the 1990s with minimal work to keep it modernised, AMOO's extensive undertakings included lengthening the appearance of the façade—removing an existing extractor fan and returning it to its former glory—and replacing the existing ceiling to create more natural light and to minimise the impact of sound to the bar's neighbours. Achieving that by using cork panels (which extend to part of the walls), the solution is not only practical, but aesthetically it becomes an intriguing focal point for the space; cork-topped stools continuing the story.
White and blue bevelled tiles also line the walls, the combination of motifs adding a sense of geometry whilst nodding to Andalucían arabesques. The furniture, a mixture of those cork seats with tall bar stools, built-in marble benches and tables, a large communal table, and lengthy bar, combine to create a series of options for locals whilst serving as interventions to break up the narrow footprint. The bathrooms have been moved out to the establishment's small patio area—stocked with the remains of the fictitious shipwreck—which also serves as a secondary source of natural light.
With excellent food, friendly staff, and the go-slow vibes of Spain's sun-drenched south, El Villa Vermuteria del Mar is a welcome addition to Barcelona's best barrio.