Brighton-based designer, Lois O'Hara (who we last saw illustrating one of the Evermade x NHS Rainbow Art Prints), has created a colourful large scale installation for the Wembley Park Art Trail. The mighty 23 square metre floor mural is entitled Think Independently, Together, and draws inspiration from the local area as seen from the bird's eye view, and encompasses a map of Brent into its overall design.
Located at the foot of the UK's national football stadium, and complementing the new Olympic Steps, the mural provides a fitting concourse to the iconic ground, whilst further establishing Wembley Park's credentials as a cultural hub for Northwest London.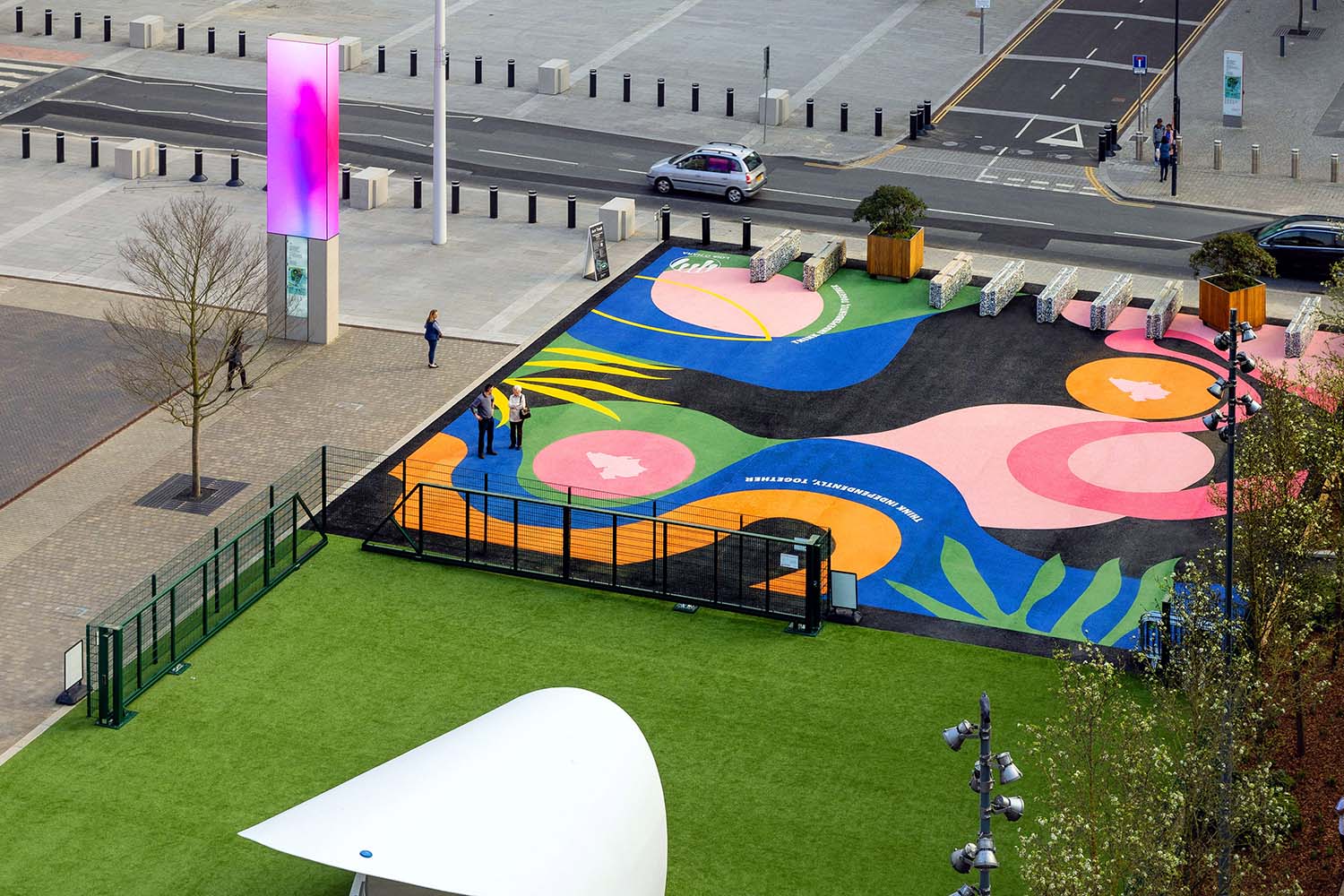 Developed alongside young local adults from London School of Economics, the artwork was designed to encourage both connection and interaction across all ages, genders and capabilities. Forming graphic interlocking shapes in a bright colour palette designed to uplift and inspire, O'Hara opted to weave together playful lines to incentivise movement and play.
Passionate about bringing the essence of motion, positivity and a 'state of flow' to shared public spaces, the multi-disciplinary artist uses her energetic colour palette and large-scale designs to transform urban spaces into dynamic animated spaces for the public to enjoy, this time collaborating with a group from LSE Cities Apprenticeship Programme in City Design, each instrumental to Lois's process, their feedback critical in shaping the work's overall aesthetic.
Part of Figures of Change, an all-women art trail curated by Zoë Allen of Artistic Statements, which will feature a roster of artists and curators, Lois O'Hara's Think Independently, Together will be free to visit until 26 June. Football may be some time from 'coming home', but fans of energetic public art need look no further.