Birth, death and a midlife crisis is a masterful architectural intervention that appears to have tied a 450 year-old column into a vast, ungainly knot; currently showing as part of an exhibition in Kirchheim Unter Teck, Germany, it is British artist Alex Chinneck's first indoor sculpture in five years.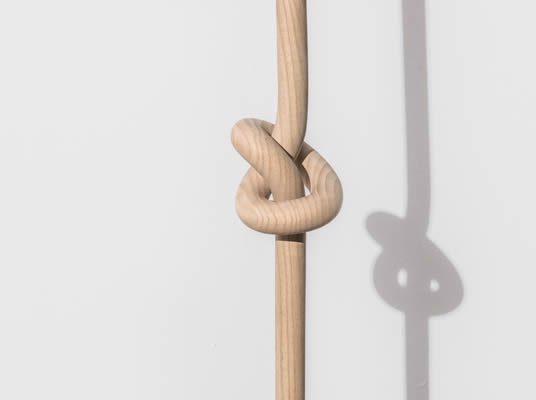 Known for working between the disciplines of art, architecture, theatre, and engineering—and noted for his large-sale outdoor projects such as his side-splitting Six pins and half a dozen needles, an upside down 35 metre tall electricity pylon, and his iconic melting house in Margate—Chinneck's contorted column is accompanied by a straight column, giving the intervention symmetry; each addition materially indistinguishable from the historic pillars they mimic.
"I like to give fluidity to typically inflexible things," admits the artist, "transcending their material nature. The columns are the prominent feature in the 450 year-old museum, and this intervention took an opportunity to defy logic and distort history."
Currently showing at the small town's Städtische Galerie im Kornhaus, Knots runs until 8 April, but only represents the beginnings of Chinneck's fascination with looping monumental architecture—the artist having also announced Onwards & Upwards; a series of five red brick chimneys lining a canal linking Sheffield and Rotherham also set to be twisted. With this colossal knotting set to happen for real—using more than 20,000 bespoke bricks—the interventions will represent one of the country's most ambitious public art projects.
@alexchinneck
@stadt.kirchheimteck