A modern bistro with delicious pierogi as the star of the show, Warsaw's Syrena Irena snubs the traditional rustic interiors in which you usually dine on this ubiquitous stuffed dumpling dish, instead serving up Poland's beloved dish in bright and colourful surroundings with bags of design details.
With patron 'Irena' (a mermaid whose name is a spin on Syrena, the Mermaid of Warsaw) casting a watchful glance over the counter and all that happens there, the good folk at Syrena Irena know how to have a good time combining the intriguing dish with a selection of wines, bubbles and vodka.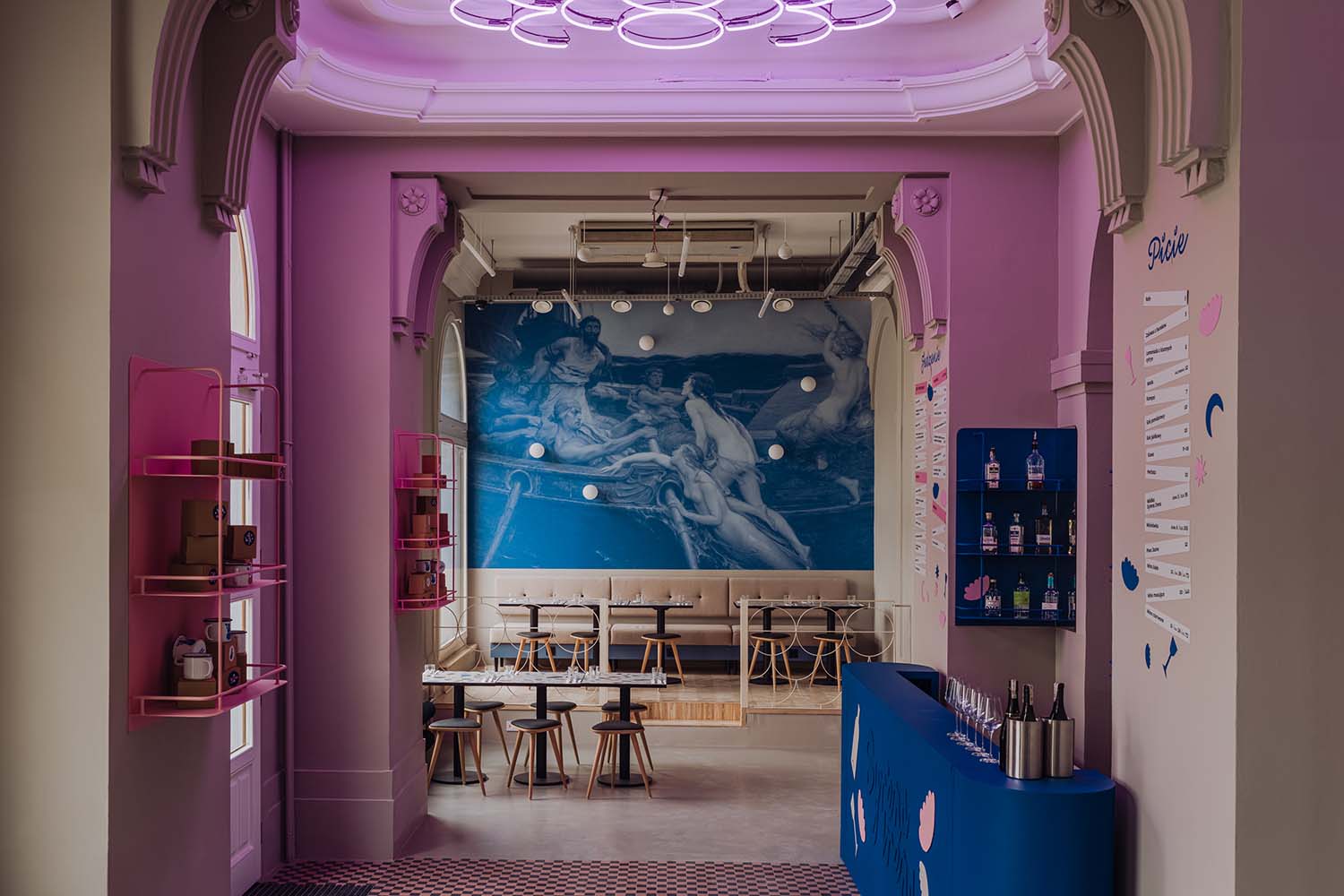 Diners can expect a choice of seven different fillings, both sweet and savoury, options include pierogi stuffed with fermented ramsons and smoked quark cheese or poppy seeds, raisins, and nuts. A brave approach to such traditional food, the dumplings are complemented by an updated take on Polish classics including herring in flax and hemp oil; sour rye soup; and 'steak tartare' made of oyster mushroom and tomato.
The Warsaw restaurant was created by architecture office Projekt Praga and Mamastudio, its spirited design starring terrazzo-like tabletops, wooden stools, milky glass sconces, mosaic tiles and neon signs that add a mid-century feel. The menu hangs haphazardly on the wall either side of Irena, and the open kitchen behind her is where the team knead, stuff and fold the house-made pierogi.
A large mural hangs in the dining room reminding diners of the mermaid theme, and is complemented by sleek furniture, lighting and large windows. Cheerful and honest, whether you're beginning your journey through Polish food or here to try an updated take on the classics, Syrena Irena Warsaw is a beautiful unpretentious locale with a spirited aesthetic.
@syrena.irena
@projektpraga
@mamastudio