Bringing those 'holiday vibes' to the banks of the Vistula—a river inhabited by wild fowl yet located next to Warsaw's boulevards—Nowa Fala, meaning New Wave, is a two-storey, 40 metre-long floating pavilion that not only serves as a functional construction (its primary use is to enable smaller vessels to moor to shore) but as a place for locals and tourists to indulge in a variety of snacks, drinks and social revelry.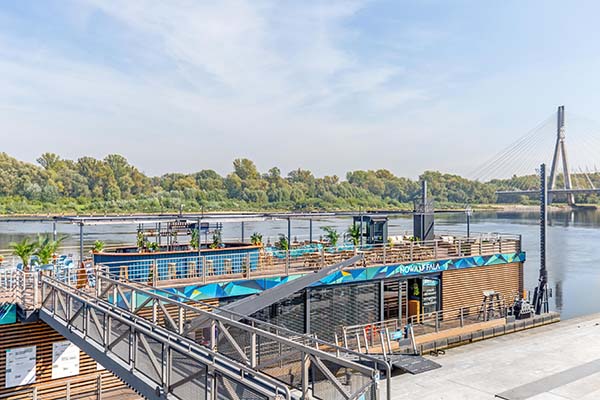 Local design studio, Five Cell, were briefed to 'achieve a holiday atmosphere without leaving the city' and to 'evoke the feel of warm seaside locations in southern Europe,' with New Wave needing to encompass a host of cultural offerings whilst also serving as a destination drinking spot for those who want to be close to the water.
Located next to the Copernicus Science Centre and the Museum of Modern Art, Five Cell have brought Nowa Fala's guests closer to the city's nature, transforming the Warsaw riverside and "turning the city towards the Vistula", by creating a space that allows the 'new wave' spot to host inspiring arts, cultural, educational and sports events.
With one bar on the lower deck featuring a choice of wall-mounted beer taps, directly connected to a separate cold store, a contemporary sitting area, and 250 metres-squared upper deck—complete with observation deck offering vistas of the cityscape—and a second central bar, Przystań Nowa Fala is attracting a crowd who like to catch-up, hang-out and enjoy the simple things in life on the shores of Warsaw. Come night, romantic lighting makes this waterside destination the perfect place for a little tête-à-tête.
@fivecell.architects
@przystan_nowafala