An oasis of calm and serenity in a city that is anything but, Riyad El Cadi is a maze of interconnected houses and patios that offers its guests both an authentic taste of Marrakech and a truly disconnecting travel experience. Located in the heart of the frenetic Medina, just steps from Jemaa el-Fna square, El Cadi is a gem of a place to break away from the hustle (with a capital H) and bustle of all that occurs outside.
The riad features 15 individually designed guest rooms and suites built in the traditional architecture and style evocative of Morocco. Whilst some boast baths and fireplaces, others have lounge areas and sizeable terraces. These accommodations dotted throughout the property, our first challenge was to remember how to locate our suite.
Located up on the second floor and overlooking the prettiest of patios, filled with orange and lemon trees and other fanciful fauna, the winding layout of the property is enough alone to conjure the sense of mystery that this city is famous for. As well as testing our memory, the layout equals much privacy; guests can take full advantage of the serenity in their rooms and suites, and if they so choose, chat with other guests in one of the many courtyards, salons or the sprawling rooftop terrace.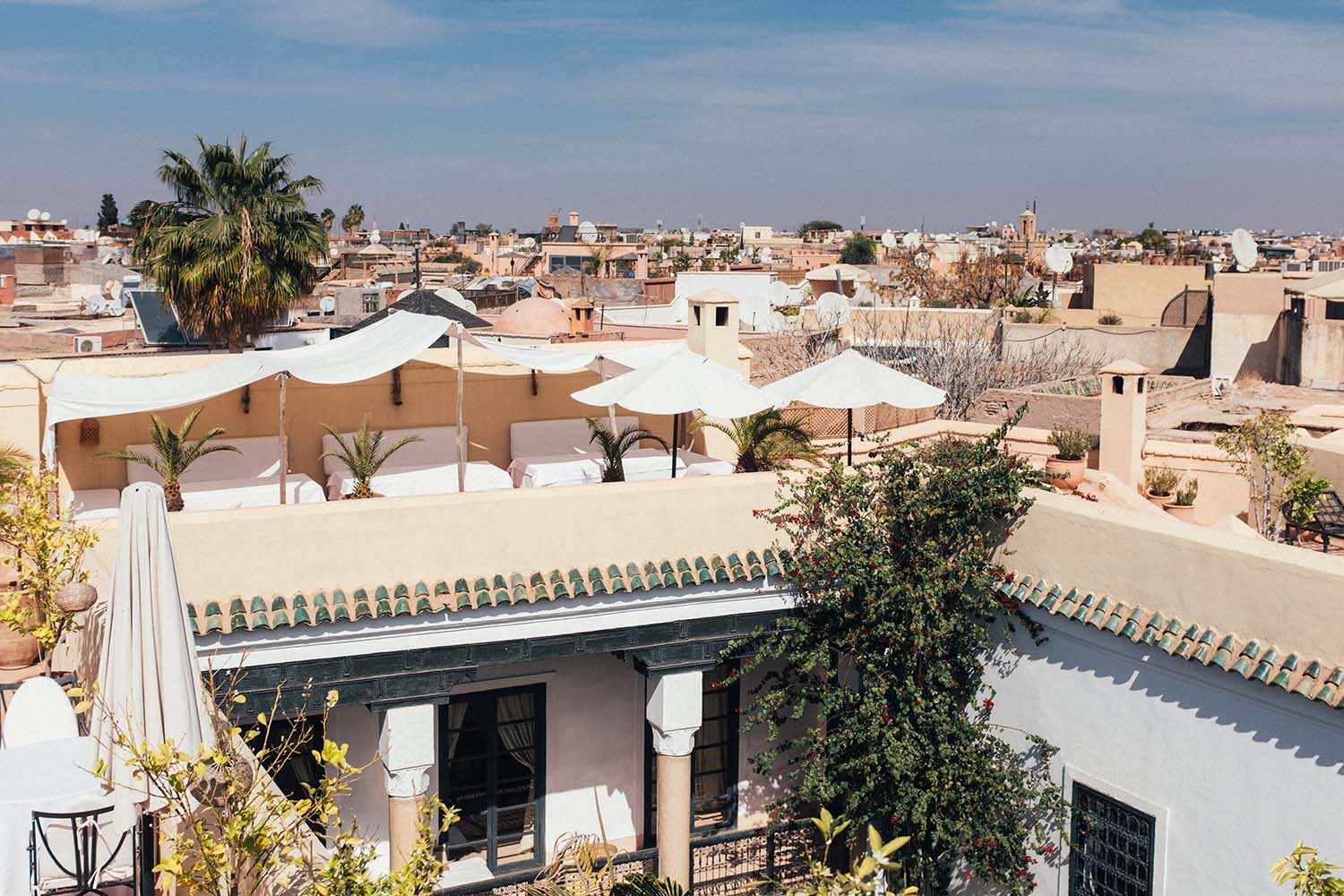 Indoors, a collection of early Moroccan artefacts, an important collection of Berber costumes, objects of Islamic art and classical Asian furniture create a special mood. The surrounding streets and Jemaa el-Fna square, meanwhile, are colourful and deliver a heady mix of visual, aural and olfactory sensations.
If at first these sensations can be overwhelming, one quickly becomes accustomed to the ways in which to navigate this particular brand of bedlam. Petrol pumps from scooters and motorbikes as they weave through the crowds and narrow Medina streets, hawkers peddle all they can, and the patina of centuries gone by makes for a visual extravaganza. A short stroll from the hotel is Mechoui Alley, where whole sheep are roasted in underground clay ovens beneath three shops that sell the meat by weight. Simply seasoned with salt and cumin, it is street food at its very, very best.
The Jemaa el-Fna, in particular, comes wildly alive at night, with snake charmers summoning cobras playing a hypnotic melody using a pungi; street vendors urging you to their food stalls, smoke and smells billowing from them; groups of musicians gathering for mesmerising improvisations.
Riyad El Cadi, however, is a place to return to and contemplate the wonder of the Old City. Opting to ease gently into the city on our first night, Chef Hassan proudly serves up a delicious dinner of Moroccan bread and incredible salads, followed by a lemon chicken tajine. Cooked slowly and skilfully, the fresh lemon cuts through, the meat is succulent, and the garnish of fried spring onions and spices complements all beautifully. It is without a doubt, one of the best things we would eat in our four days in Marrakech.
Whilst our dinner was served in the main patio of our riad, underneath citrus trees and amongst twinkling lights and the balmy night sky, breakfast is served upon the roof terrace; the Bedouin Tent protecting us from some much-welcome February sun. A relaxed affair, each morning a smiling Said would present us with hot coffee, fresh fruit and yoghurt, pancakes and a selection of warm bread and pastries with a variety of honey and jam. Afterwards, stomachs satisfied, we'd sit, relax and enjoy the warmth and views of the neighbouring rooftops and mosques.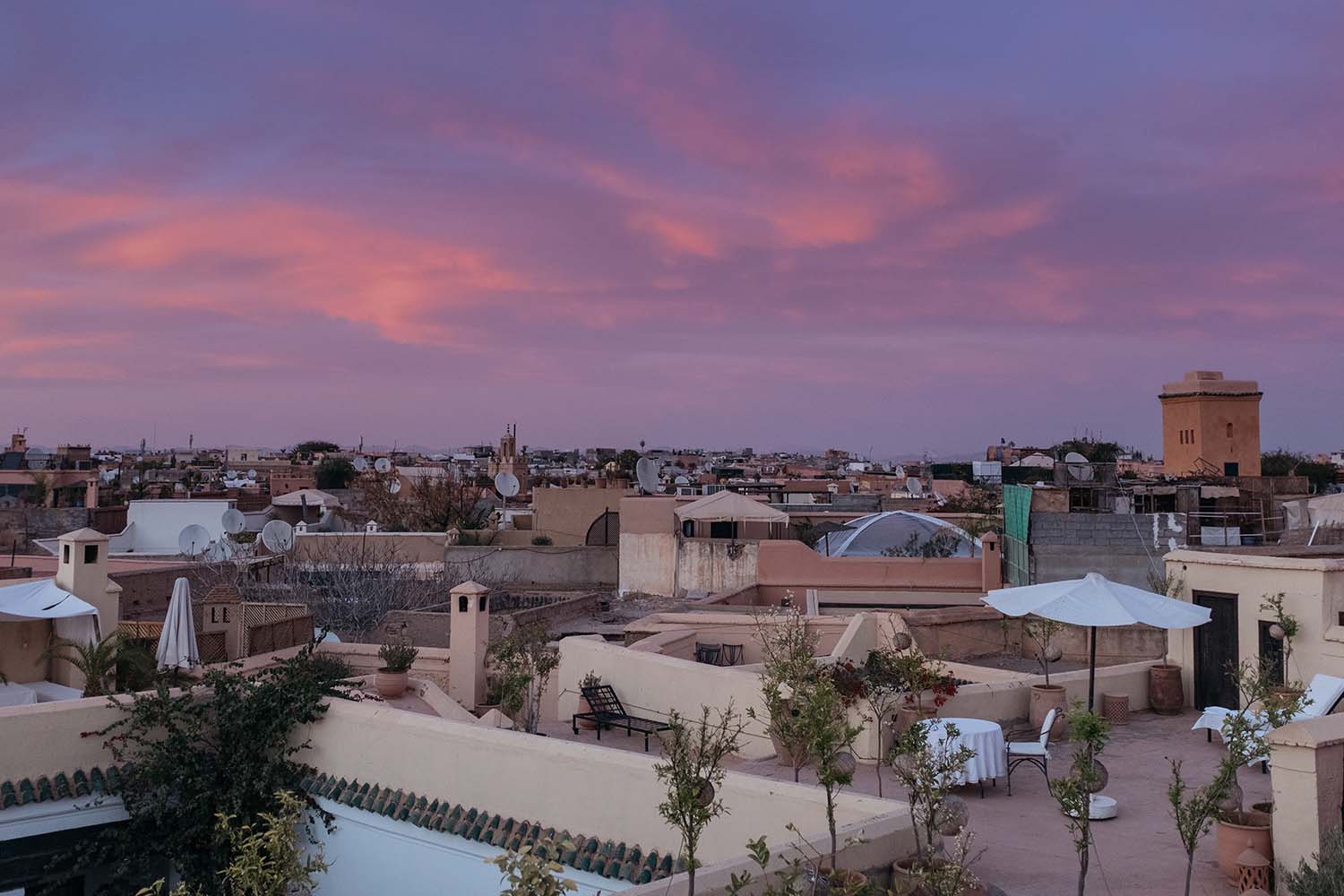 Beyond the chaos of the Medina, Marrakech has much to offer. Jardin Majorelle is the exquisite garden of a home formerly owned by Yves Saint Laurent, who had a burning love affair with the country, and both a well worthy of a visit, along with a museum dedicated to the French fashion icon that opened in 2017. The new town has regal restaurants such as the Grand Café de la Poste, and we head out of town for a sunset quad biking excursion in the Agafay Desert.
However, the public spaces of the riad keep a-callin' with their ability to transpose the moment with a hearty helping of serenity. And, the rooftop remains a favourite spot. With views over to the Atlas Mountains, a killer sunset, and the sounds of the summoning of Call to Prayer, it's a place that epitomises El Cadi's ability to offer the best of both worlds here in Marrakech.
Dating back to the 14th century, the riad has a rich history and many stories, however, the best is the one you'll make for yourself. A place where service is attentive without being obtrusive, where design is individual, and disconnection and relaxation are encouraged, you'll leave Riyad El Cadi ready to face the world again. Whilst honking mopeds, bartering and hustle and bustle dominate the streets of the Old Town, turn into the small alley that leads to the riad, duck under its tiny door, and get lost in the maze of interconnected spaces. Here is a very special place indeed.