Fellah Hotel resides across fourteen acres of terracotta hued flat lands at the foot of the Atlas Mountains. Its strengths lie in seclusion, yet the hotel is a convenient twenty minute drive from Marrakech airport and the old town market square of Medina. With ten villas (69 rooms) scattered around indigenous gardens under blue skies, the site is altogether idyllic. Including large contemporary villas, Wat Po and traditional Hammam spas, yoga, creative workshops for kids and adults, an all day/night restaurant and bar, leaving the hotel is entirely optional.
An advocate of the arts, especially contemporary art and literature, Fellah is the chief patron and host of the arts center Dar al-Ma'mûn – a non-profit organisation, it aims to encourage conversation between the Arab world and the West through arts and culture. It is also recognised by UNESCO-Aschberg as a Listed Arts Centre (the only in North Africa) for translation of philosophic, poetic and religious work.
We arrive at night after a mere three-hour flight. Amazing. The sound of crickets and open log fires lighting the winding walkways instantly ignite a sense of Arabian romance. I want to swoosh past the large cactus and run off into the night on camel back but instead I'm led with to a warm welcome at the bar. Good start I say!…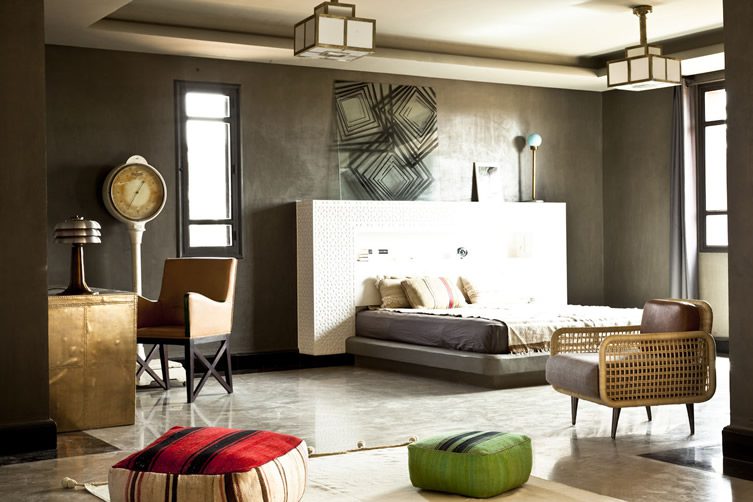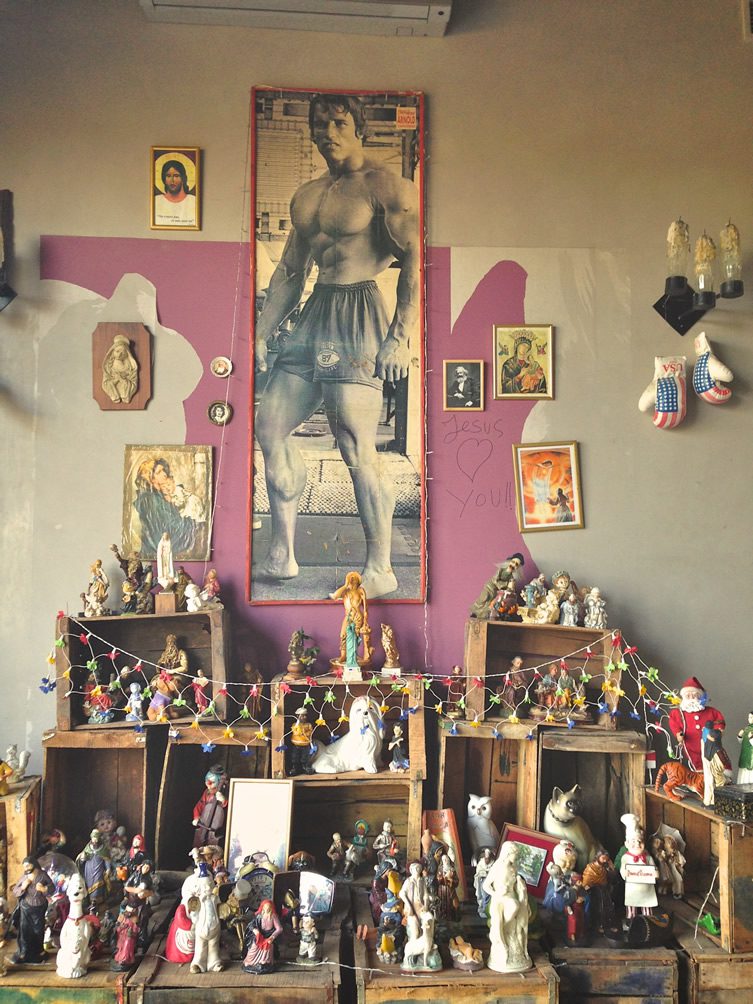 After a few glasses of Gris (a blush) from the Berkane region in Oriental, I am introduced to my suite. Each villa is large, contemporary and with a red clay exterior. With a dedicated art-infused foyer, including sculpture, mural painting and impressive Islamic arts style lighting, I take the marble stairs to my large grey suite. I eye the enormous bed, fresh flowers sat on a root of a tree I don't recognise – I instantly scan around for more treasures. I take a detour via the dressing room into the bathroom; brown, glazed ceramic tiles cover its entirety with an impressively large egg-shaped bath overlooking the Atlas Mountains. I have dried figs, apricots and sultanas to nibble on, heavy woollen rugs beneath my feet. I'm definitely in Morocco – the aromas of jasmine and honey permeate the room and I sleep soundly until the large sun wakes me the next day.
In the morning I step out onto my wrap-around balcony to get my bearings. Around me are gardens, communal buildings, palm trees and baking sun. As I head to breakfast I spot the resident donkeys, chickens and a herd of goats. Bees buzz from plant to plant, and in the distance I hear strange bird song. I'm thinking I could be on a super stylish farm here, not a luxury hotel. I sample Msemen, a square breakfast pancake with herbs and oil tapenade followed by locally produced organic yoghurt with honey. Delicious! We learn that the Fellah team work closely in partnership with local farmers who make cheese, press olive oil and gather honey in a traditional manual way. This isn't just novel, it is fair-trade which benefits both tourists and its local community.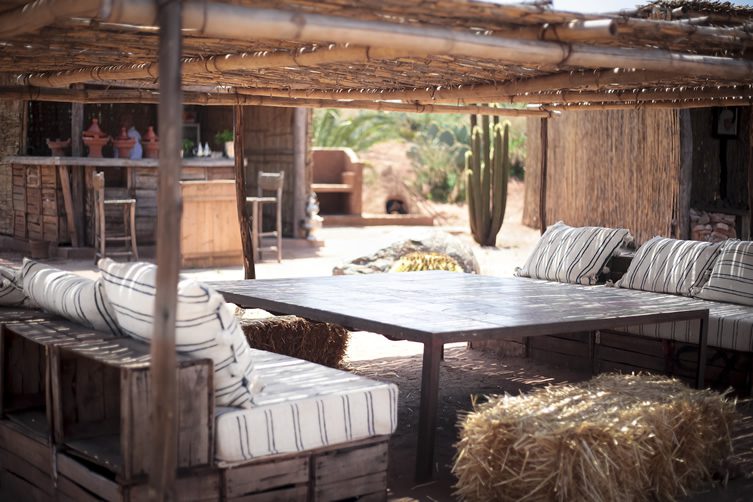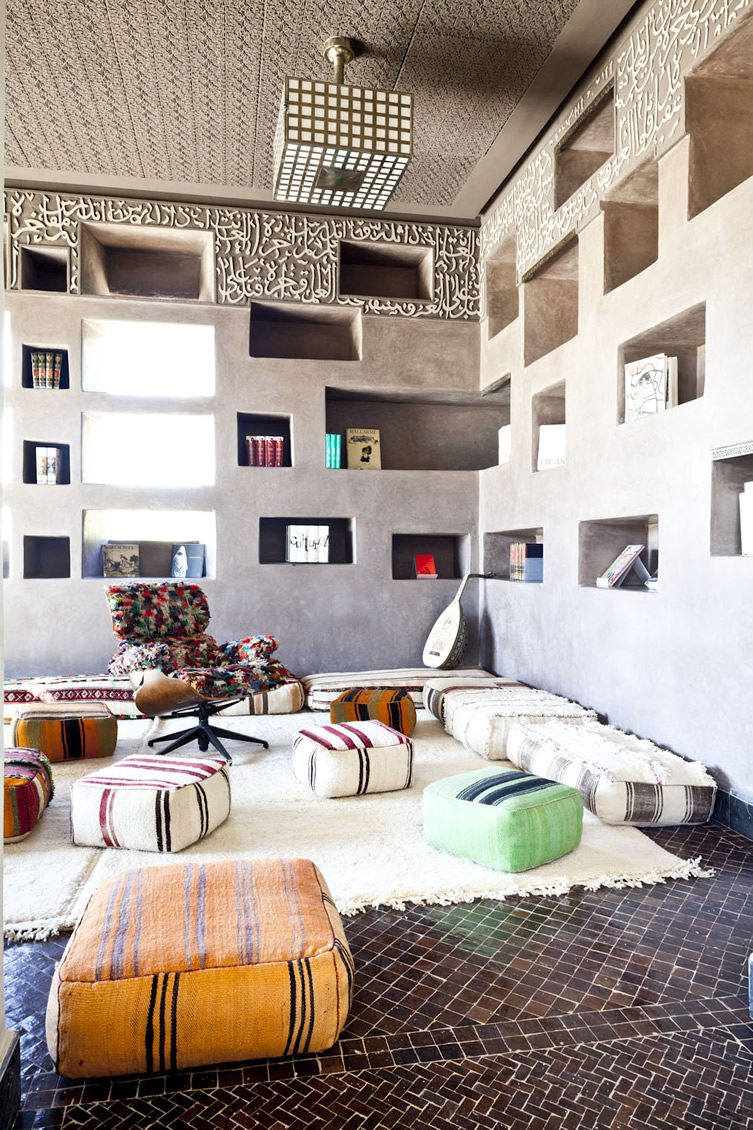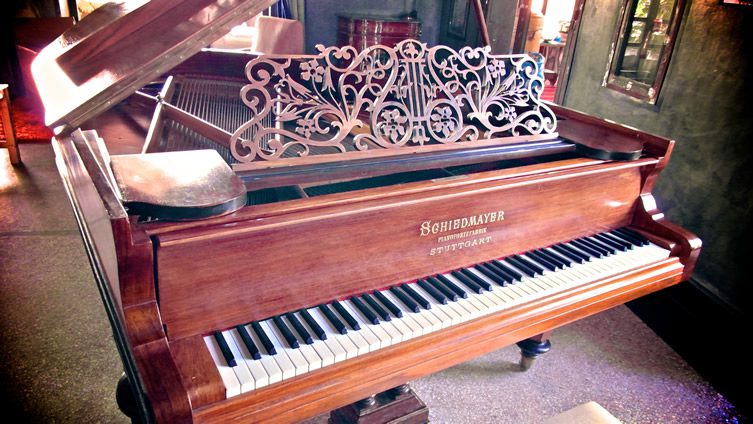 Later I visit the library, or the 'thinking house' and HQ of Dar al-Ma'mûn, dedicated to the arts, literature and philosophy; hosting workshops and conferences with scholars attempting to create an intimacy and old-fashioned way to creating dialogue. Their literacy program helps local women with reading and writing, which is free (as is access to the library) thanks to private funding. During term-time local school kids come to the library to discover new books in Arabic, French and English which is a small part of the extensive Fellah Kids program. I like that the activities and workshops are open to guests, day-trippers and locals alike. As most of you will already know, Marrakech has so much to offer and should you fancy a wonder through the famous markets, a hot-air balloon ride or a trek in the mountains, concierge are on hand to organise an outing of any magnitude – you just have to ask.
Fellah Hotel appears somewhat divided as part boutique hotel, part arts centre. On one hand it's a beautiful property on tranquil land, and on the other it is an academic centre for culture-minded guests. This shouldn't alienate those who aren't that interested in the arts however, as one of Fellah's alluring characteristics are the relaxed and bohemian attitude. I quite like that it is slightly understated in parts, the hotel feels 'real' in a personable and responsible way, i.e. employing the majority of its staff from neighbouring villages. Art and culture aside, even thought the Dar al-Ma'mûn program is important, Fellah is also a place for 'just being', relaxing, sunbathing and surrounding yourself around beauty.
***