Cut into a rugged, almost Martian, hillside on the edge of Crete's impossibly clear waters, The Royal Senses Resort (a part of the Curio Collection by Hilton) manages a masterclass in bringing together rough and uncompromising nature with serenity and a high-level cosmopolitan complexion.
"We are fully committed to our responsibility to the island, its people and our cultural heritage," explain Zacharias, Kostas and Manolis Troulis, co-owners of the Troulis Royal Collection. "We wish to show guests all sides of the Cretan identity and embed ourselves purposefully into the texture of the island."
Flanked by a rocky landscape and with only luxurious sister property, the Royal Blue, separating it from the Aegean Sea, there's a potent sense of connection to the Cretan way of life; one of an intrinsic connection to nature, one of slow pace and consideration of the soul. This is a place of rugged natural beauty and bountiful produce. Immersing you within the island's landscape, the Royal Senses connects you to its character, its hyper-luxury approach to hospitality, though, takes you to a state of nirvana.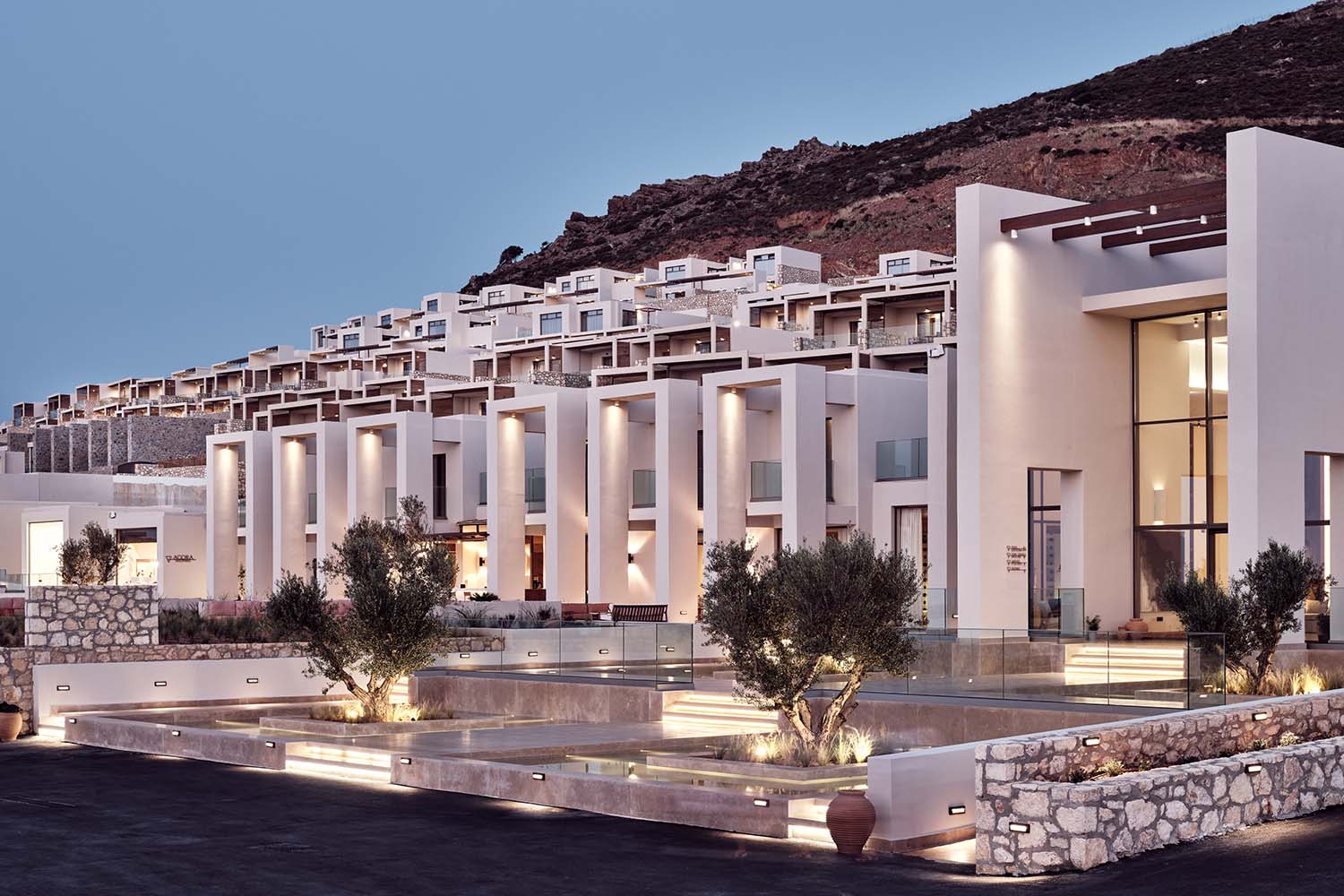 We arrive from the sister property, just a few yards away, which was preceded by a stay at another new hotel from the same owners, Numo Ierapetra. Suffice to say, disconnection is already well underway. This, however, does not mean our arrival is any less decompressing. An expansive and luxurious lobby sets the scene for what awaits. This place has some serious design chops, which is thanks to award-winning consultants HBA/Hirsch Bedner Associates and Constantina Tsoutsikou, founder and creative director of new London-based practice, Studio Lost.
The designers sought the craftsmanship and age-old techniques of local artisans, creating bespoke furniture, repurposed items, objects and artwork that brings the heritage of Crete into the urbane world of the Royal Senses. "We wanted to create a destination that benefits local communities," explains Tsoutsikou. From carpentry and furniture produced by highly skilled third-generation craftsmen, many who make their living building traditional fishing boats, to handmade furnishings from a local women weavers association, it is not just the location and the way the property inconspicuously becomes a part of it that gives guests a deep connection to the island.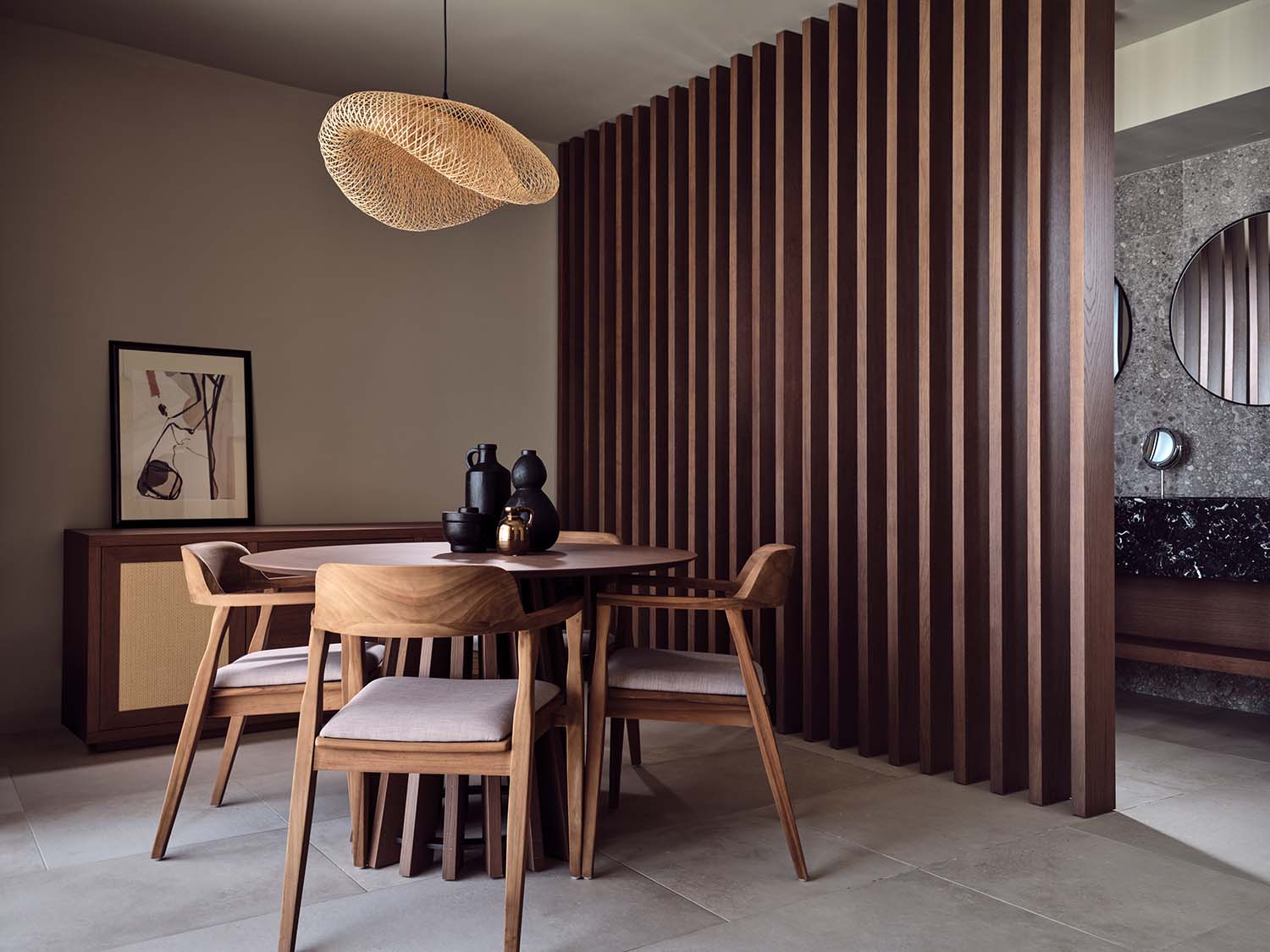 The Royal Senses villa we are staying in is billed as a 'home away from home'. But, frankly, if I had a home like this I would not have left it in the first place. It is outrageously luxurious and beautifully designed with supreme craftsmanship and exquisite attention to detail. The living room extends out to a terrace with sun loungers topped by ridiculously thick padding and some beautiful rustic wood furniture. The dining room, meanwhile, offers direct access to a private infinity pool with unspoilt views of the Aegean. In the bathroom, there is a walk-in shower and an arresting black marble sink that offsets rich walnut detailing. And that's just the ground floor.
Up top, a huge bed looks out through a floor to ceiling window over the blissful coastline. A second bathroom has a shower that overlooks that same view, and a secluded sun terrace is the perfect spot to lie under the night sky stargazing. It is, literally, breathtaking. Such is the discreet architectural build of the property into its natural landscape, getting down to the hotel's communal areas involves an Instagram-ready funicular. It's not that we want to leave the villa, but our stomachs dictate.
Down at the hotel's main area, four long pools surrounded by cabanas and luxury loungers flank a series of bars and restaurants. It's lunchtime so we stop by the 'pop-up restaurants' at Platia, a contemporary recreation of a lively main square in a Cretan village. Stunning gyros and beer keep us going until night, when a la carte restaurant, Mitato, does some serious wowing. Vegans look away.
A delicacy of the island, 'antikristo' lamb involves an ancient technique of roasting pieces of the animal around a central fire for many hours. The result is unctuous, rich and unforgettable. Crispy skin, juicy fatty meat. Some roasted potatoes are barely needed as accompaniment to this lip-smacking treat. Another a la carte restaurant, Cretamos, and an expansive main restaurant complete the culinary lineup, whilst four bars throughout the hotel cater to our libatious needs.
179 suites and villas stretch across a 100-acre site, and four restaurants and bars offer plenty of nighttime diversions. There's a gym, spa, family farm, shops, four main pools and even an aqua park with slides for kids of all sizes. Yet the Royal Senses' subtle connection to its landscape means it never feels remotely as big as that sounds.
In fact, the Royal Senses feels boutique and personal. The service is impeccable and the staff as friendly as we've come to expect from this magical island. The one negative? Having to wait until next summer to return.