Situated on the northern coast of Crete, close to the small village of Panormo, the recently refurbished Royal Blue hotel exudes 'kouzoulada', a Greek word not easy to define, but that is used to characterise the passion and spirit of the island and its locals.
Founded by the late Georgios Troulis and run today by his sons and their families, the hotel is a member of the Troulis Royal Collection and is a family affair with a focus on sharing the soul, beauty and dazzling culture of Greece's largest island. The Royal Blue resort boasts its own private sandy bay and marina, numerous swimming pools and a handful of restaurants. Naturally, guests can find themselves with very little need to leave, making for quite the relax and recharge.
Accommodation is distributed over a winding 70-acre site that falls down to the crystal clear waters of the Aegean, with guest rooms a fusion of traditional Cretan elements and modern design, set within glistening white, low-rise buildings connected by winding paths bordered by colourful flowers and lush greenery. From superior rooms, some with shared pools, to luxury suites and villas, many of which fitted with private pools, on to the opulent royal luxury and Presidential suites, guests will find the sophistication of a five-star resort coupled with the right amount of local Cretan charm.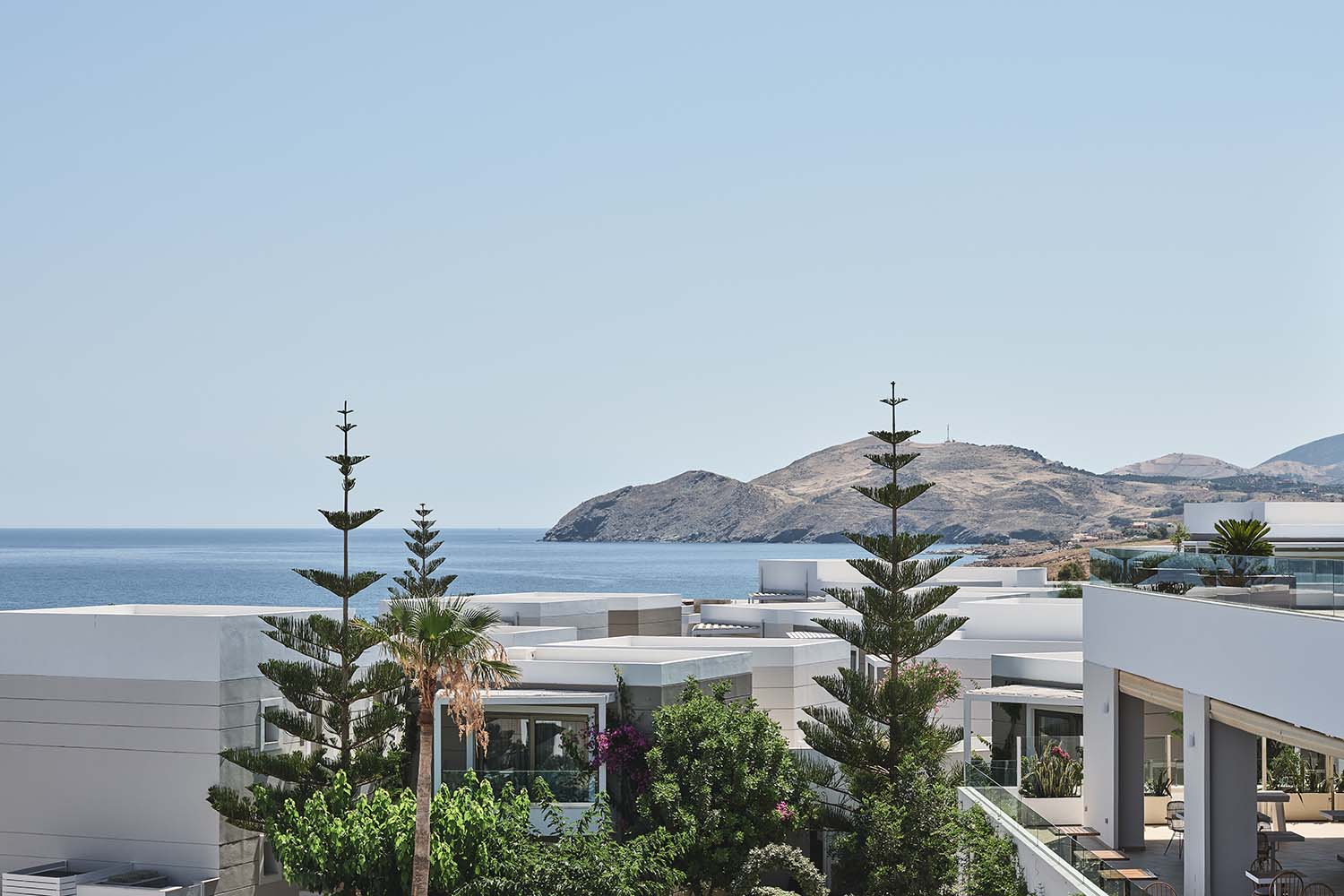 Visiting the resort mid-September, we spent two nights in a luxury room with sea views and a private pool. At 30 square metres, the room was standard in size, however, with its private garden easily twice as large, space was far from an issue. A Nespresso machine allowed us our morning coffee fix before heading out for breakfast, and an in-room fridge kept fresh fruit and Cretan white wine nicely chilled.
Afforded spectacular views of the daily sunset from our garden, evenings were spent toasting another relaxing day, before dining in either Elia, a rustic à-la-carte restaurant at the heart of the resort focussed on meat and traditional Cretan dishes, or Asterias, situated largely under the Cretan sky (indoor tables are available) and offering a selection of freshly-caught seafood from the bountiful Aegean, paired with a stunning selection of local, Greek and international wines. I must stress at this point how exceedingly good those local wines are.
As luxuriating as this resort is——days are largely spent poolside, beachside or eating——there's also 'good times' to be had here, something that's introduced by way of the 'fun button', which is found on every parasol at the beach and pool, and allows you to order a snack or beverage without having to move so much as an inch. After a leisurely buffet breakfast at the main Symposium restaurant, and a few hours catching rays, it's surprising how quickly the time comes for a crisp and cold rosé under the remaining sun.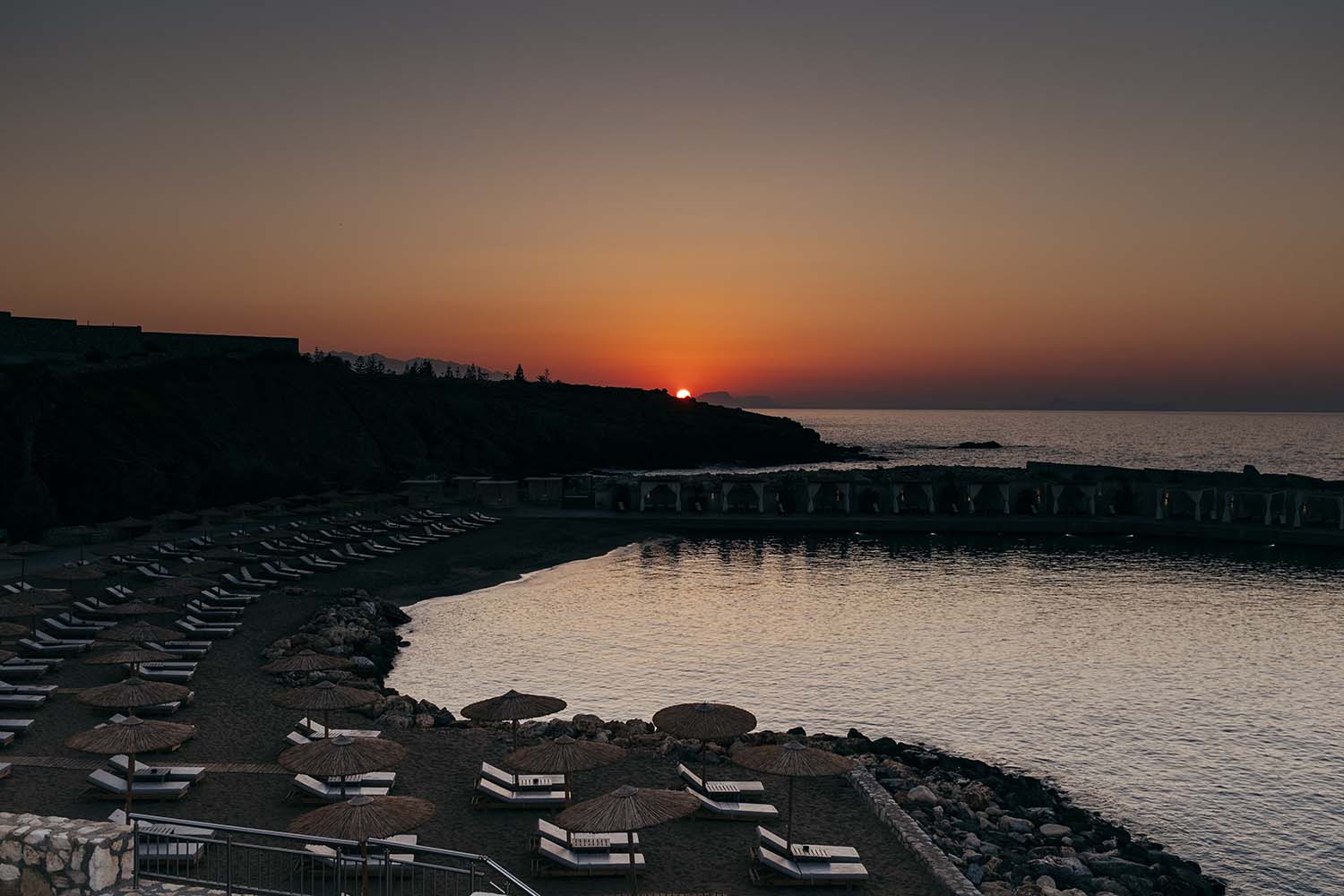 Likewise, come dusk, the only place to rival our private pool to catch the blood-red sun dropping off the Aegean horizon, is Thea Bar. Overlooking the bay and marina, the sounds of the waves lapping gently below, this spot is open all day but really comes alive in the evening. From sunset-watching to after-dinner dancing, and everything in-between, the cocktails are strong, the vibes light-hearted, music diverse, and views second to none.
For the jet-setter who likes to keep in shape whilst travelling, the outdoor gym, football pitch and tennis court are on hand to keep you in shape. A swim from one side of the bay to another, or a gentle stroll through the hilly grounds offer a more leisurely way to remain active.
Fusing luxury and serenity with the right helping of local Greek charm, this Cretan resort is an idyllic getaway that cannot be recommended enough.