A project brought to life by brothers Joshua and Ben Senior, LEVEN is a new lifestyle hotel which can be found on the banks of the canal in one of the city's most vibrant neighbourhoods. A place for guests and locals to enjoy 'on their own terms'; be that staying the night (or much longer) in one of the 42 rooms, or popping in for a coffee and spot of work in the afternoon before deciding to make a night of it.
Situated on the corner of Chorlton and Canal Street, housed within a landmark early 20th century warehouse dating back to the area's renowned industrial past, LEVEN features red brick walls, Crittall windows, high ceilings, exposed brickwork and timber floors. It's an indulgent, design-led destination in the heart of Manchester.
The 33,000 sq ft property underwent an extensive interior and exterior reimagining before opening recently, the entrepreneurial Senior brothers joining forces with industry innovators Wellbrook Hospitality to realise the venture.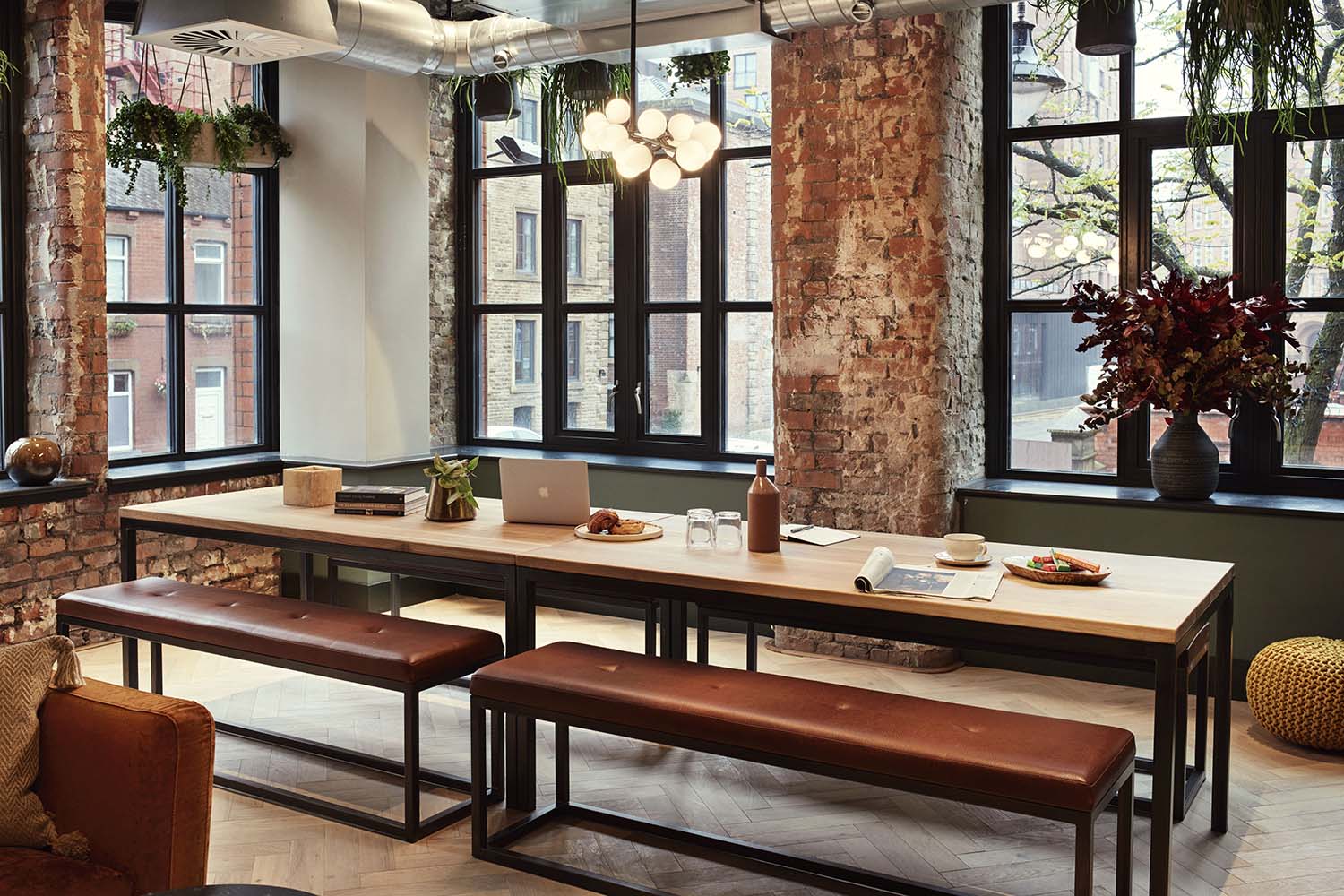 The stunning lobby with a day-to-night lounge is perfect for work and play, the central wooden table designed to encourage socialising and co-working. The bedrooms, meanwhile, comprise four accommodation categories and are sanctuaries to switch off and disconnect. Each room and suite is unique, and feature oak parquet or timber floors, bespoke furniture, 100% natural mattresses by Naturalmat and Grown Alchemist bathroom amenities. Further rooms boast high ceilings, exposed brickwork, and stand-alone bathtubs. Others come complete with full kitchens, designed like a wet bar, and are set to appeal to the longer-stay guests.
Despite being surrounded by an eclectic array of bars and restaurants, the Lobby and Lounge at LEVEN are contenders for a 'good time' themselves, serving their own-blend coffee in collaboration with Origin, house-made cocktails, and hosting local DJs. Phase two of the hotel's launch will see the opening of a 1,700 square foot cocktail bar and 4,000 square foot restaurant set between the ground and basement levels.
A new design concept that celebrates the city's rich culture and industrial legacy, LEVEN Manchester is a welcome addition to a burgeoning hotel and hospitality scene.