In a picturesque and quintessentially British village of South Petherton in Somerset lives a rather special restaurant. On a pretty high street, Holm is housed in a former bank built in honey-coloured hamstone (a coarse-grained limestone) with freshly painted sash windows in rich, eye-catching teal. It looks inviting, and we're glad because we crave a long lunch.
We're here because chef director, Nicholas Balfe, and partners Mark Gurney and Matt Bushnell's three London neighbourhood restaurants, Salon in Brixton and Levan and Larry's in Peckham, have received much acclaim. We're also here because the southwest is rich in fine produce, growers and makers and is a hot spot for excellent dining experiences.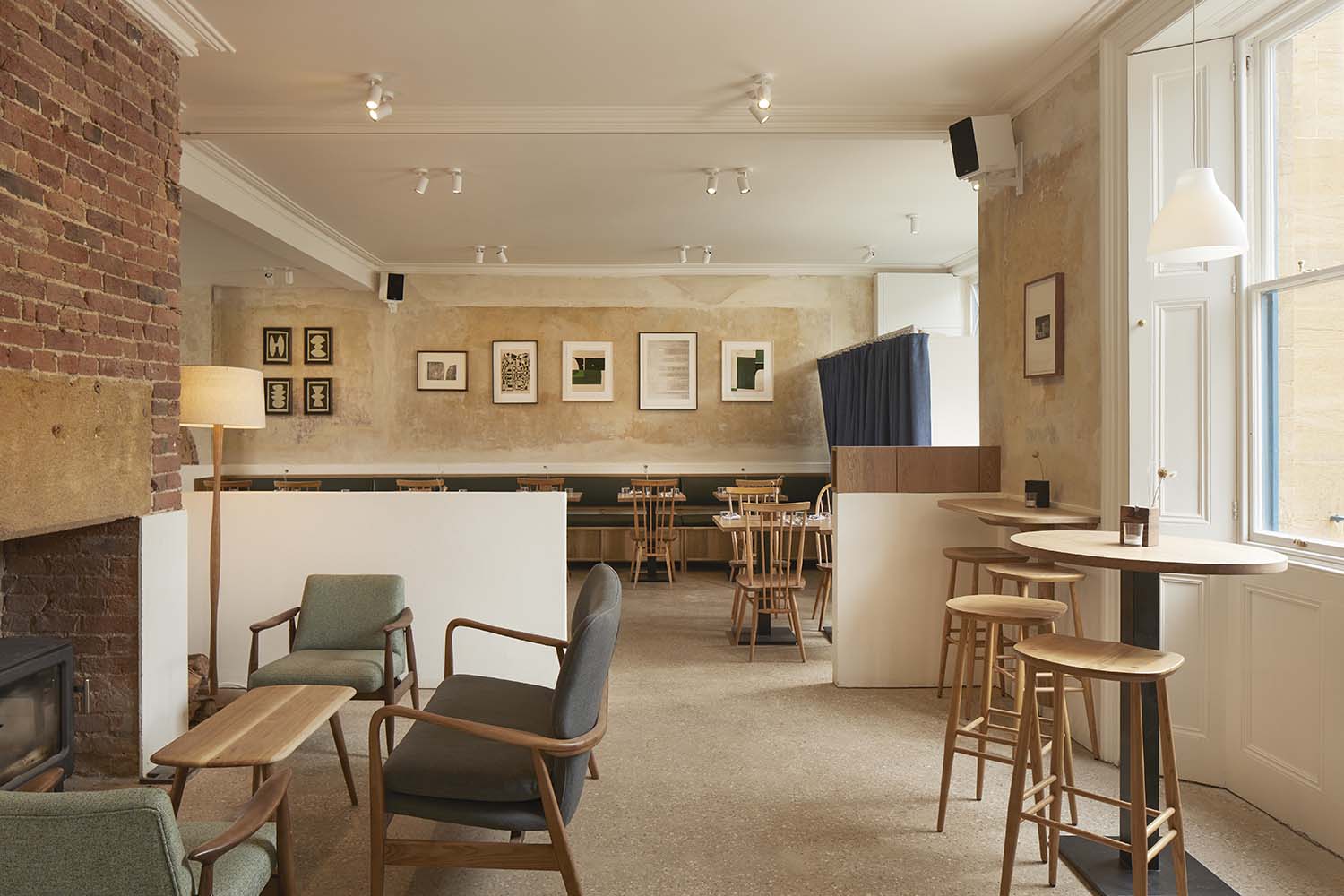 Holm's interiors are more than pleasing. They are relaxed with a sense of airy style and comfort. The restaurant furniture is a mix of natural wood, including oak, in a mid-century style. The neutral-toned polished concrete floor and intentionally unfinished walls allow the natural wood to pop, while the collection of abstract prints adds style to the well-lit space. Patrons can sit at traditional tables, at the open-kitchen bar, on stools by the entrance or on the walled terrace, sheltered from any country winds.  
Holm offers multiple options for diners. The everyday menu is relaxed and accessible, while the chef's tasting menu is more involved. It has a flexible approach to eating and drinking and showcases the kitchen's immense talent and the joyous produce it uses.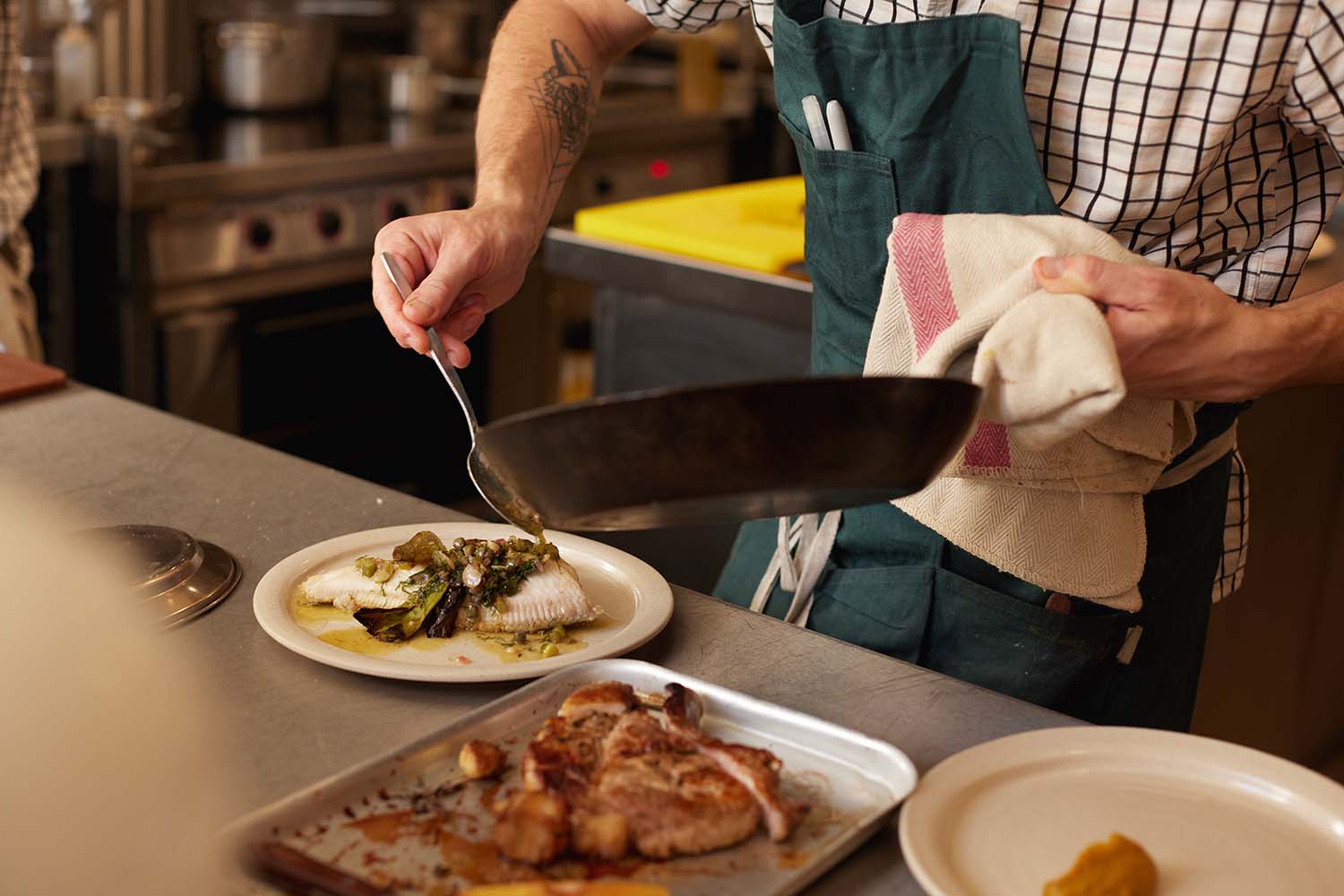 On our visit, we chose the set lunch menu. The drink menu, though, is worth a mention before we get into the food. The wine, spirits, beers and ciders are hand selected with one foot in the past and the other in the present. It celebrates the local terroir by offering local libations of alcoholic and booze free persuasion. The alcohol-free or 'low' category is fantastic, and for those abstaining, try their homemade shrub or Dowdings Breakfast Cider. 
Whatever you decide to order, we insist you try the Westcombe cheddar fries with pickled walnut. The 'fries' were out of this world, and we could eat them over and over again. The crunchy crisp cubes contain no potato. Instead, they have a soufflé texture inside and a perfectly crispy and light crunch on the outside. The melt-in-the-mouth Panisse 'chips' are made from gram (chickpea) flour and are gluten-free. The local Westcombe cheddar was generously grated on top, adding mouth-watering saltiness. In contrast, their pickled walnut ketchup added a hint of fruity/sour moisture to bring everything together, creating an exceptionally delicious treat. 
The starter of confit chicken, black garlic and sweetcorn was special—generous, full of flavour and culinary flair; the chicken moist and lovingly prepared with its crispy skin atop to add a delicious crunch. The black garlic emulsion and charred and fruity sweetcorn pieces added oomph and texture. It felt soulful and warming, and a great start to autumn. General manager Fergus was on hand to answer questions, and recommended a delightful Sicilian white wine to match. The Alessandro Viola Note di Bianco, made with 100% Grillo grapes, is grown in the Santa Ninfa and Pietrarenosa valley. It offered hints of fruit and pear skin bitters and was fresh, playful and perfect for the chicken. 
Of the three options in the mains section, we chose pork and trout. Both dishes were, again, fantastic, but the Old Spot pork with carlin peas (yellow peas!) and monk's beard was another example of the high level of skill in the Holm kitchen. The pork leg was succulent, with a soft texture, while the nutty carlin peas with skins on added firmness in contrast. We loved the addition of the bright green monk's beard, which added colour, succulence and crispness to the wholly comforting pork dish. 
The highlight dessert was the plum, milk ice cream, meringue and cherries. Another 'almost autumn' dish, it was light, not overly sweet and expertly conceived. We loved the meringue sticks dusted with pistachio crumbs and the smooth milk ice cream.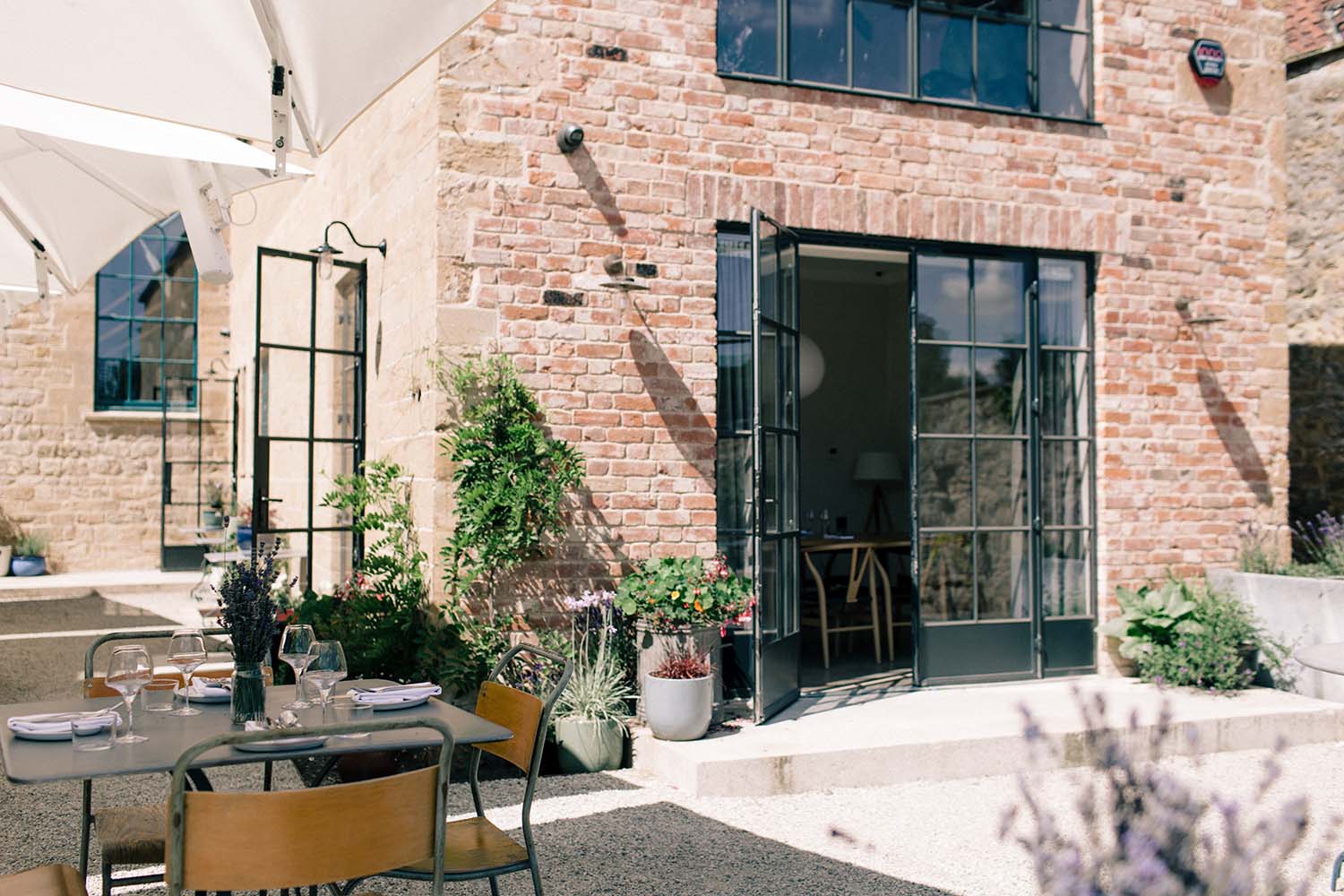 The three-course lunch will set you back just £30 per person, which is excellent value. The dishes are generous and well thought out. The plates are honest and exciting and show respect to the locals producing them and the ingredients themselves. Our experience left us with full bellies and a happy heart, which says a lot about the team at Holm. 
The good news is that Holm has big plans for the future. As well as offering an ever-evolving menu, dining options and experiences, over the next 12 months, Nicholas and the team will host new supper clubs, Sunday lunches, and terrace BBQs cooked on a handmade grill by Somerset-based Tom Bray of Country Fire Kitchen.
Seven bedrooms are slated to open upstairs next year, and the plans for the market garden and a new sitting area are in full swing. We cannot wait to return.