Airy and urban, the loft style spaces at SACO Manchester are a fine alternative to the city's hotels, providing guests a home-from-home experience combined with convenience and thoughtful design. And at the price point of a no-frills chain, with the luxury of space and home comforts, somewhat of a no-brainer.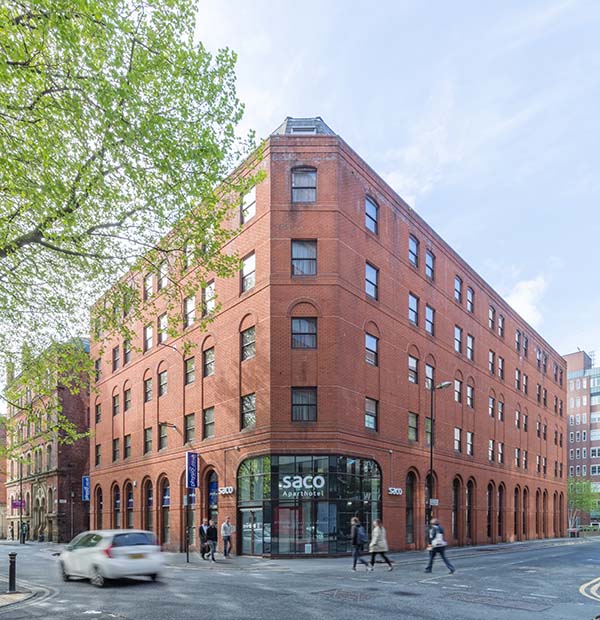 Located on the fringes of the Northern Quarter—a neighbourhood known for its independent spirit, third wave coffee shops, craft beer bars, music venues, and hip restaurants—the apartments count old cotton mills, viaducts, and canals among the surrounding features that give this area its charm. Just moments from Piccadilly Station, too, these apartments are quick to access and an ideal base for exploring the city.
Accommodation ranges from the studio club apartment or one bedroom apartment, to the more spacious two bedroom equivalent; each featuring fresh inoffensive aesthetics, handcrafted Hypnos beds (that make for a fine place to fall into after a night on Manchester's famous tiles), well-equipped kitchens, and comfortable living areas. Whether you're here for a night, a week, a month or longer, you can make this your cosy city crash pad for the duration. Hotel-like in appearance, these casual apartments offer so much more.
From L'Occitane bathroom products to pastel coloured woollen throws and luxurious rugs, there are hints of the extravagant touches you'll find in the apartments of their sister lifestyle brand, Locke Hotels, which incorporates the Grzywinski+Pons-designed Leman Locke in East London; Eden Locke, Edinburgh; and Manchester's just-opened Whitworth Locke. Not in the same league in terms of jaw-dropping design, SACO Manchester does home comfort, city living, and welcoming personality just as well. Sometimes a hotel just won't do, in those cases, SACO have it covered.