Does anything sound more appealing than sleeping beachside, inside old wine tanks, the crystal clear waters and powder sound of the Peloponnesian coast footsteps away? The reality at Dexamenes Seaside Hotel is a little more aesthetically harsh than one may imagine a Greek getaway, but it is what truly sets this project light years apart from other 'resorts'; award-winning architecture firm, K-Studio, having transformed the 1920s tanks into 34 clean-lined bedrooms overlooking the Ionian Sea.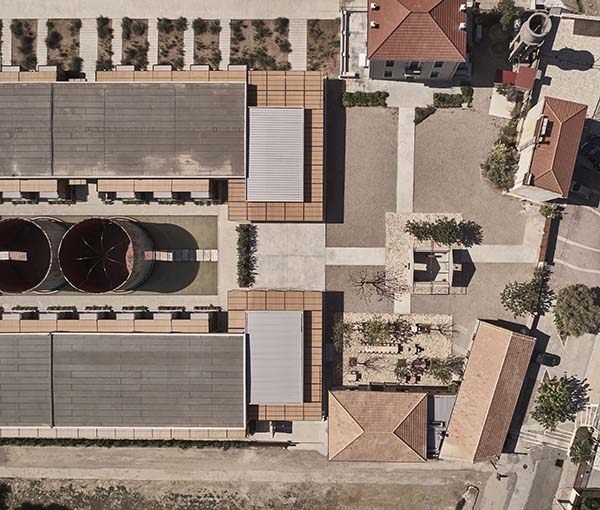 A remarkable design hotel with singular appeal, the characterful post-war winery is now a barefoot luxury resort on one of the most unspoiled stretches of coastline in the western Peloponnese. Honouring the heritage of the site and its surroundings, Dexamenes Seaside Hotel is a slice of Greek trading history wrapped up in a startling industrial setting; a place where local cultures are celebrated and introduced to guests through fresh produce, crafts and experiences that place a focus on the region as a whole.
At 30 square meters a piece, the wine tanks—since converted into 34 guestrooms—feature exposed concrete walls, polished terrazzo floors, and black steel framework for a less-is-more ethos that results in jaw-dropping design-led spaces and a stylish simplicity that counteracts the frenetic nature of modern life. The majority boast a private canopied patio overlooking the Ionian Sea; making your room the best in the house to catch the stunning morning sunrise.
Dining takes place throughout three locations: The Beachfront Bar, the 'Ex-Engine Room' Restaurant, and The Beach, the menus of each featuring local, seasonal and consciously sourced produce; all served in equally beautiful surrounds. Guests can also enjoy on-site additions such as a bar-lounge, a taverna, a history room, and Bakaliko; a boutique store selling local produce and tying together an overarching concept of bringing local experiences to the hotel's guests.
Enjoy local wine, food, people and—more so—enjoy it all from the comfort of your private sun lounger set in front of the tranquil waters of the calming Ionian Sea. A member of the Design Hotels collective, Dexamenes Seaside Hotel Peloponnese is a starkly individual wonder that is impossible to forget.