Belgravia. Aristocrats and oligarchs; eye-wateringly expensive apartments … the playground of the international jet-set. Cool factor? Zero. Can perceptions be shifted? In a sea of embassies and imposing Georgian terraces stands Belgraves London, the first European foray for Thompson Hotels Group, the US-based luxury boutique hotel chain.
The location may seem a tad odd for a young, design-focused boutique hotel — but once you step inside, it all seems to fall into place. It's a sleek operation, check-shirted bell boys guide you into a contemporary lobby; low-slung sofas in rich textures, modern chandeliers, a Damien Hirst. Almost disco-luxe. It continues in the bedrooms, with purple velvet banquettes providing the perfect lounging area to soak in views across SW1. I fill my camera roll (and Instagram feed) with photos of coffee tables, lamps and sideboards … and I'm already picturing the velvet sofa, in dazzling sapphire blue, pride of place in my (entirely fictional) loft apartment.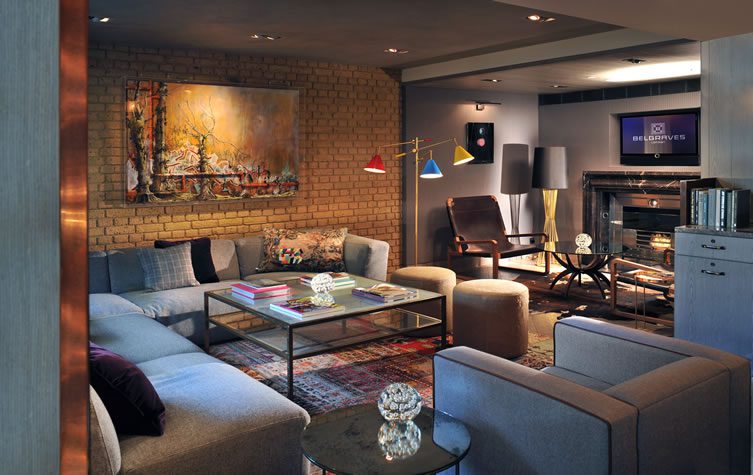 Thompson have kept the American ideal of big beds, bathrooms, and decent-sized rooms mixed with their dedication for reflecting the local in each of their hotels. Their knack for bringing along great restaurants and night spots with their hotels continues at Belgraves — which boasts Pont Street restaurant, presided over by Sophie Michell, currently Britain's youngest female executive chef, as well as the Snug Bar and Cigar Terrace.
It's not just because the talented mixologists made me a personalised cocktail, but also its atmosphere that makes the bar a personal favourite. A mix of hotel guests, groups of friends and businessmen looking to impress, it manages to radiate warmth and privacy — whilst at once being contemporary and stylish.
Yes there's that sense of New York that Thompson have brought with them, but there's something uniquely British about Belgraves. It might be the art, but you could well imagine a YBA, or a Gallagher, propping up a corner of its bar … there's an aura of Met Bar, of Britpop grown up. Where the naughtiness is gone but the lavish decadence remains. The concierge's little black book of escort reviews is now a little black book of the finest artisan cafés and concept stores, or where to find a drop-in yoga session. The luxury you expect from Belgravia is here in abundance, but too is the unmistakable creativity of London. Can perceptions be shifted? Yes. Yes they can.