Located in Leeuwarden, a city in the Friesland province of the Netherlands, Notiz Hotel combines luxury and sustainability, the property——formerly known as Stenden Hotel——having undergone a recent transformation led by Studio Oak, to create a destination that cares as much about thoughtful design as it does its guests.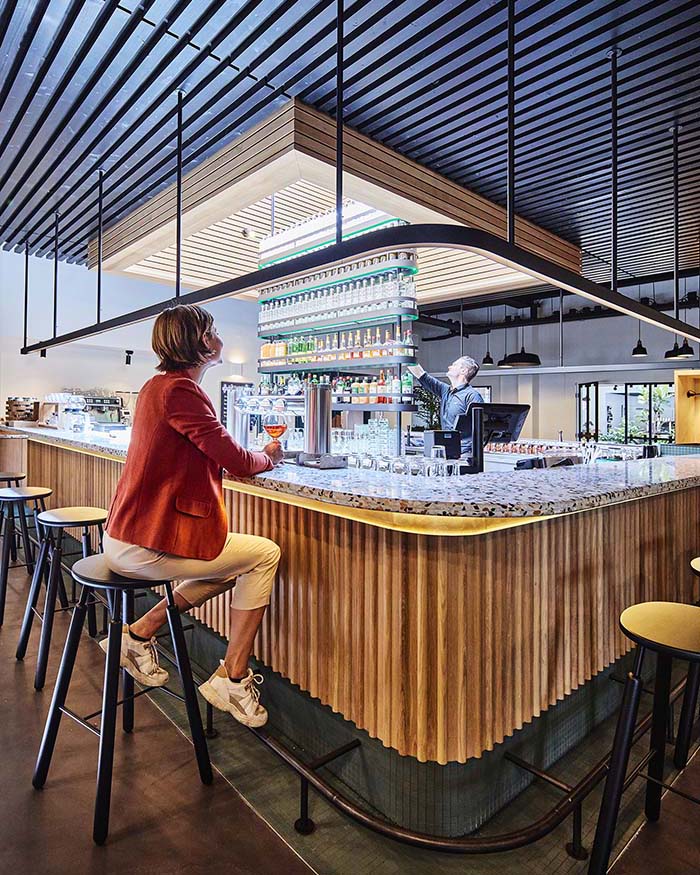 Stubborn and curious, Amsterdam- and Heerenveen-based Studio Oak collaborated with the NHL Stenden Hospitality Group, working on a brief to "blend the characteristics of Leeuwarden (Frisian) with luxury, sustainability and integrated home automation." Following extensive research to select the very best materials, the lobby, guest rooms and luxury suites were given a fresh and updated look; the spaces characterised by Frisian features and a hip ambience.
To create a sense of place, a warm colour palette is used throughout, with pops of vibrant colour found in the public spaces. Spacious guest rooms feature Auping beds, sustainable amenities and Nespresso machines with Peeze coffee cups. Alongside Frisian oak wood elements and second hand furniture, guests will find terrazzo table tops, Mosa bathroom tiles and an in-room app that allows you to adjust various facilities at the touch of a button from your bed.
Restaurant Wannee is named after Cornelia Johanna Wannée, who taught cooking at the Amsterdamse Huishoudschool in Amsterdam's Vondelpark, and is based on Dutch Cuisine, a five principle based manifesto which combines culture, health, nature, quality and value to showcase the best of local ingredients; its chefs devising a new menu each month that represents these values to create fresh, healthy, local fare for diners.
A place where local traditions and the earth are respected as much as design and guest experience, Notiz Hotel Leeuwarden is a place of authenticity and comfort; a welcoming destination for this corner of Friesland.