With an ethos inspired by the quality of life in The Netherlands, the Park Centraal brand reflects the country's balanced and social lifestyle of combining a healthy working atmosphere with pleasure; usually manifested by way of atmospheric bars, music and quality food. Situated between Leidseplein and Vondelpark, the city's cultural heart, it has become a celebration of its surroundings, and a destination in its own right.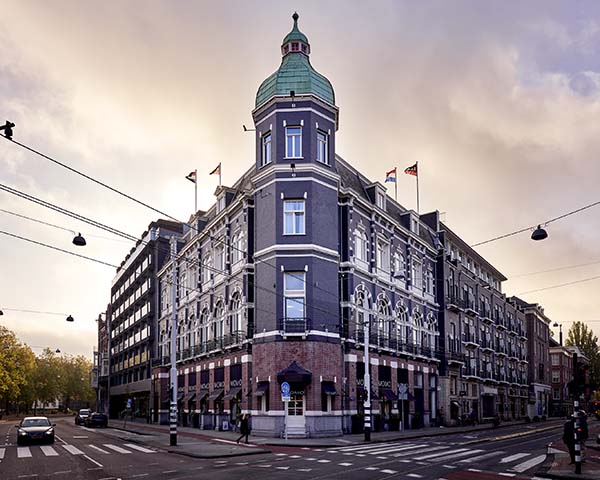 Formerly the Park Hotel Amsterdam, and hosting guests since the late 19th century, the 189-room property was given a renewed lease of life in 2019; the modern makeover marking a new chapter for the hotel, whilst remaining deeply ingrained in Dutch culture, and respecting of both its heritage and much sought-after prime location.
Located in one of Amsterdam's most recognisable flatiron-style buildings, the contemporary, elegant design at Park Centraal Amsterdam features interior pieces by local design studios GHYCZY and Urban Nature Culture; artwork from contemporary Dutch artist, Kat Klerks; and a 'destination' ground floor space designed by studio FG Stijl, home to Bar Claes, a sociable and slickly styled setting where locals and travellers from all over the world can rub shoulders and relax over comforting food and drinks. One day, at least.
Bedrooms combine comfort with Dutch influences and contemporary design, the cosiest to most grandeur providing harmony through deep, rich colour palettes, inviting beds, an open-concept bathroom, goody boxes and espresso machines; quite the spot to retire to after a day spent traversing the city's cobblestones, canals and clubs.