Keeping their collective foot firmly on the peddle on a determined drive through dark times, The Student Hotel Group open their 15th hotel, taking their innovative concept to the canal-ringed city of Delft. Sandwiched between Rotterdam to the southeast and The Hague to the northwest, SH's latest home is perhaps best known as the birthplace—and burial site—of Dutch Baroque painter, Johannes Vermeer.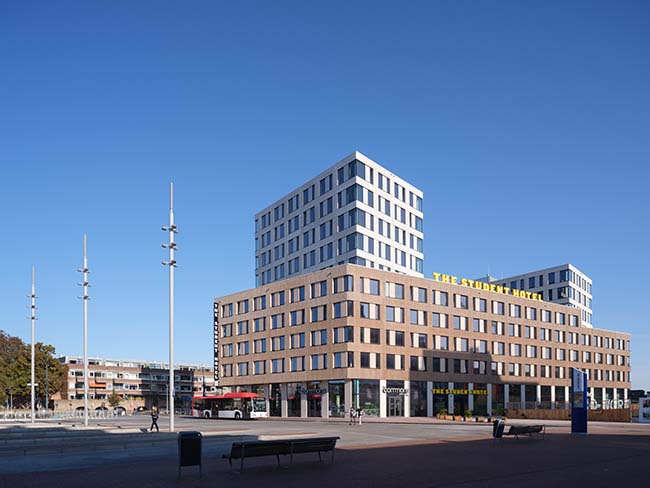 In collaboration with the group's in-house design team, Amsterdam design studio The Invisible Party designed all public areas; including restaurant and bar, The Commons (the concept we last saw in Maastricht) and Collab, the coworking arm of The Student Hotel, home to a thronging, global community of creatives, entrepreneurs and start-ups.
Maintaining the brand's playful character whilst creating a visual link to the Delft University of Technology, The Invisible Party opted for materials, patterns, prints and shapes that circle around a technical theme; from computer grids to aerodynamic shapes, founder and creative director Vivian van Schagen comments: "The Student Hotel has a strong and distinct brand identity, but for each new location they seek a genuine connection with the city, the neighbourhood and the community. For Delft, we tapped into the technical DNA and history of the city as the basis for our project research. This ultimately gave this project its own identity and experience within the lines of the brand."
In terms of the design process, The Student Hotel placed great emphasis on circularity, the motto 'less-is-more' resulting in the use of recyclable materials, and a design ethos whereby the reuse, preservation of value and reduction of the carbon footprint is central.
As much a destination for locals as it is travellers, The Student Hotel is set to become a valuable meeting point in Delft, a smelting pot of curious minds, creative beings and inspiring folk. Innovative, sustainable, bloody lovely to look at, Delft's deft students will not want to be anywhere else.