As a member of the Colab art collective formed in 1977, American painter Jane Dickson—alongside collaborators including painter and sculptor Jolie Stahl and Dickson's husband Charlie Ahearn—was a central figure of New York's explosive art scene throughout the late 1970s and early '80s, joining the legacies of downtown art, punk rock, and hip hop.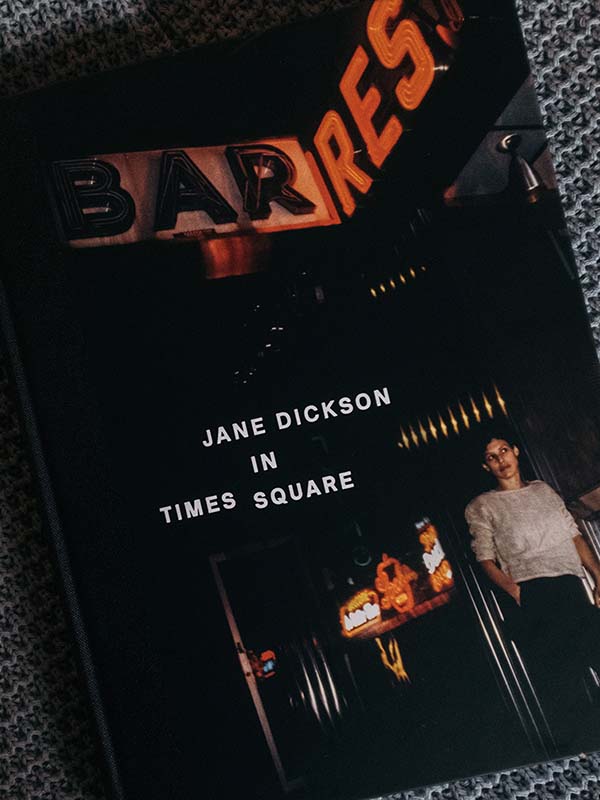 Living, working and raising two children in the squalid heart of this New York era, Dickson arrived in Times Square taking a job programming the first Spectacolor billboard. Mesmerised by the the colours of the iconic square, the painter would return home from work and paint using black surfaces with glowing lights, before eventually moving into a loft on 43rd Street and 8th Avenue from which she would see the neon and electric signage of 'The Crossroads of the World' whenever she looked out of her window.
"I was interested in fleeting views or dangerous situations that I couldn't really stop and sketch," Dickson says, revealing that a camera would accompany her every stop of the way. "I was a flâneur, documenting this crazy scene: A painter, using the camera to take notes, trying to get some grip on what the hell was going on." With a goal to document how the world looked and felt in that place at that time, Dickson has collated a series of unfiltered and powerful photography—alongside her dramatic paintings—in her new tome, Jane Dickson in Times Square.
Published by Anthology Editions, the book—featuring a foreword by Chris Kraus, afterword by Fab 5 Freddy, and an interview by Carlo McCormick—says Kraus: "represents the first site-specific grouping of images from Dickson's astonishingly rich body of work."
As a central voice in New York City's complex creative history, having participated in numerous iconic exhibitions and represented in more than 30 museum collections—including those of MoMA—Dickson's long association with Times Square was made permanent with The Revelers, which, installed at 42nd Street subway station and featuring 68 life-sized mosaic figures of New Year's Eve party goers, is now a city institute.
With such a colourful and storied career, Jane Dickson in Times Square has been a long time coming—and, as Kraus comments in his foreword, "hopefully, there will be future books that curate her paintings of American suburbs, or freeways, or Las Vegas casinos. But Times Square is a good start." A captivating insight into an inquisitive artist and a fascinating moment in the Big Apple's rich history, this compendium is rich eye candy for fanatics of the city's seedier past.
A weighty and utterly compelling tome, Jane Dickson in Times Square is published by Anthology Editions and available to purchase here.