After a successful collaboration on their Milan restaurant, burger chain, Bun, have instilled the expertise of Spanish design agency, Masquespacio, for their latest opening in the northern Italian city of Turin.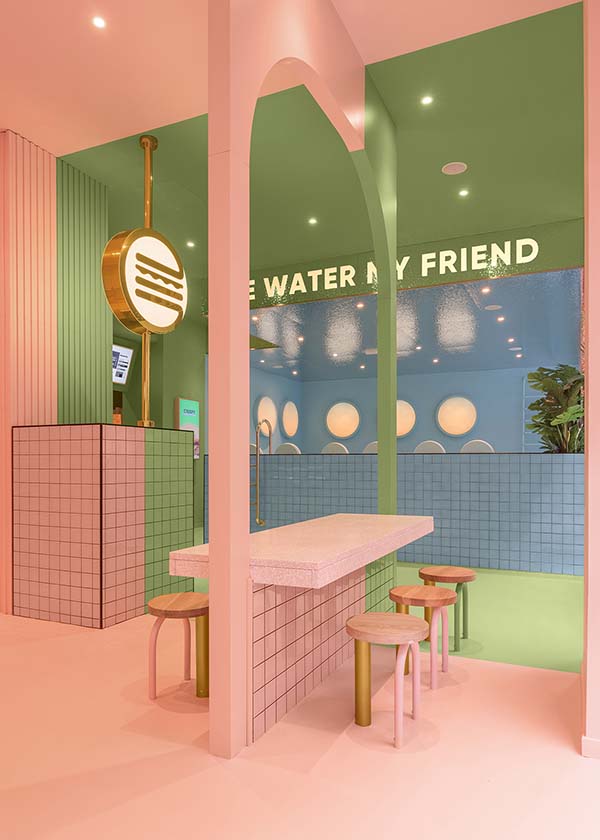 With a brand identity already in place, the studio——led by Ana Hernández and Christophe Penasse——approached the project by taking advantage of three windows that allow both natural light to flood in, and passers-by to get a glimpse of what awaits inside from the restaurant's exterior.
Whilst two colours dominate the Milan outpost, the designers decided to use three in Turin, Masquespacio creative director Ana Hernández explaining: "The idea to play with one colour for each window creates a visual effect from the outside that makes the spectator from the exterior walk from one visual world into the other, traveling through different experiences in the same space."
The green zone is where guests order their fare, the fast food restaurant serving up hamburgers, chicken burgers and Beyond burgers alongside nuggets, sweet fries and golden fries, each containing sustainable packaging and lots of love. The blue and pink zones, meanwhile, are dining spaces, each one rather different to the next. The blue room is meant to resemble an unfilled swimming pool, and the pink——featuring both private and communal tables——features an 'arc concept', designed to give diners the possibility of enjoying their burgers seated at different levels.
Fun, colourful and tasty, Bun Burgers Turin is another bolt of whimsical brilliance from Hernández and Penasse, a place for Instagram moments to be made.
@bun.burgers
@masquespacio_ana
@masquespacio_chris