The term 'sports bar' might conjure up images of tatty pool tables and sticky carpets, pints of weak lager propped up on mahogany shelfs, mahogany stands/ … mahogany everything. Not so with colour fiends Masquespacio in charge. For those weary of the sports bar as you know it, feast your eyes on this radiant gem on the isle of Ibiza.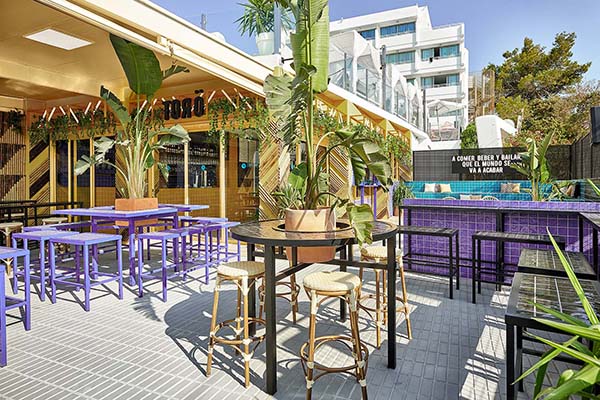 Set over 200 m2—the majority of that comprising a sun-drenched outdoor terrace space with spectacular views over the Mediterranean Sea—Bar TORÖ is located at the end of Sant Antoni de Portmany (more infamously known as San Antonio) and is most certainly setting a new standard for the traditional sports bar. Fans of both Saturday afternoon footy and design fabulousness rejoice.
Large screen TVs are dotted throughout the dazzling space where the Valencia-based creative consultancy have let rip with their signature style—decorating the bar in purple blue, turquoise green, and mustard yellow; offsetting that palette with lush greenery, bamboo walls, and the natural beauty of the Mediterranean's blue skies. Serving up sandwiches, tapas, and beer (the losing fans will need something to drown themselves in), Bar TORÖ—a new concept for Servitur Group—references the spirit of the island through a series of familiar Masquespacio design motifs, and promises a friendly ambience for lobster-hued sports fanatics to get behind their teams.
Somewhat of a renaissance moment for an oft-maligned concept, this Ibiza sports bar has its tactics spot on for a big win.
@masquespacio_ana
@masquespacio_chris
@luisbeltranphotographer