Spanish design studio, Masquespacio, have completed the interiors of Huesca wellness restaurant, Pukkel; looking toward natural materials to complement the health-forward concept and plates on offer.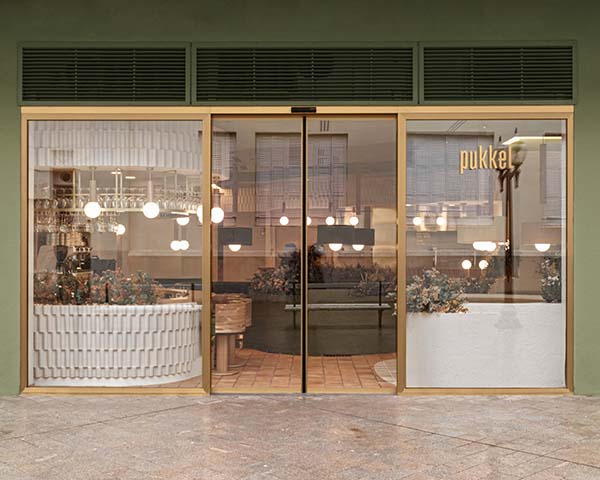 Located in the northeastern Spanish city known for its impressive hilltop medieval town, the restaurant is a wholly modern affair. Founded by two young men keen to incorporate the healthy dishes they'd discovered on past travels, Pukkel Huesca offers interesting plates in sublime surrounds. From the Bloody Mary oyster to ceviche, broccoli burger to the beetroot marinaded salmon, dishes here are colourful, fresh and flavoursome.
Following a meeting with owners Jorge and Mikel, Masquespacio proposed working with 100% natural materials, and to integrate a sense of nature into the space, creating a restaurant that offers a sensorial experience beyond the gastronomy served up. Starting with the colour palette, Pukkel features a mixture of browns, whites, and greens for that subtle nod to nature, whilst a splash of gold is added to bring a touch of sophistication to the space.
Texture and "imperfect forms" were used to create a 'path' on the floor akin to walking through the forest, Masquespacio custom-designing terracotta tiling for the bar, floor and some of the walls; whilst the application of rough stucco serves as a reference to earth and the mountains that surround this beautiful city.
Plants and flowers will change seasonally, just like the dishes, allowing customers to continuously enjoy fresh, seasonal produce amid sensorial surrounds that lend themselves to the cuisine itself. Inspired and innovative, Pukkel is simply pukka.
@pukkelhuesca
@masquespacio_ana
@masquespacio_chris