A former Jiu Jitsu gym and beauty salon is now home to coworking space, SPACIAL, a beautifully designed, fully equipped venue with private offices, dedicated desks and hot design opportunities, accommodating the most creative, exciting and forward-thinking businesses, freelancers and entrepreneurs of Verdun, a borough of Montreal that's undergone significant gentrification and social change.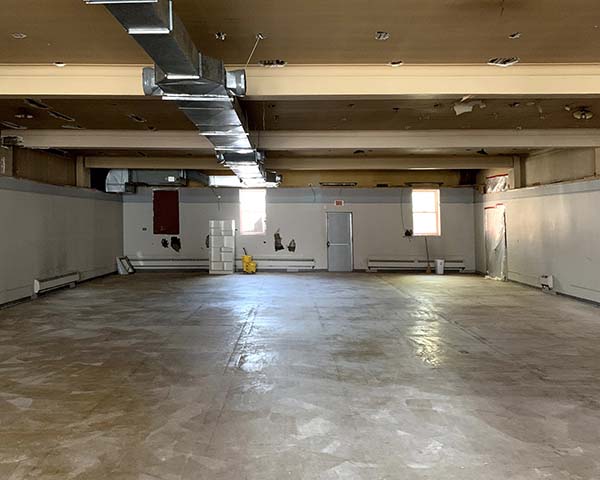 Located on the second floor of an 8,000 square foot building on Wellington Street, design and architecture studio, IVY, worked to a brief of 'making a flexible working environment for a total of 120 people, with different sizes of rentable offices and a variety of shared common areas. Being the first of its brand, this space had to stand out from its competitors by offering a unique vision for co-working.'
With only the front façade and the main staircase containing windows, natural light was an issue in wanting to create a dynamic and inspiring venue from which to work. Artificial lighting and a total of 20 skylights were used alongside new glass brick openings in the staircase wall. Combining original elements with new, the old ceiling joists, exposed brick and newly built walls are all coated with an off-white lime plaster to create a textured blank canvas for the creativity that happens within. Upon entering the building, the reception area takes centre-stage, with its colourful zinc-plated materiality. Alongside is a working lounge with three conference rooms, a banquette and a series of lower sofas. Separated by the existing centre brick wall, the second space consists of the kitchen, dining area and private booths; the ideal spot for smaller groups of creatives.
Pops of colour come courtesy of Rosso Levanto marble and mint green curved cabinetry in the kitchen, long burgundy velvet banquettes, baby blue mirrors and lush greenery; whilst stark white sofas, black furniture and steel units make up the washrooms and phone booths, hidden in a second block for optimum privacy.
An inspired transformation from which creatives seeking inspiration can get about their business, SPACIAL Montreal is a bar-raising cowork environment; another winner from the excellent IVY.