Following on from the success of their first physical shop on Montreal's creative Mont-Royal, lifestyle store C'est Beau—having gained a solid fanbase—were in need of a second outlet, somewhere that could serve as a headquarters for their online operations and feature the mix of homeware, fashion, lifestyle, and reading material that they've become synonymous with selling.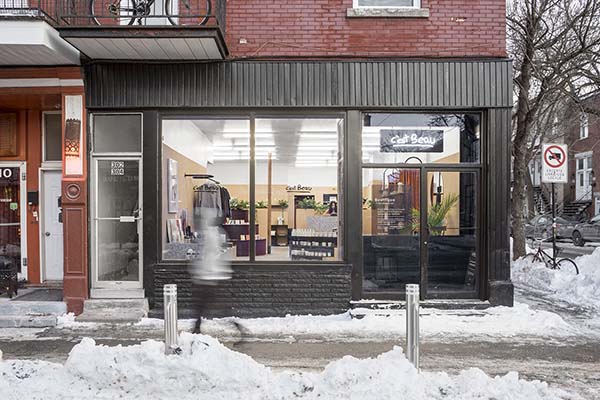 Fast forward a little more than a year, and store number two has opened its doors at 300 Rue Beaubien E, local architecture firm IVYSTUDIO (fresh from creating the city's Jack Rose) once again being entrusted with bringing the owners' vision to life. Choosing designers from Montreal, all furnishings were created in the city using materials that "reflect the audacity found at the heart of C'est Beau's identity".
Various 'zones' showcase the variety of objects and design goodness on offer at C'est Beau Beaubien, geometric volumes and visual barriers punctuating the shop with a riot of colour from the blue carpet covering the central display unit to the burnt orange drapes that backdrop ceramic earthenware. Add splashes of greenery and a range of independent magazines, each cover a work of art in its own right, and C'est Beau's second location is on track for establishing the same solid presence as their first. It's beautiful.