Standing out from the usual red brick and grey stone building façades that make-up Notre Dame Street——a culinary hotspot in the historic Griffintown neighbourhood——Shay offers something a little different; the Middle Eastern eatery and wine bar set to serve fresh and tasty Lebanese fare alongside fantastic wines and refreshing teas. All from a pretteh, pretteh nice setting.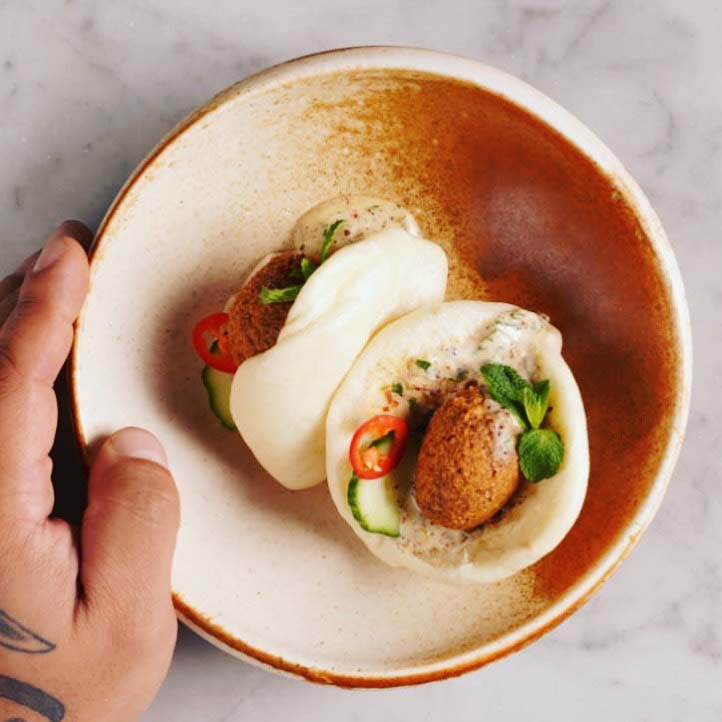 Featuring a colour palette informed by the sun setting over the Syrian Desert, Montréal is treated to Middle Eastern aesthetics to accompany the cuisine; designers Ivy Studio choosing soft dusty pinks and curved forms that nod to windswept canyons for this stunning space. The main dining area is elevated on a mahogany platform to enhance intimacy, rose banquettes sweep the periphery of the space, ripple fold beige sheer curtains add a softness to an ambience and complement custom built table lamps that dot the room like stars in the night.
A monumental violet and robin's egg blue marble bar commands your attention, as does a custom deep raspberry metallic light fixture that sweeps the entire 19 feet; highlighting curved elevated navy blue embroidered banquettes where tea sipping takes place during the day before transforming into a comfortable place to sample a considered wine list come happy hour later on.
Elsewhere, pink concrete floors fuse into the off white textured plaster walls and an exposed steel beamed ceiling is painted a deep burgundy (another nod to the setting sky) which is layered with over a thousand feet of sheer fabric bannisters that hang in linear strands over the tables; lending the entire space a sense that it sits under a calmly flapping Bedouin tent. Atmospheric and authentic, Shay Griffintown is another triumph for this local design agency.