A project born from a desire to introduce locals to Lebanese culture, Café Chez Téta is located in Montréal's laid-back Le Plateau-Mont-Royal neighbourhood and serves up a selection of coffees, wines, sweet treats and healthier dishes; everything from their third waves to salads coming with a side of Lebanese flair.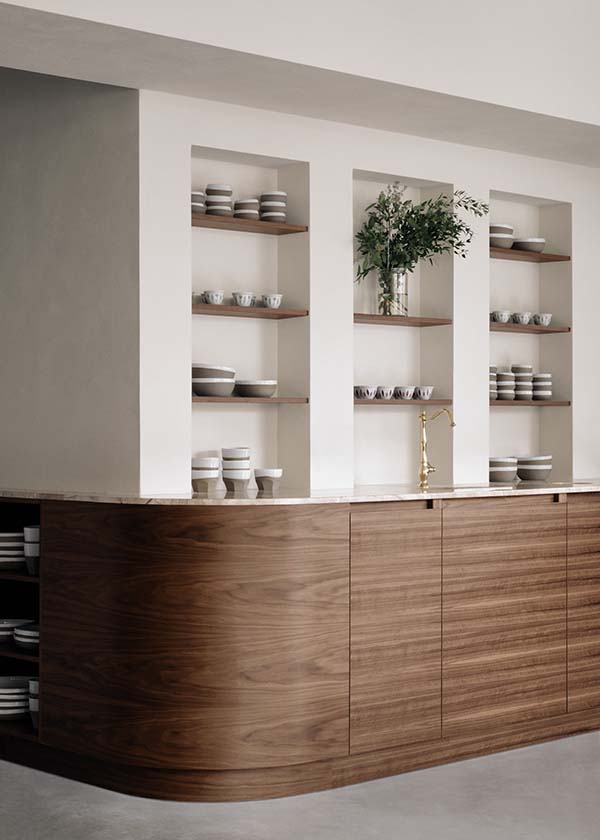 Téta—meaning 'grandmother' in Lebanese—honours the childhood memories and warm and friendly welcome of grandmas, Café Chez Téta welcoming Montréal's discerning diners to come and sip a quick coffee or while away a few hours over lunch or dinner with friends or family.
Designed by architecture firm, Ivy Studio, a simple material palette merges the comfort of Lebanese design with a minimalist aesthetic; large windows that cover both main façades filling the space with oodles of natural light for the majority of the day. Thonet walnut chairs and stools make up the bistro style furniture, alongside long banquettes in natural leather with a burgundy velvet backrest that sweep around the main walls of the dining room.
Somewhat of a focal point for the space, a large communal table (for those of us with one eye on when times of COVID-19 finally pass) encourages mingling amongst guest and with its hand-carved ornate walnut base and walnut-encased sand coloured marble top, retains a rather commanding presence in the centre of the slickly designed café.
A Marzocco espresso machine sits next to a traditional Turkish sand coffee machine whipping up the third wave coffee for thirsty customers, whilst the Lebanese oven—integral for making the traditional Manoush'eh flatbread pie—was imported especially for chez Téta.
Hip, sophisticated and laid-back, Montréal's Café Chez Teta provides a taste of Lebanon backdropped by a polished aesthetic that is set to star in many a 'Gram.