Just shy of an hour's drive down the coast from bustling Barcelona sits the Costa Daurada's only 'Grand Luxe 5*' resort: the very fancy Le Méridien RA hotel and spa. With 150 guest rooms, suites and apartments on the beachfront of 'Platja de Sant Salvador' in El Vendrell, this is a bona fide destination hotel, with bags of luxury, beautiful design, brilliant food and drink, and contemporary art that guarantees a decadent stay for discerning travellers.
Set in a building originally constructed in 1929, originally designed to be a children's hospital, the Le Méridien Ra opened its doors in 2004 following a careful restoration that transformed the property into a luxury resort with four food and beverage offerings, a spa with thalassotherapy circuit and solarium with sea views, rooftop swimming pool, and spacious guest rooms with views of the glittering Mediterranean Sea. Today a more contemporary building houses the majority of the guest rooms, whilst the original construction is home to the Gran Deluxe rooms and suites and food and beverage offerings.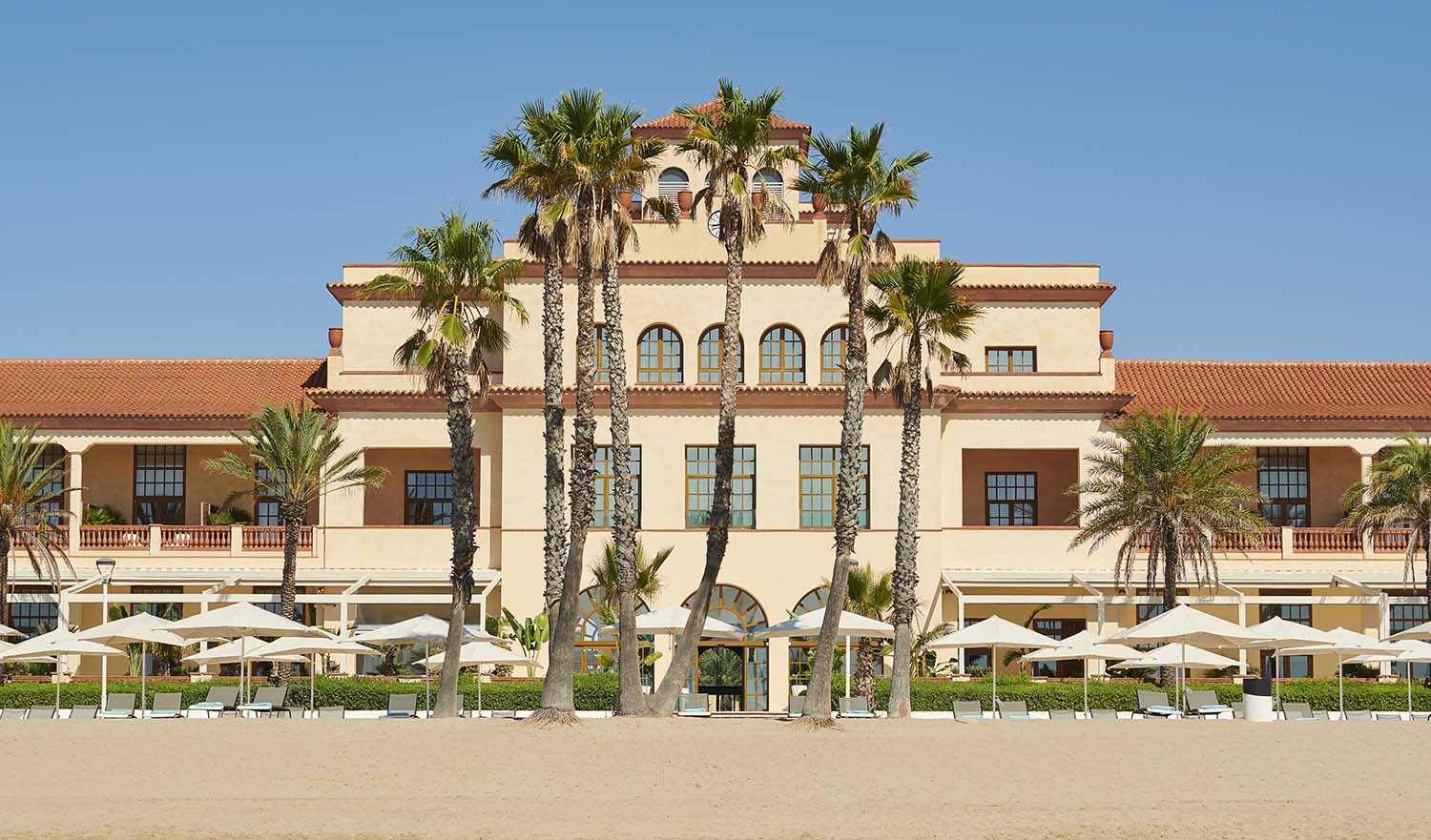 From its lobby space with imposing atrium, to the impeccably kept grounds currently dotted with a collection of Salvador Dalí sculptures; the contemporary beach club to its commanding position on the beautiful Costa Daurada; crafted cocktails at the swanky Longitude Bar to long dinners at restaurant D.O., where executive chef pays homage to the produce and traditions of the neighbouring regions … Le Méridien Ra is a hotel one need not leave should your summer-slouch desires choose.
The world's most famous Catalan artist aside, Le Méridien Ra shows its support for the arts through commitments to lesser-known creatives; the corridors of the hotel currently adoring the irreverent work of Barcelona-based artist, Maite Caramés. Starring a couple of amphibious guests, the Between Paradise and the Deep Blue Sea series of photos follows their trials and tribulations throughout various spaces of the hotel complex; their exploits captured as a rather Monty Python-esque ode to oddness by the local photographer.
Benefitting from some 330 days of sun annually, the Costa Daurada — or, The Bright Side of Barcelona, as the hotel pleasantly put it — welcomes families and curious travellers interested in Catalan culture, cuisine, wine, and good times. The hotel's impressive 300 metres of façade is best viewed from sea, which is straddles that nice fine line between warm and refreshing for the majority of the summer. An architectural treat that sets an elegant tone, whilst nodding to the history of its building, the 'modern' façade greeting guests arriving by road is at the opposite side of the beach, and offers a nice juxtaposition from the original 1929 building.
Managing to acutely capture the perfect combination of classic and modern makes Le Méridien RA a hotel of unique and exceptional twists and turns; its spaces, including an old chapel that for many years was the Church of San Juan de Diós, at times opulent, others cosy and brushed by history. Spacious rooms, graceful grounds, steps from the sea, art and design to encounter, and every luxury catered to … Costa Daurada's only 'Grand Luxe 5*' resort is simply a slice of paradise.