With six room categories ranging from cosy and curated, to larger, more luxurious suites, Naumi Studio Hotel Wellington is the perfect marriage of old and new; the 116 room property——set in an iconic Edwardian-era building in the heart of the Cuba St precinct——having been extensively restored and transformed into a visual feast for the senses, enthralling guests with eclectic spaces inspired by both seafaring and the literary world.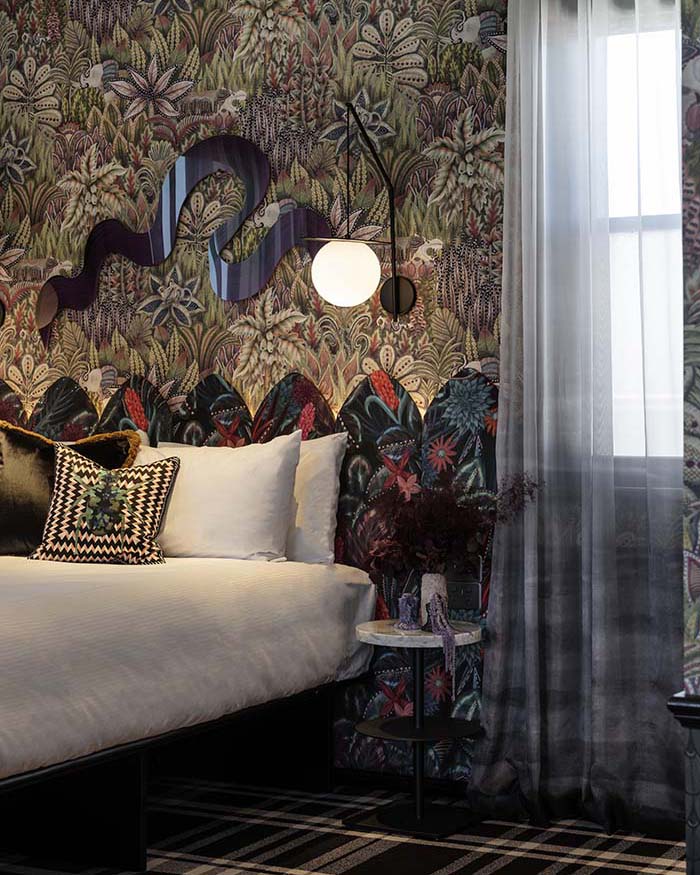 Originally built by the Salvation Army in the late 19th or early 20th century, the iconic property features a grand entrance on Dunlop Street, from which those who step over the threshold are today transported into a sensory wonderland. In keeping with the hotel's eclectic surroundings (the neighbourhood home to indie record shops, a mixture of cheap eats and high-end restaurants, and established and up-and-coming art galleries), the latest from Naumi Hotels promotes the talents of New Zealand artists and designers.
Those local art interventions come in the shape of a large scale floral backdrop in the design hotel's entrancing lobby area created by Art Dep't NZ, and completely covered in gold; brilliant bespoke rugs created by artist Karl Maughan; a gigantic Koonsesque lighted floral sculpture by Angus Muir Designs; and an ethereal portrait of Lady Naumi shrouded in neon, which hangs proudly in the chaotically wonderful reception.
With interior design by Auckland-based firm Material Creative, a grand bar commands the attention of guests, whilst books and oddities fill the lounge area; a perfect place from which to read, people watch and hatch plans. Rooms honour the heritage of the building and infuse a modern design twist, whilst Lola Rouge——the hotel's full service restaurant——will open this year, the pastel coloured parlour set to be a welcoming space to sip a drink at the bar or chow down on Pan Asian-inspired plates; just as Lady Naumi certainly would do should she be still with us today.