Bold bags of colour and a high-spirited design edge is set to define Naumi Auckland Airport, the latest property from Naumi Hotels; its first in New Zealand. Located in the city's airport precinct, with easy access to the centre, the hotel (opening 1 February) will set the bar in terms of offering accommodation that shuns predictability — instead focusing on style, design, and contemporary touches.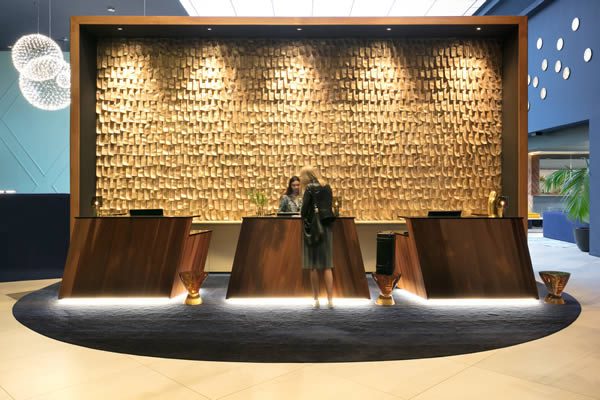 Whether your stay is a quick stopover, an unexpected layover, or you choose to make this your base in the city, the hospitality at Naumi (pronounced know-me, and meaning '9th day' in Sanskrit) makes for an unforgettable experience. From check-in to dining at Asian-fusion restaurant Paksa, and the friendly and knowledgeable concierge, everything here is centred around guest experience.
193 spacious rooms and suites offer private balconies or patios, crisp white linen bedding, mood lighting, and a palette of natural, earthy tones that clash with the colourful multi-coloured iridescent sheen of the Tui bird; New Zealand's native bird and an inspiration behind the decor. Artwork hangs in every nook and cranny, from the huge 24-carat gold leaf textured wall that adorns the check-in area, to the smaller pieces hanging in the bedrooms. The NY Art Department (NZ) were commissioned to make a large work representing the feathered nape of the Tui bird, whilst Australian-based artist Belynda Henry was tasked with capturing the natural landscape of Auckland with multi-sensory pieces.
Whether you interact with works of art, other guests, or simply bed-down for the night, Auckland-based architects Ellery Muir & Associates — alongside interior designers Material Creative — have created a space that bridges the gap between residence and hotel; a playground for well-travelled souls with sweet spots and an unexpected sense of theatre.