Occupying a 1920s building——a former 'dairy', or 'corner shop' to non-New Zealanders——the Queenstown property has been transformed into accommodation that straddles the lines of lodge and hotel; The Dairy Private Hotel by Naumi offering 14 bedrooms in a creative yet comfortable space that imbues lived-in rustic with a subtle edge of glamour, all set against a backdrop of Lake Wakatipu, and The Remarkables mountain range. (Which certainly lives up to its name.)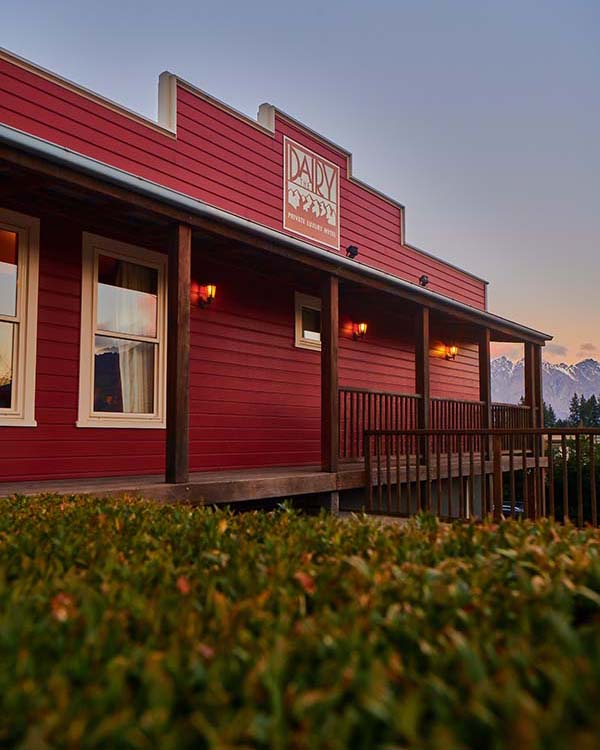 Inviting guests to "discover the Dairy life with our warm hospitality", the boutique hotel is more a home away from home, an abode to unwind in either the communal spaces or the comfort of your own lush room. The sumptuous lounge buzzes between 5pm—6pm when visitors convene over happy hour, the signature free flow hour guaranteed to kick start the evening in superb style before retiring to The Lounge as proceedings get under way to sip on a tipple or two on sunken, decadent couches next to a roaring fire.
Inspired by the nearby slopes, the guest rooms have a definite alpine chic aesthetic with geometric bespoke carpets, low ceilings and charming and rustic furnishings. Whilst the smaller rooms are a delight, the larger spaces are without a doubt more regal, with breathtaking views of the surrounding mountain ranges. House of Hackney wallpaper——on the ceiling may we add——and luxurious king beds with Naumi Hotels' signature bedding complete the romantic offering.
An outdoor jacuzzi enables guests to relax in bubbly bliss, those exceedingly Remarkables as a backdrop; and for those long, colder, winter nights, the roaring fire pit adds not just a heap of warmth but all the nostalgic overtones and mental hygge they bring with them. Cosy whilst decadent, homely whilst luxuriant, The Dairy Private Hotel by Naumi is a real treat for those making the trip to beautiful Queenstown, New Zealand.