Dimes is a design led cannabis brand seeking to redefine the modern cannabis retail experience with its flagship store on Toronto's Queen Street West. Currently catering to those in need with curbside pick-ups, as long as COVID-19 restrictions mean the store can't open, the venue is a destination for design-minded consumers who desire a high quality product in this new era of legalisation.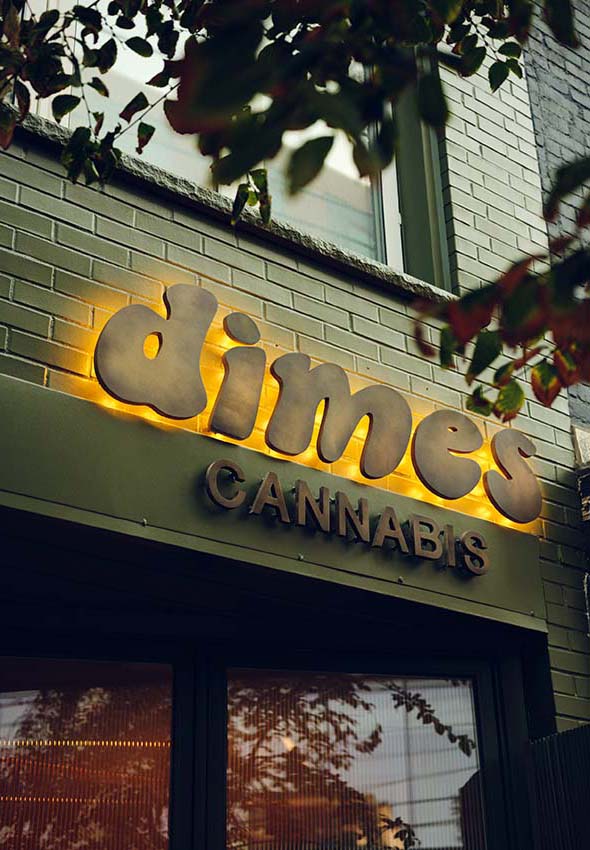 Collaborating with local designers FutureTriibe on the shop's interiors, and design firm Indeks on a stellar brand identity, Dimes (the name a homage to a dime bag of cannabis) is owned by JP Adamo, chef, sommelier and owner of Bar Piquette, and features a 1970s-theme and retro-inspired personality combined with a cool contemporary touch. Raw brick, rammed earth and plaster, and repetitive textures provide a singular backdrop for the products, whilst the delightfully kitsch bubble-written logo adds an all-round mellow appeal.
Capitalising on their strong identity, a selection of lifestyle products and merchandise that extend beyond the traditional realms of stoner style lend Dimes a desirability that is sure to captivate all from seasoned potheads to weekend dabblers and beyond.
Set to star in Toronto as a post-pandemic hangout for customers who have a normalised perception of cannabis and demand an elevated yet simple retail experience, Dimes is a new name for a new age of cannabis consumption. A triumph in style and substance, FutureTriibe and Indeks' combined design chops alongside Adamo's successful years in hospitality are the perfect blend.