A space to support and help creative entrepreneurs flourish by providing a 35,000 square foot facility—complete with state-of-the-art studios, a coworking space and events area—Artscape Daniels Launchpad is revolutionising creative working in Toronto's emerging East Bayfront.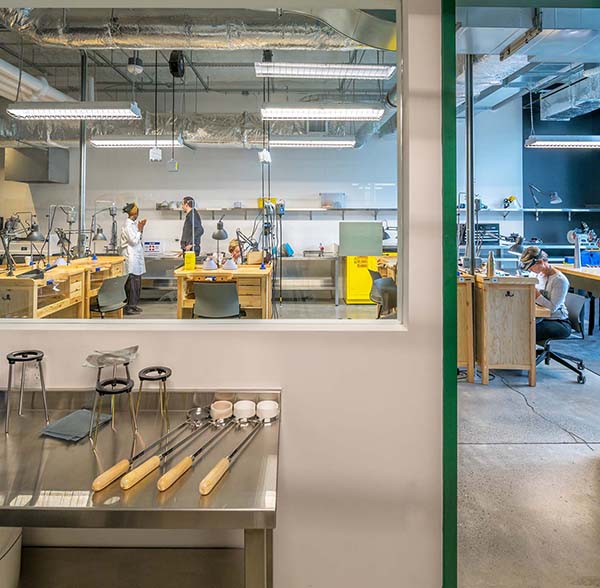 Situated within Daniels City of Arts, an office building with views over Lake Ontario, Artscape Daniels Launchpad provides its community with more than an aesthetically stunning collaborative space; rather a space to forge a career through collaboration, coaching, mentorship and inspiration. For here, emerging and established artists, designers and creators thrive off one another.
Design studio Quadrangle were tasked with the job of designing a "luminous, accessible, and tech-enabled interior that would inspire creativity and professionalism in equal measure," with principal and project lead Caroline Robbie commenting that "as artists are usually used to working in older, repurposed spaces," the designers had to create a space purpose-built to meet their needs, and have personality; even if it does not yet have a history.
Offsetting the newness of the property, finishes were largely upcycled or handmade, tabletops made from reclaimed wood, hand-painted wall tiles and a 'board room' with floors and walls finished with wood flooring salvaged from a Hamilton high school gymnasium. Aiming to inspire a vintage workshop feeling, they incorporated industrial lighting which complements the natural light that floods in through the building's floor-to-ceiling wraparound windows.
Set over some 90 rooms with workshops and meeting rooms, quieter spaces and specialised studios, this momentous creative entrepreneurship hub supports a vast range of creative disciplines and is designed to let them cross-pollinate their way to success.
@launchpadtoronto
@quadranglearch