Serving feel-good fare, Rosalinda—a collaboration between Grant van Gameren, Max Rimaldi and Jamie Cook; bringing together some of Toronto's most significant restaurateurs—is making (Mexican) waves, its highly Instagrammable interiors as attractive and pleasing as the food at this vegan hotspot.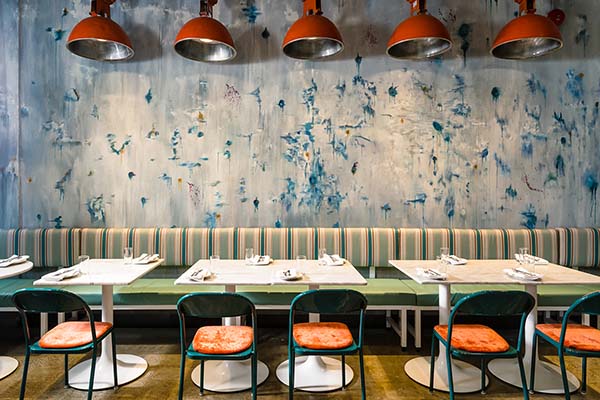 Located in the city's Financial District, diners at Rosalinda Toronto are invited to choose from a selection of sharing plates: think tostadas, tacos (Jackfruit Pibil with crispy taro root and slaw a mouthwatering proposition), burgers, salad bowls and spiced churros covered in cinnamon sugar and served with banana caramel; all complemented by a comprehensive drinks list.
Designed by creative studio Bent Gable Design, Rosalinda occupies a former convenience store and Japanese restaurant, and features a palette of hushed grey and blue tones, whilst a collection of pockets and three distinct dining areas pique curiosity and imagination. Diners will 'journey' through an area that nods to California's outdoor living, a lush greenhouse section; an area underneath the greenhouse roof with vintage window dividers; and a section that echoes a storage area for cut flowers.
Hanging and potted plants feature heavily throughout the restaurant, whilst a white marble bar and marble tabletops—that appear to have mellowed with age—juxtapose against mossy green velvet seating and walls that ooze with splattered paint, custom-designed wallpaper and painted roses by artist John Leacy.
The freshness of its menu combined with a welcoming ambience and whimsical interiors—not mentioning the wealth of experience in the team behind the wheel—ensure Rosalinda will bring colour and vibrancy to Toronto's Financial District.
@Rosalindarestaurant
@BentGableDesign