A Toronto institution since 2009, Lady Marmalade—purveyors of all things brunch and coffee—recently enjoyed a change of location; its new Broadview Avenue eatery a brighter and larger version of the original.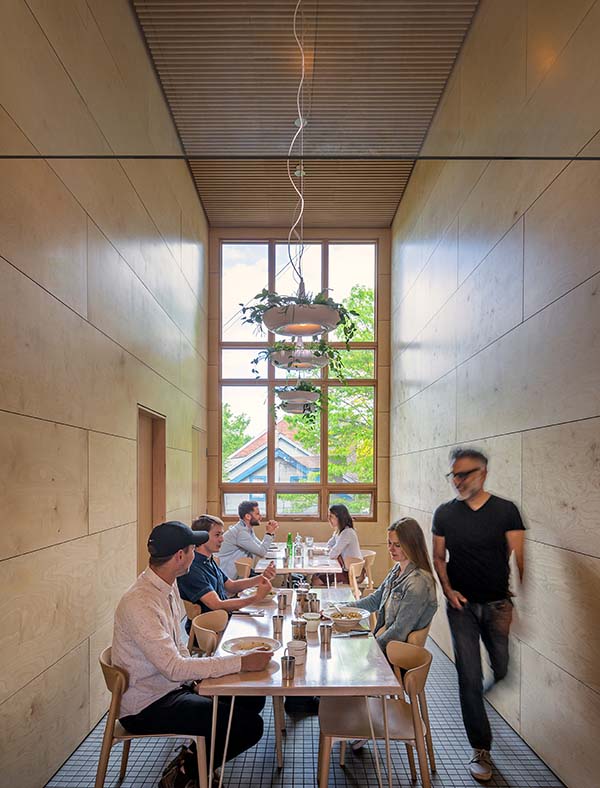 Due to the current global situation, Lady Marmalade is only open for take-out, however, diehard fans missing their renowned huevos rancheritos, Moroccan scramble, crepe 'Croque Monsieur' and delicious bread pudding, can at least get their favourite fare delivered directly to their front door. As and when it's business as usual once again, though, diners will be able to converge in a long and narrow space that is split over two floors, and is warm and welcoming with an abundance of natural light, high ceilings and natural materials.
Whilst the building exterior retains its original character, including the original brick front façade, new and larger windows offer a peek of what's inside. An exploration of scale, proportion, materiality and light, Omar Gandhi Architect (in collaboration with SvN) added lush greenery to complement the exposed beams that span the restaurant, and opted for a Baltic birch interior finish to establish a consistent backdrop to the natural sunlight and give the brunch spot super sustainable vibes.
An Insta-friendly spot, the brunch crowd are going to adore the carefully curated wall-mounted plants that animate the space and provide the perfect backdrop to the mouthwatering plates that will undoubtedly be photographed with precision before being tucked in to.
One thing we should all have in mind right now is to be supporting our locals. Those supporting Lady Marmalade can be safe in the knowledge they'll be returning to a sweet new spot for the Toronto favourite.