Founded in 2012, CanvasChamp designs and prints custom canvas prints; wood, acrylic and framed poster prints; and gifts such as photo mugs and pillowcases. Converting your photographs into memories whilst providing some wonderful wall decor for the home or office, as 2020 continues to provide challenges the world over—travel all but on hold for the time being, and families being kept apart due to the pandemic—what better way to relive easier times than having the good times emblazoned in print.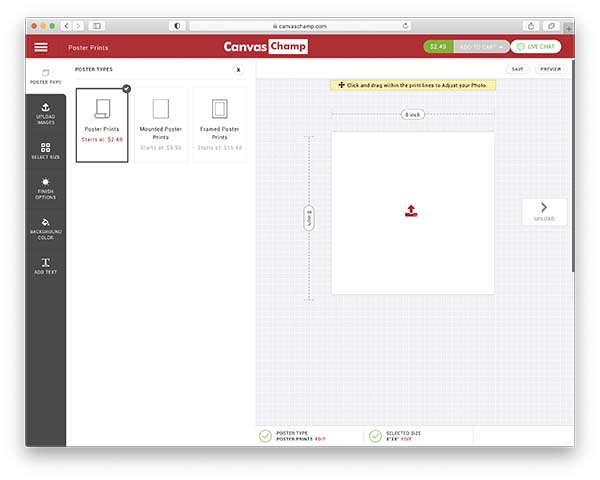 Gripped by wanderlust of late, our relationship with CanvasChamp begins. Regaling a friend with tales of a trip to New York in November last year, how over five crisp and cold days spent between Brooklyn and Manhattan we'd been fortunate enough to watch the city's iconic marathon, devour great pizza, drink craft beer in the best dive bars, and stand shoulder-to-shoulder with locals and tourists still in awe of the Big Apple's skyscrapers (it never gets boring does it?), we looked back at the photographs we'd captured. Because, as the adage goes: 'a picture is worth a thousand words.'
Having come to terms with the fact that we won't be returning to New York any time soon, we decided to bring New York to us, choosing an image that encapsulates one our favourite parts of the city; the colour, the architecture, particularly brownstone buildings and fire escapes, the street signs, wide boulevards, and cultural diversity. Although better known for their affordable canvas prints, we opted for a framed print, the ordering process super simple and delivery pleasingly swift.
Using their online poster tool we were able to upload our image and choose our preferred size, finish, and background. Arriving very well packaged in wood for optimum protection, the smooth black frame with mat white mounting allows the picture to take centre stage; a perfect complement to the moody early morning light of the photograph.
Affordable with many extras available for free, CanvasChamp is a fine option for Christmas gifts, allowing you to choose a photo and design to best suit the recipient. Be that canvas, metal, wood, or other popular options such as photobooks, mugs, puzzles and magnets, the quality is on point and the service as slick as could be. Although they have stock imagery available, we recommend you keep it personal using memories to spread joy and happiness at a time when it couldn't be welcomed more.