It's fitting that as a former hardware store, the façade of Sisters in Clinton Hill is covered with fine carpentry which gives the place something of a Swiss chalet look, given an industrial twist with the addition of a custom made clock inlaid into a section of brick.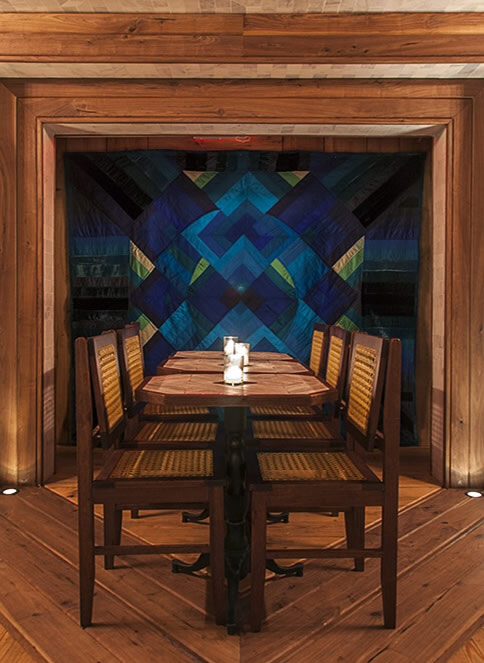 The restaurant, bar, café and entertainment venue at 900 Fulton Street certainly makes a whimsical, attractive and lively addition to the affluent residential neighbourhood, and there are more surprises inside from interiors studio hOmE and graphics and branding gurus Mogollon.
This particular building was chosen on the strength of its skylight, and the interior design was largely led by this illuminating feature. The ceiling has been opened up to let the roof aperture do its light-giving thing, with the structural supports clad in wood — a material that is also used in partitions and steps, in reclaimed form as wall panelling, and is also found inlaid into the table tops and used for decorative geometric motifs throughout.
The two bars are both things of beauty, especially the grand version at the front which rises with Art Deco lines into something altar-like. The rear stage (backdropped by a magical quilt; designed by Mogollon, created by Vanessa Michel), also custom built by hOmE, hosts live music and DJs, while on the food front, Chris Nichols (formerly of Flatbush Farm) is in charge of a locally-sourced menu ranging from bar snacks to comfort food meals.