Spanning 150 metres around Paddington Square and a landmark 45ft-tall 'totem' on Praed Street, Nature Nurture has been created by Kelly Anna, and is the London-based artist and illustrator's largest work to date; the Sellar- and Dezeen-commissioned piece reflecting the future of the area, and representing the first in a series of major cultural commissions for the working, shopping and dining quarter that is set to open in 2022.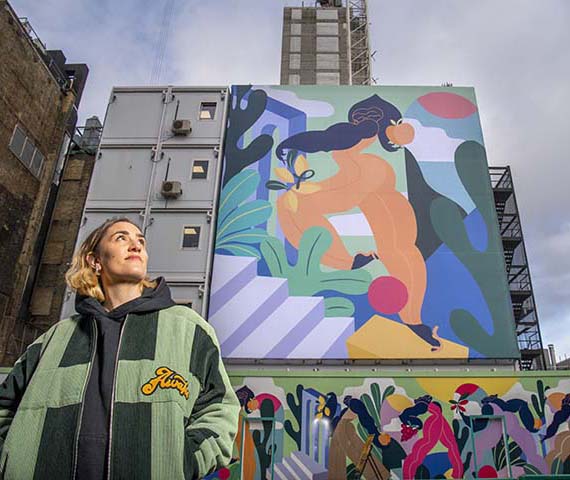 Centred around six interlinked figures adorned in Kelly Anna's signature silhouette style, the figures are continuously repeated around the site, and graphically drawn to express a sense of optimism and power in their stances; a notion much needed for the beleaguered country. Looking upwards and to the future, the mural is symbolic of the idea of living harmoniously between the modern architectural world of the built environment and respecting the nature that exists around it.
The energetic mural is composed from a vibrant colour palette which binds together fluid lines and strong graphic shapes; Kelly Anna influenced by artists including Henri Matisse and David Hockney as well as the natural greenery that will be planted throughout Paddington Square as the upcoming public piazza evolves. Designed to brighten up the days of the multitude of passing commuters, the artist comments: "I am thrilled to have been commissioned to create an artwork for Paddington Square and am so excited to see my work blown up to full scale. A hoarding is a great canvas for any artist, bringing a sense of life, colour and energy into the city. I hope that passersby in Paddington will feel energised and uplifted, I think we all need that right now."
A ray of light for the heart of the Paddington neighbourhood, Kelly Anna's Nurture Nature is the bolt of optimism we all need right now.
@kellyannalondon
@PaddingtonSquare