Situated in Amsterdam's Eastern Docklands neighbourhood in a building originally commissioned by the Royal Holland Lloyd Shipping Company in 1921, The Hoxton's second Dutch hotel is home to 136 bedrooms, a cocktail bar, European brasserie and those familiar laid back Hox vibes.
Designed by Ennismore's AIME Studios in collaboration with local interior designers Nicemakers, guest rooms nod to the illustrious Lloyd's unique, rich history, featuring a warm palette of corals, reds and ochres juxtaposed against cool blues and greys. The footprint of the building has allowed the brand to up their concept room game, The Hoxton, Lloyd Amsterdam showcasing the Tower Room with its striking spiral staircase and unbeatable waterfront views; the musically appointed Tune Room complete with grand piano; and the Gather Room, a whopping suite with separate dining area, oversized bed and statement neon-green bathroom.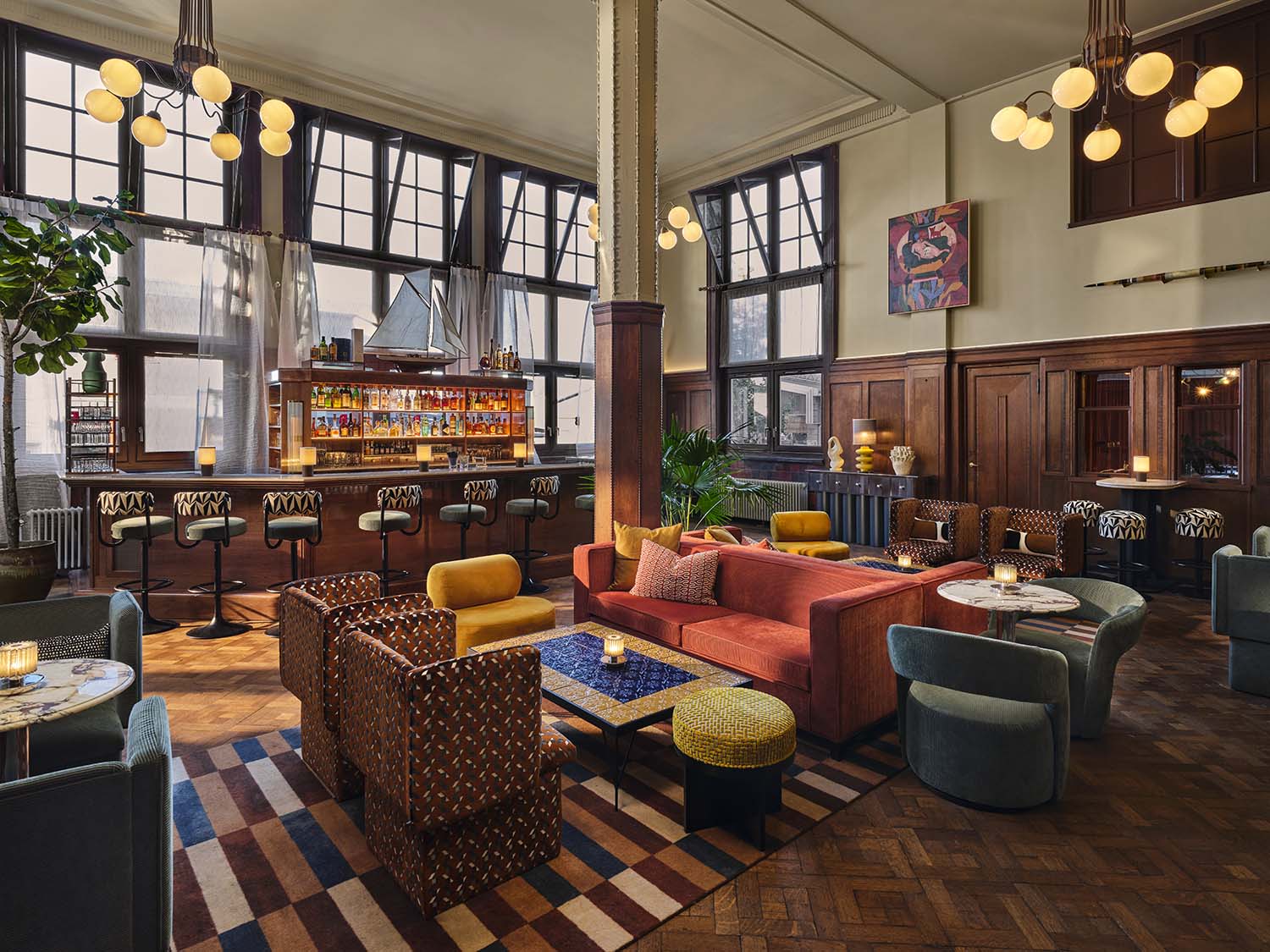 Honouring the building's heritage while embracing the independent spirit of the waterside district, design details combine original period features including distinct stained-glass windows, elegant panelling and intricate tiling with bold tones and playful, geometric patterns. Artwork has been installed by neighbouring gallery Bisou, the all-Dutch artwork collection featuring emerging talent as well as established and rediscovered artists, while the Hox Gallery will be curated in partnership with local creative collective Stitching Kunstwerk Loods6.
Breman Brasserie, and standalone cocktail bar, Barbue, are situated next to the ground floor open-house lobby, as is the ultimate summer hangout: an achingly hip, south-facing terrace. Whilst the former is a comfort-driven spot that takes inspiration from turn-of-the-century European and South American cuisine, the latter is a cocktail bar bringing European and South American cultures together in collaboration with Tato Giovannoni, founder of Floreria Atlantico in Buenos Aires, and celebrates the rich history of the Lloyd building with Italian accents and Argentinian inspired cocktails.
As with all their projects, community is key, and The Hoxton, Lloyd Amsterdam has set roots in the neighbourhood working with a slew of inspiring and innovative creatives. Following The Hoxton, Amsterdam, one of the design-led brand's most beloved hotels, the Lloyd is set to confirm their already esteemed reputation in the Dutch capital.